About Allen Edmonds
Believe it or not, the shoes you choose to wear say a lot about you. So, finding footwear that is stylish and comfortable is crucial. Fortunately, Allen Edmonds has exactly what you're looking for, with their collection of men's footwear made from a number of high quality and recycled materials, including leathers and rubbers.
That being said, our Allen Edmonds review likely isn't the first place you've heard of this brand. It has also been featured in popular media outlets such as Forbes, NY Times, and BizTimes, and also has 114k Instagram followers as well as over 102k likes on Facebook.
Ready to delve into all this brand has to offer? Take a peek at our Allen Edmonds review. We'll cover the brand head to toe, share deets on some of the bestsellers, give the breakdown from customer testimonials, check out important FAQs, and more, to help you decide if it's worth the buy.
Overview of Allen Edmonds
The legacy of Allen Edmonds began a century ago in 1922 when founder Elbert W. Allen launched his shoe company in Belgium, Wisconsin. The brand has always been known for its innovation, starting off on the right foot with a pair that were carefully crafted without traditionally uncomfortable components, while still being durable and fashionable.
By the time of WWII, Allen Edmonds also supplied the US Army and Navy with necessary footwear, keeping their feet warm and protected when they needed it most. The shoes are still crafted from durable leathers that are designed to meet the needs and demands of everyday wear.
Allen Edmonds was acquired by Caleres in 2016, but the brand has always remained true to its roots and continues to handcraft each pair in Port Washington, Wisconsin, not too far from where it was originally founded.
Now that we know a little more about where the brand came from, our Allen Edmonds review will take a closer look at some of the highlights to keep in mind.
Highlights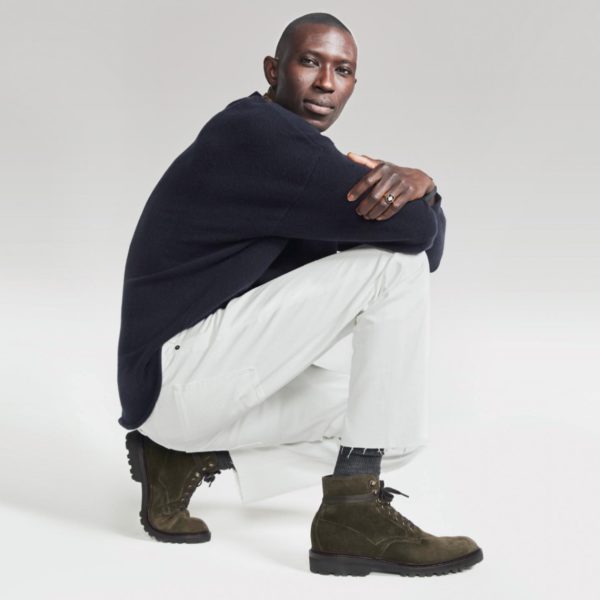 Collection of sophisticated and premium men's footwear and accessories
Dress and casual shoes available
Crafted from high quality leathers
Handmade using a 212-step process in Port Washington, Wisconsin
Offers recrafted, sustainable shoes
Custom classic shoes and sneakers available
Free shipping on all orders over $100
Allen Edmonds' line consists of timeless, high end designs that are stylish, comfortable, and practical. They are designed for men, though many of the styles can be unisex. They are classic and sophisticated, without being too dressy for everyday wear—you know, that perfect happy medium we're all chasing.
Recrafting and sustainability is also at the forefront of Allen Edmonds, with styles that are built to last. And if they end up needing a little pick me up, it's easy to get your pair detailed and shined to look as good as new.
They also use sustainably sourced materials, recyclable fabrics, and even biodegradable inner components to ensure the lasting quality, while also minimizing their environmental footprint. Also, the recraftable nature of the shoes extends the lifespan of the designs, lessening the amount of materials that end up in landfills.
Interested in checking out a few pairs? Below, our Allen Edmonds review will fill you in on all the details to give you a glimpse into all the brand has to offer with a few of the most popular options.
Allen Edmonds Shoes Review
From boat shoes to sneakers to slippers, there are plenty of shoes to suit your daily needs. Comfort and style become one in our collection of the top selling Allen Edmonds shoes, as you'll see down below.
Allen Edmonds Force 10 Boat Shoe Review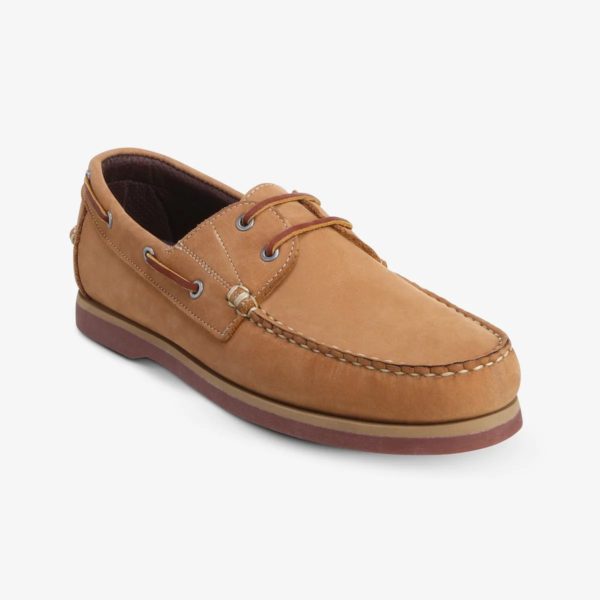 Whether you're spending the day on the water or are just on the hunt for a classic pair of shoes, the Force 10 Boat Shoe can do no wrong. This casual pair features water resistance with a comfortable, 2mm foam and removable insole and is easy to wear barefoot.
With a classic handsewn design featuring a classic tan leather as well as soft leather laces, the Force 10 Boat Shoe is available in sizes 7-15 and three different widths for $295. Shoppers can also choose to customize the sole for an extra $40.
Allen Edmonds Randolph Slip-On Sneaker Review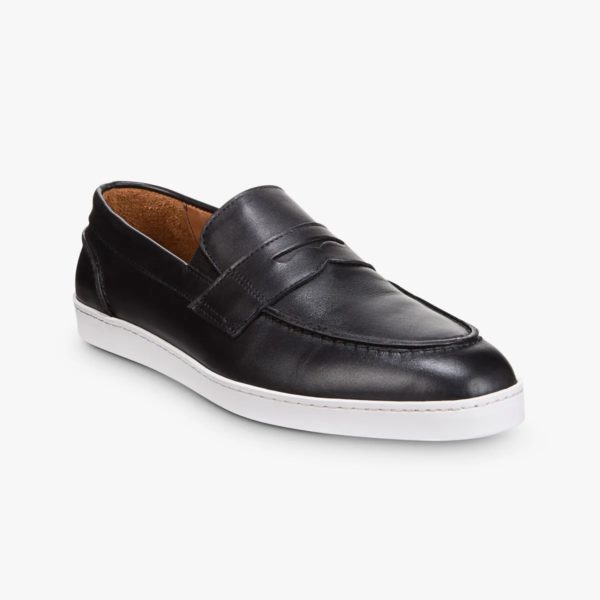 A blend of classic and contemporary, the Randolph Slip-On Sneaker merges a comfortable sneaker with a cool and seamless design. This pair is crafted from a black or warm brown leather with rubber cup, shock absorbing Signature FlyForm™ soles.
They have an easy to wear, slip-on style, while also being easily dressed up or down to suit your daily looks. Plus, the built-in elastic gore creates a snug and comfortable fit. Available in sizes 6.5-15 and four different widths, the Randolph Slip-On Sneaker retails for $295.
Allen Edmonds Quebo Zip Pouch Slipper By Armando Cabral Review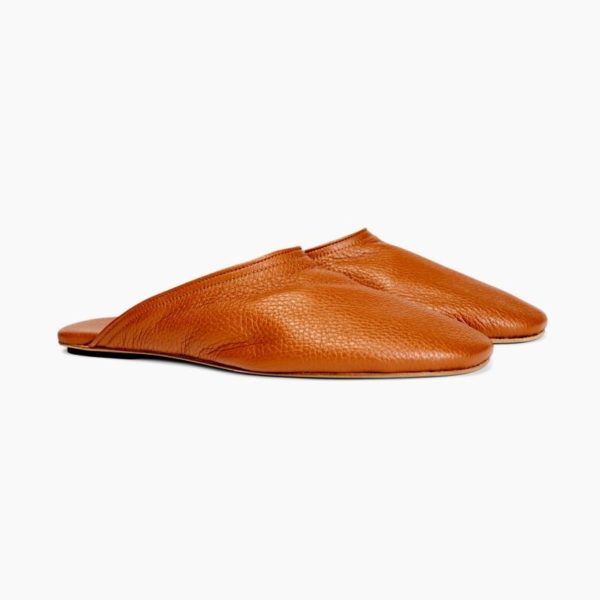 A sophisticated take on your everyday pair of slippers, the Quebo Zip Pouch Slipper By Armando Cabral is handcrafted in Italy from premium European calfskin leather that creates a super soft and comfortable fit.
It also has a durable leather sole with a relaxed, slip-on fit and a rounded toe. Plus, the zippered pouch makes it easy to bring your essential pair with you on all your travels. The Quebo Zip Pouch Slipper By Armando Cabral comes in sizes 7–11.5 in a classic soft white, retailing for $375.
Allen Edmonds Boots Review
Whether it's fall or winter, a pair of chunky work boots isn't always ideal for the office, but neither are your boat shoes or sneakers. Fortunately, there is an option that lies somewhere in between, with a more classic and sophisticated design: these Allen Edmonds best-selling boots.
Allen Edmonds Dalton Wingtip Dress Boots with Dainite Rubber Sole Review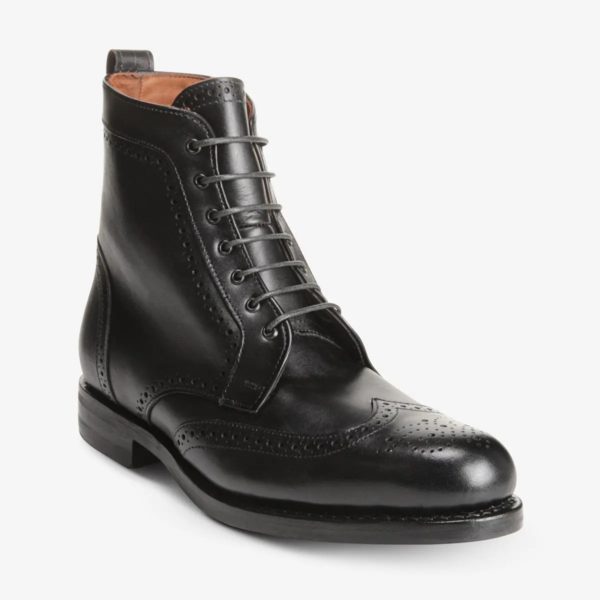 Combining dress shoes with combat boots, the Dalton Wingtip Dress Boots with Dainite Rubber Sole put a twist on the cool and classic design. The wingtip boot features brogue perforations and a medallion with a dainite rubber sole and a comfortable CustomCork™ insole.
The 360º bench welt construction provides extra durability, alongside the calfskin upper with orange leather lining. Easy to dress up or down with a blazer or denim jacket, the Dalton Wingtip Dress Boots with Dainite Rubber Sole come in sizes 5–16 and 10 different widths in two classic shades of black or brown and cost $475.
Allen Edmonds Park City Lace-Up Weatherproof Boot Review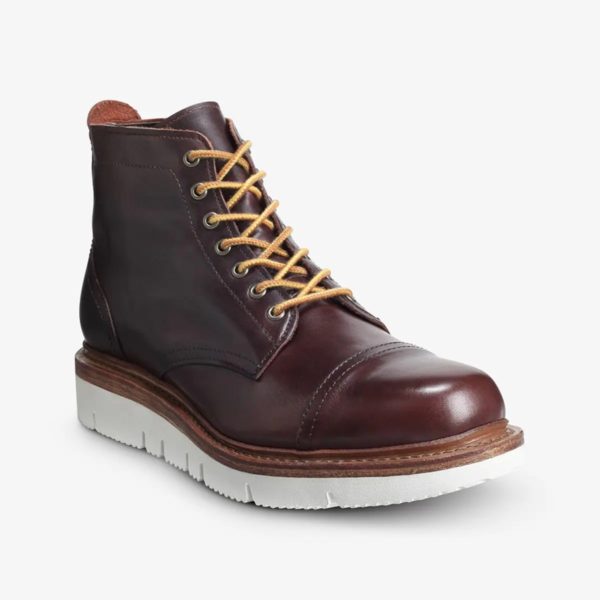 Elevated and casual, the Park City Lace-Up Weatherproof Boot is ideal for everyday wear, whether you're walking through puddles or the cobblestone streets of Amsterdam. This pair is sleek and stylish with a 360º Storm Welt weatherproof and waterproof membrane lining.
It's made from imported leathers with a soft leather lining and Vibram Gloxi rubber sole for durability and style. The white sole adds a little contrast to the deep brown upper, while the fabric laces add a casual touch.
Available in sizes 7–14 and two different widths, the Park City Lace-Up Weatherproof Boot retails for $445.
Allen Edmonds Loafers Review
Comfortable, simple, and casual are what the best loafers are made of. Whether they are a work appropriate pair or something a little more summery, Allen Edmonds has lots to offer. Let's check out one of the most popular pairs up next.
Allen Edmonds Randolph Penny Loafer Review
Whether you're headed to the office or a casual brunch, the Randolph Penny Loafer will get you where you need to go. The style features a CustomCork™ insole and 360º bench welt construction and a lined premium calfskin leather upper with a slip-on fit.
The moc-toe penny loafer feels cool and classic, and is versatile enough for everyday wear. These Allen Edmonds loafers come in three different classic shades of brown or a carbon black, sizes 5-16, and 10 different widths, and retail for $395.
Who Is Allen Edmonds For?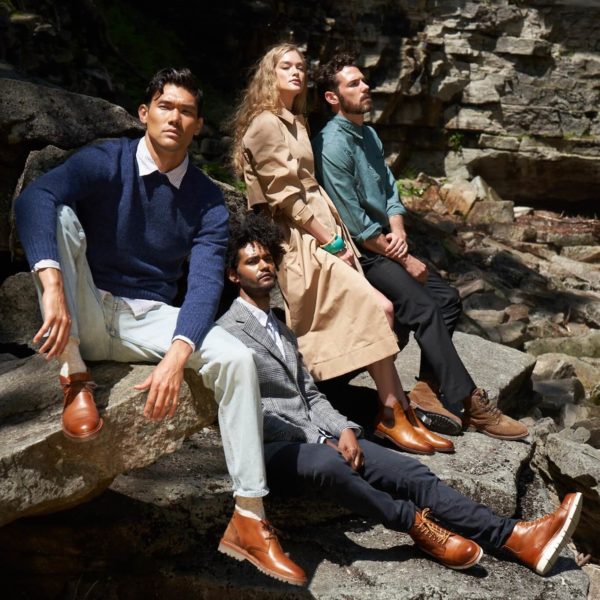 If high quality design and long lasting, sophisticated footwear has your heart, meet your match with Allen Edmonds. The shoes, clothing, and accessories are designed to be versatile, seamlessly transitioning from business endeavors to casual dates to fancy events.
In other words, the brand's products are ideal for anyone who is looking for good quality pieces that will last the test of time, maintain a classic style through all the trends, and be easy to wear, no matter what you're doing or where you're going.
Allen Edmonds Reviews: What Do Customers Think?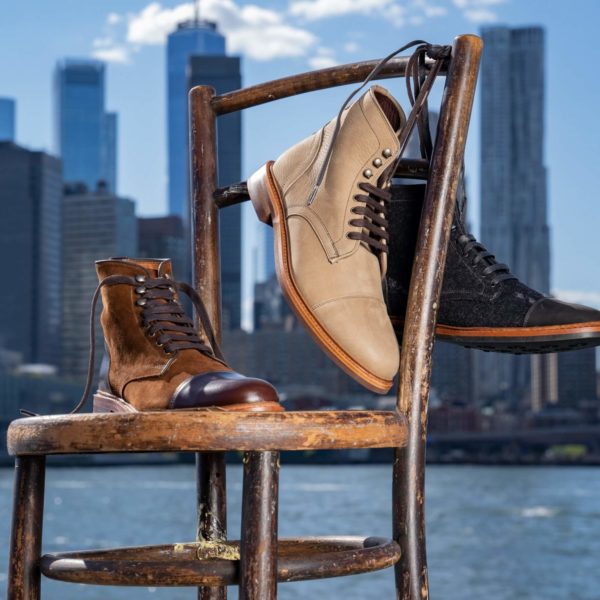 Our Allen Edmonds review wouldn't be complete without first checking out what shoppers are saying about their purchases. So, we sourced testimonials from Zappos, Amazon, and TrustPilot, to help paint an accurate picture of the brand and its products.
On Zappos, the brand rated 4.6/5 stars out of 479 reviews. One happy customer has nothing but good things to say:
"Fits like a dream and the quality is amazing! This shoe very well made and it shows.I refuse to pay for brand names or trendy styles, but I was willing to pay the most I have ever paid for a shoe because these shoes are worth every dollar in terms of quality and its classic timeless design! And with proper care, they will last a lifetime!"
Another shopper mentions that it's all in the details with this brand, writing, "Love them! Well constructed with leather soles and the uppers stitched to the bottom. My favorite qualities the marbling of the leather and that the soles stitched under the uppers, so that the stitching isn't blatantly obvious."
On Amazon, 140 shoppers rate the brand 4.4/5 stars. One buyer touches on all the highlights, mentioning the quality design, careful craftsmanship, versatility, and comfort:
"First day I wore these to the office, I got loads of compliments. I wore them with a suit, but these shoes look great with a pair of chinos or even some jeans. The leather is great quality. I didn't need to break them in at all. The price on these may seem expensive, but this is a shoe you can resole for a few bucks and it should last a lifetime with proper care."
The brand gets an unfair rating of 2/5 stars on Trustpilot, with only 65 total ratings. Regardless, one patron describes how the shoes withstand the test of time:
"I have 30+ pairs of fine welted footwear from this brand and many are over 20 years old. Unlike me, they still look and feel great! You can also have these "Recrafted". This includes a new sole, new cork (secret sauce) and refinishing. I have done this a few times with well loved shoes and they come back looking, and feeling, like new."
A few Trustpilot reviewers mention issues with returns, but this seems to be due to the slower shipping times we have faced in the last few years. Most shoppers seem quite impressed with their purchases.
Is Allen Edmonds Legit?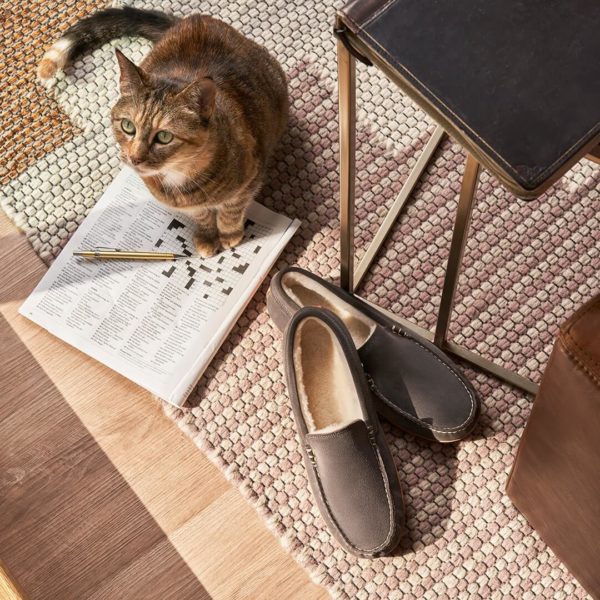 With 100 years in business and a large social media presence, it's clear to our Allen Edmonds review that this brand is legit. Plus, it's also worth noting that the brand is verified and backed by a large number of followers, showing off how many people have a deep love for all it has to offer.
Is Allen Edmonds Worth It?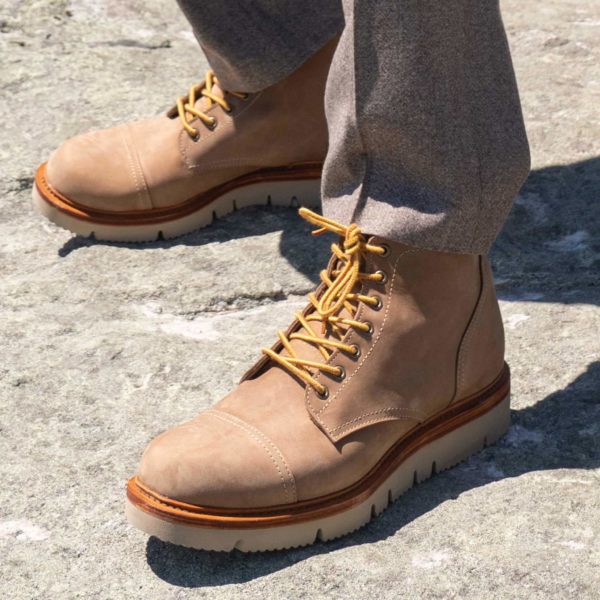 Wherever you're going, good shoes are a must have. Carefully designed and handcrafted from high-quality leathers, Allen Edmonds ensures you're getting your money's (and time's) worth. A lot of thought goes into each pair of shoes, specifically designed for casual and professional wear.
On top of that, the brand committed to sustainability and strives to develop pieces that are recraftable and can updated and refurbished time and time again.
They even use vegetable-tanned leather and uppers free of harmful metals, as well as post-consumer materials, with soles made from recycled content with biodegradable inner components.
And if all that isn't enough—there's more. The brand also offers some killer discounts and plenty of ways to save, which our Allen Edmonds review will outline down below.
Allen Edmonds Promotions & Discounts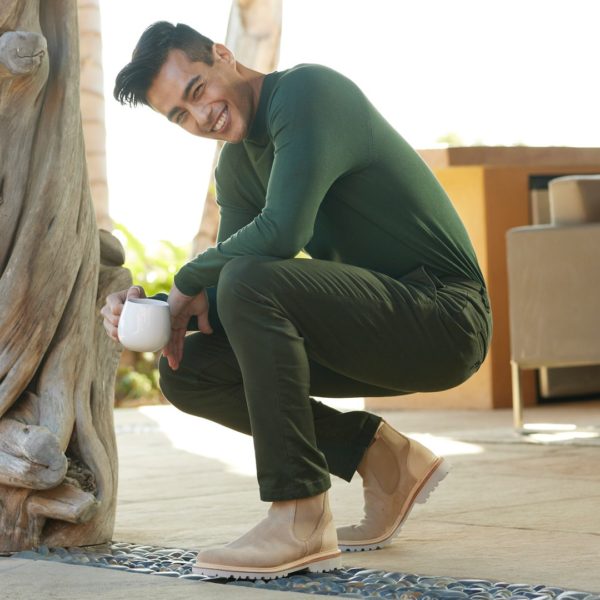 Looking to save a little extra on those Allen Edmonds boots you've been eyeing? Here's what we found:
Deals up to 60% off in the sale section
15% off discount for veterans, military, and students
Exclusive holiday sales and promos also occur throughout the year
This Allen Edmonds review also discovered that customers can save an extra 15% on their first purchase, as well as other rewards and perks, when they sign up to become a collector. Here's how it works:
Create an account using your name and email address
Gain early access to new releases and events
Receive personalized offers and discounts
See exclusive behind the scenes content
Where to Buy Allen Edmonds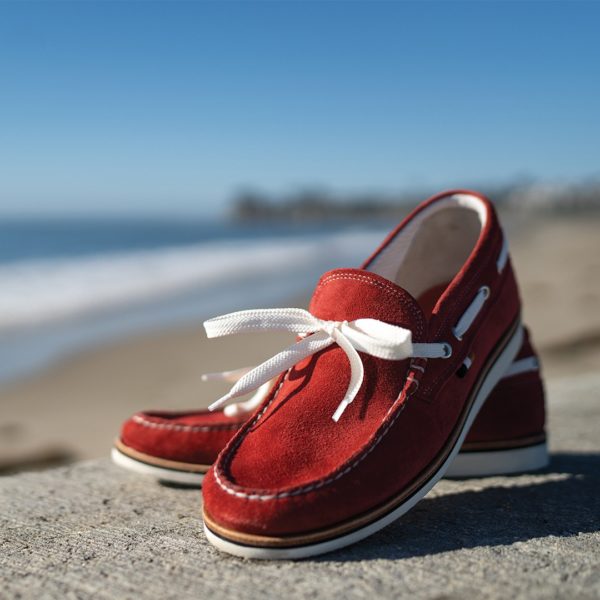 Interested in adding something from our Allen Edmonds review to your collection? Here's where you can shop the brand:
allenedmonds.com
Nordstrom
Amazon
Walmart
Dillard's
FAQ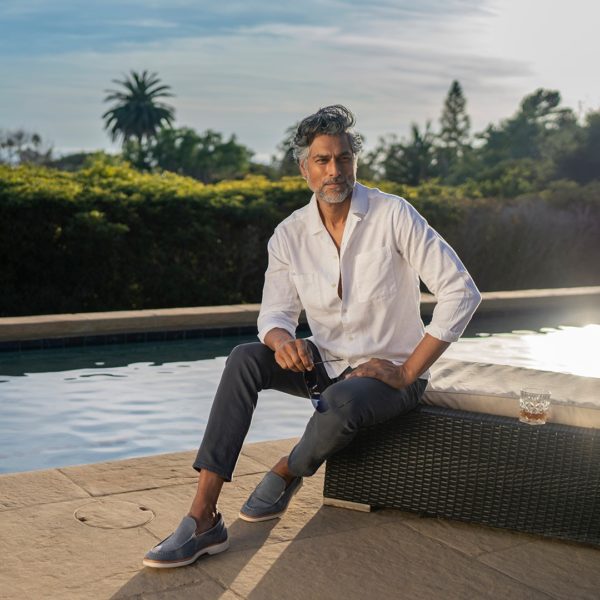 Who owns Allen Edmonds?
Interested in the brains behind the brand? Our Allen Edmonds review discovered that the label owned by parent company and American footwear maker, Louis-based Caleres.
The current CEO is Paul Grangaard, who "has the company stepping forward while keeping one foot in tradition."
Does Allen Edmonds ship internationally?
Has something in our Allen Edmonds review caught your eye? You're in luck! The brand offers international shipping with costs calculated at checkout based on shipping method/speed, number and weight of items, and the location.
Duties and taxes can either prepaid or billed upon delivery.
What is Allen Edmonds' Shipping Policy?
Need your Allen Edmonds order ASAP? Fortunately, the brand offers multiple different shipping options at checkout:
Ground shipping (3-7 business days via FedEx or USPS): complimentary on domestic US orders over $100
Expedited shipping (2 business days): available on in-stock items only. Calculated at checkout
Rush shipping (next business day): available on in-stock items only. Calculated at checkout
Ship to store: your order will ship to the nearest store for pick-up and you will be notified once it is ready
What is Allen Edmonds' Return Policy?
Not sure if your Allen Edmonds shoes the right fit? Fortunately, the label offers a 90 day return policy on any items that unused and in new condition with original packing slip. Custom items are non-returnable, while factory-second returns will incur a $25 restocking fee.
Returns are free of charge but can also brought to any in-store locations. To start the process, simply visit the brand's website, open the returns page, and fill out the requested info. After that, you will sent a free return label to attach to your package and ship via USPS.