About Celebrity Cruises?
Celebrity Cruises is a premium cruise line that offers luxury vacation experiences to passengers. It is part of the Royal Caribbean Cruises Ltd. family of cruise brands. Celebrity Cruises operates a fleet of modern ships known for their elegant design, high-end amenities, and exceptional service.
The cruise line aims to provide a sophisticated and upscale experience to its guests. Its ships feature a range of accommodations, including spacious suites and staterooms with luxurious touches. Onboard, passengers can enjoy a variety of dining options, from fine dining restaurants to casual eateries, as well as bars, lounges, and entertainment venues.
Celebrity Cruises offers a diverse range of itineraries that cover destinations around the world. Passengers can embark on voyages to the Caribbean, Europe, Alaska, Asia, Australia, and other regions. The cruise line emphasizes immersive shore excursions, allowing passengers to explore and engage with different cultures and destinations during their trips.
In addition to the standard cruise experience, Celebrity Cruises offers various specialty cruises and themed sailings. These may include culinary cruises, wellness retreats, wine tastings, celebrity-hosted voyages, and more. The cruise line also provides a range of onboard activities, such as fitness classes, spa treatments, live performances, and enrichment programs.
Celebrity Cruises has garnered a reputation for its commitment to environmental sustainability. The company has implemented various initiatives to minimize its environmental impact, including the use of advanced technology and practices to reduce emissions and conserve resources.
Celebrity Cruises offers a premium cruise experience with a focus on luxury, personalized service, and unique itineraries, appealing to travelers seeking a high-end vacation at sea.
Destinations and itineraries

Celebrity Cruises offers a wide range of destinations and itineraries across the globe. Here are some popular destinations that Celebrity Cruises visits:
Caribbean: Celebrity Cruises offers itineraries to the Eastern Caribbean, Western Caribbean, and Southern Caribbean. These cruises often include visits to stunning islands such as St. Maarten, St. Kitts, Puerto Rico, Jamaica, Cozumel, and more.
Mediterranean: Mediterranean cruises with Celebrity Cruises cover ports of call in countries like Italy, Greece, Spain, France, Croatia, and Turkey. Passengers can explore iconic cities such as Rome, Athens, Barcelona, Venice, and Santorini, among others.
Alaska: Celebrity Cruises provides voyages to Alaska, allowing passengers to experience the breathtaking beauty of glaciers, fjords, and wildlife. Ports of call may include Juneau, Ketchikan, Skagway, and the Inside Passage.
Northern Europe and Baltic: These cruises typically visit destinations like Scandinavia, Russia, the British Isles, and the Baltic capitals. Passengers can explore cities such as St. Petersburg, Stockholm, Copenhagen, Amsterdam, and Helsinki.
Asia: Celebrity Cruises offers itineraries to various Asian destinations, including Japan, China, Vietnam, Thailand, and Singapore. Travelers can experience the vibrant cultures, historic sites, and culinary delights of these regions.
Australia and New Zealand: Celebrity Cruises provides cruises to explore the stunning landscapes and vibrant cities of Australia and New Zealand. Popular ports of call include Sydney, Melbourne, Auckland, and Milford Sound.
South America: Cruises in South America often include stops in countries such as Brazil, Argentina, Chile, and Peru. Passengers can visit iconic destinations like Rio de Janeiro, Buenos Aires, Santiago, and Machu Picchu.
Transatlantic and Repositioning Cruises: These cruises take passengers on longer voyages across the Atlantic Ocean or between different regions. They can offer unique experiences and opportunities to explore multiple destinations.
It's important to note that specific itineraries and destinations may vary depending on the season and year. Celebrity Cruises regularly updates and adjusts their offerings to provide diverse and exciting options for travelers. For the most up-to-date information on destinations and itineraries, it's recommended to visit the official Celebrity Cruises website or consult with a travel agent.
How to book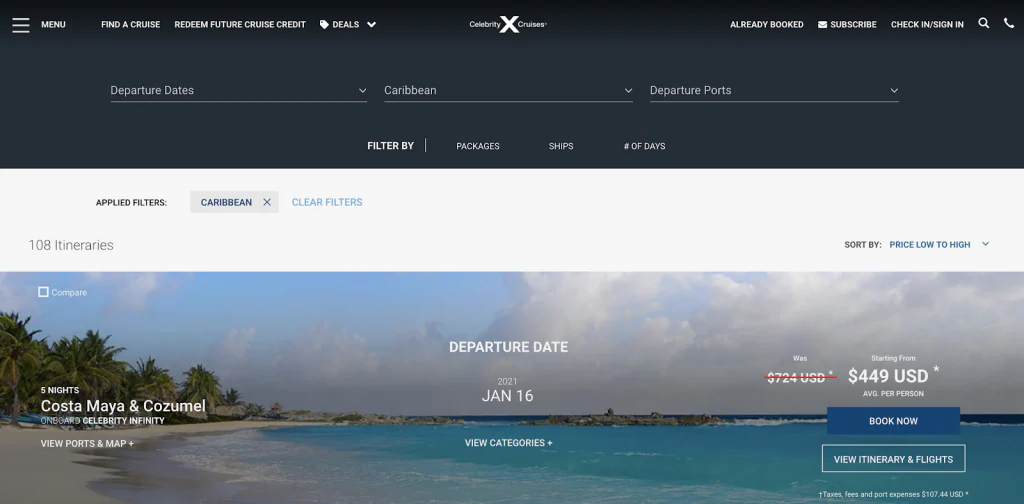 To book a Celebrity Cruises vacation, you have several options:
Official Website: Visit the official Celebrity Cruises website  and use their online booking system. You can search for cruises based on your preferred destination, departure date, ship, and itinerary. Once you find a cruise that suits your preferences, follow the prompts to select your stateroom, dining options, and any additional amenities or excursions you may desire. You can complete the booking process by providing the required information and making a payment.
Travel Agent: Contact a reputable travel agent specializing in cruises. Travel agents can provide personalized assistance, help you navigate through different cruise options, provide advice, and handle the booking process on your behalf. They can also assist with additional travel arrangements such as flights, pre- and post-cruise accommodations, and travel insurance.
Phone Booking: Call Celebrity Cruises directly to make a booking over the phone. You can find the contact information on their official website. A Celebrity Cruises representative will guide you through the booking process, answer any questions you may have, and assist with selecting the best options for your vacation.
Before booking, it's recommended to have the following information ready:
Preferred travel dates and duration
Destination or itinerary you are interested in
Number of passengers and their ages
Cabin category preference (interior, oceanview, balcony, suite)
Any specific requirements or preferences (accessible cabins, dietary restrictions, etc.)
Any additional amenities or services you would like to include (beverage packages, specialty dining, spa treatments, etc.)
It's also essential to review the terms and conditions, cancellation policies, and any applicable travel restrictions or requirements related to the COVID-19 pandemic or other factors that may affect your travel plans.
Remember to have your payment method ready when making a booking. Accepted payment methods typically include credit cards, debit cards, and sometimes bank transfers.
Whether you book online, through a travel agent, or over the phone, make sure to double-check all the details of your booking before confirming. It's always a good idea to review your booking confirmation and any associated documents to ensure accuracy and to keep them for reference during your travel preparations.
Who sails Celebrity Cruises?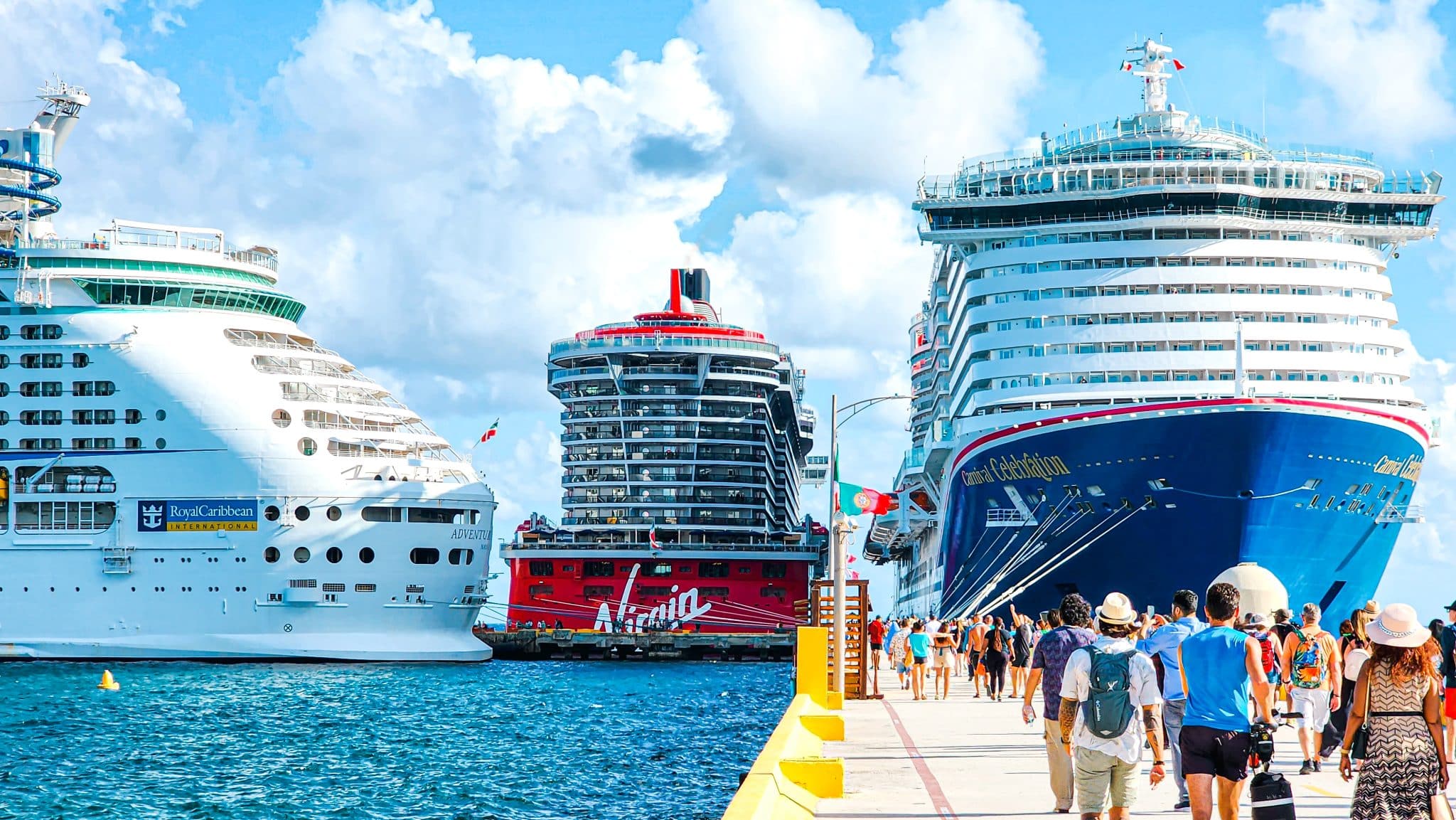 Celebrity Cruises caters to a diverse range of passengers and offers experiences that appeal to various types of travelers. The cruise line attracts:
Couples and Adults: Celebrity Cruises is popular among couples, including honeymooners and those celebrating special occasions. The cruise line's sophisticated ambiance, upscale amenities, and romantic settings make it an appealing choice for adults seeking a luxurious and intimate vacation experience.
Families: While Celebrity Cruises does not have as many dedicated family-oriented amenities as some other cruise lines, it still welcomes families and offers activities and facilities suitable for all ages. Some ships have kids' clubs and family-friendly entertainment options, making them suitable for multi-generational vacations.
Solo Travelers: Celebrity Cruises provides accommodations and activities tailored to solo travelers. The cruise line offers dedicated staterooms designed for single occupancy, hosts solo traveler meetups, and organizes social activities to facilitate connections among solo guests.
Luxury Travelers: Celebrity Cruises is known for its premium offerings and attracts travelers seeking a higher-end vacation experience. The cruise line's modern ships, elegant design, exceptional service, and upscale amenities appeal to those who appreciate luxury travel.
Food and Wine Enthusiasts: Celebrity Cruises places a strong emphasis on culinary experiences. It offers a variety of dining options, including specialty restaurants featuring renowned chefs and unique menus. Food and wine enthusiasts who appreciate gourmet cuisine and fine dining often choose Celebrity Cruises for its culinary offerings.
Destination Explorers: Celebrity Cruises offers itineraries to diverse and fascinating destinations worldwide. It attracts travelers who are interested in exploring different cultures, historical landmarks, and natural wonders. The cruise line provides shore excursions that allow passengers to immerse themselves in the destinations they visit.
Repeat Cruisers: Celebrity Cruises has a loyal customer base of repeat cruisers who appreciate the cruise line's consistent quality, service, and loyalty program benefits. These passengers often choose Celebrity Cruises for its familiar atmosphere and brand loyalty.
It's important to note that while Celebrity Cruises caters to a range of passenger types, the demographics and preferences of passengers can vary based on the specific ship, itinerary, and time of year. Each cruise may have a unique mix of travelers, and the onboard experience can differ depending on the cruise's focus and target audience.
Cabins and suites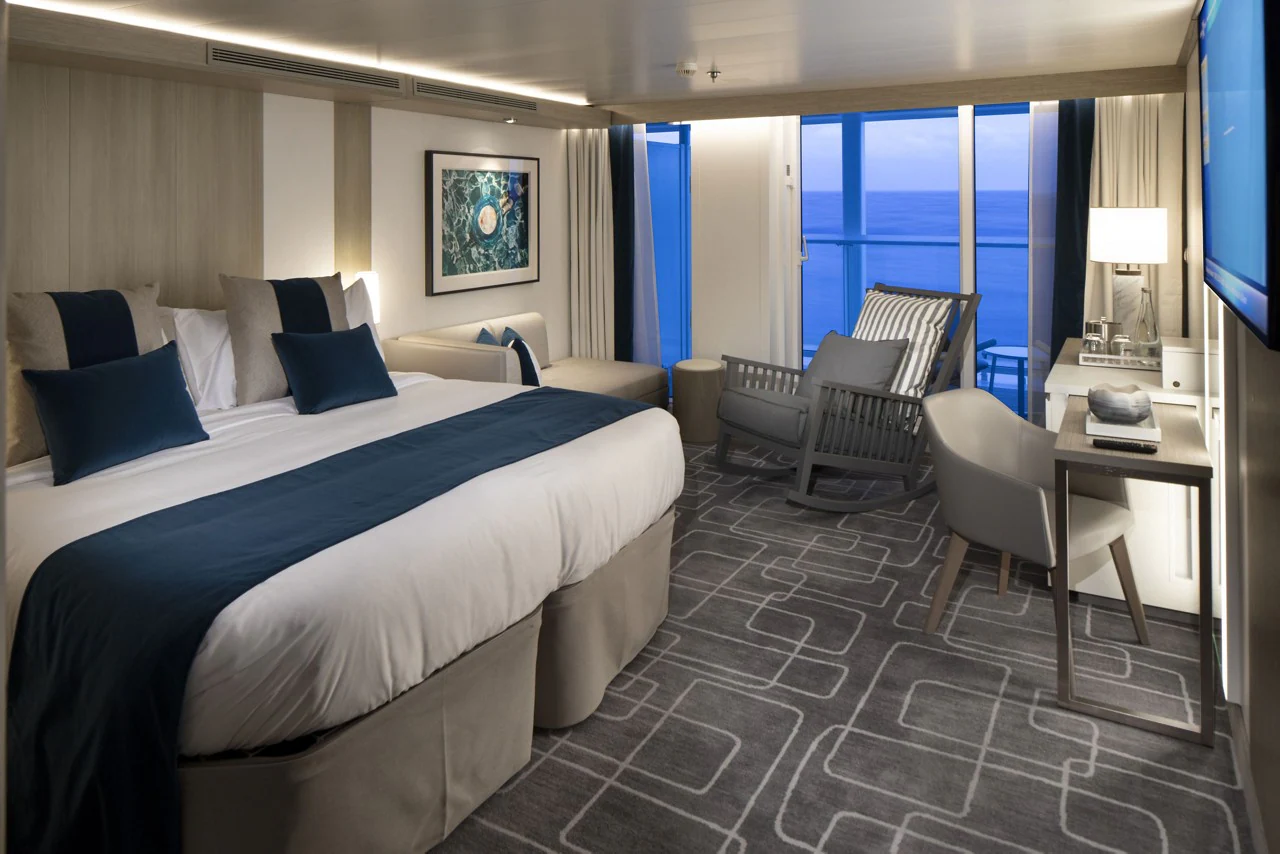 Celebrity Cruises offers a variety of cabins and suites to accommodate different preferences and budgets. The specific cabin categories and features may vary slightly across different ships in the fleet, but here are some general types of accommodations you can find on Celebrity Cruises:
Interior Staterooms: These are the most affordable option and do not have a window or balcony. Interior staterooms typically feature comfortable bedding, a private bathroom, storage space, and amenities for a comfortable stay.
Oceanview Staterooms: These staterooms have a window or porthole that provides natural light and views of the ocean or outside scenery. They offer the same basic amenities as interior staterooms.
Balcony Staterooms: Balcony staterooms feature a private balcony where you can enjoy fresh air and panoramic views. They usually have a sitting area, a small table, and other amenities to enhance your comfort.
Concierge Class: These staterooms offer additional perks and services, including priority check-in, welcome champagne, and access to a dedicated concierge who can assist with dining reservations and other arrangements. They often have larger balconies or enhanced amenities compared to standard balcony staterooms.
AquaClass: AquaClass staterooms are designed with a focus on wellness and relaxation. Passengers staying in AquaClass staterooms have access to the exclusive AquaClass restaurant, as well as other amenities like priority access to the spa facilities and complimentary access to the Persian Garden relaxation area.
Suites: Celebrity Cruises offers a range of suites, each with its own set of features and benefits. Suite categories may include Sky Suites, Celebrity Suites, Royal Suites, Penthouse Suites, and the luxurious Reflection Suite. Suites generally offer more spacious accommodations, separate living and sleeping areas, enhanced amenities, butler service, and access to exclusive venues such as private lounges and restaurants.
Regardless of the specific accommodation category you choose, Celebrity Cruises strives to provide comfortable and well-appointed cabins and suites. Amenities commonly found in staterooms and suites include flat-screen TVs, minibars, safes, hairdryers, bathrobes, and premium bedding.
It's important to note that the availability of cabin categories and specific amenities can vary across ships and itineraries. It's advisable to check the Celebrity Cruises website or consult with a travel agent for detailed information on cabin options and availability for your desired cruise.
Restaurants and dining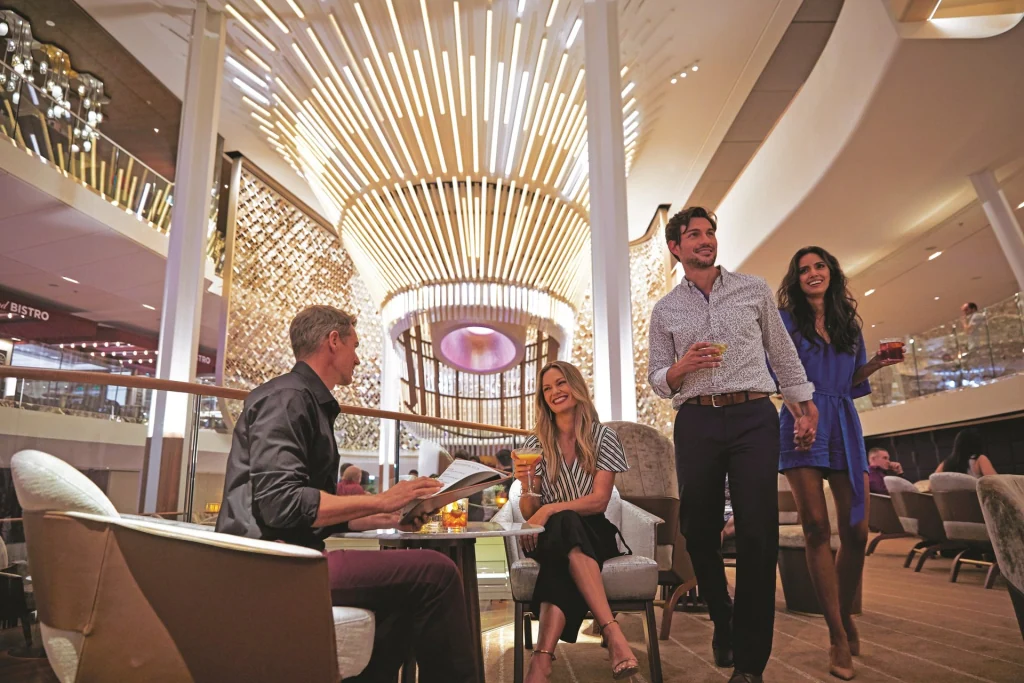 Celebrity Cruises offers a diverse and impressive array of dining options to cater to different tastes and preferences. Here are some of the dining venues you can find on Celebrity Cruises ships:
Main Dining Room: The main dining room is typically the centerpiece of the ship's dining experience. It offers a formal setting where you can enjoy a multi-course meal with a rotating menu of gourmet dishes. The main dining room is included in the cruise fare, and you can choose between traditional set-seating or flexible anytime dining.
Specialty Restaurants: Celebrity Cruises features a selection of specialty restaurants that provide unique dining experiences. These venues often require an additional fee, but they offer enhanced menus, unique cuisines, and intimate atmospheres. Examples include:
Murano: Murano offers a sophisticated fine dining experience, serving classic and modern continental cuisine with a focus on French dishes.
Tuscan Grille: Tuscan Grille presents an Italian-inspired steakhouse concept, offering prime cuts of meat, seafood, and homemade pastas in a warm and rustic setting.
Qsine: Qsine provides a playful and innovative dining experience, featuring an eclectic menu of globally influenced small plates presented in an artistic and interactive way.
Oceanview Café: The Oceanview Café is a casual buffet-style restaurant offering a wide range of international cuisine options. It serves breakfast, lunch, and dinner, with various stations offering salads, hot dishes, carving stations, desserts, and more. It provides a more relaxed dining atmosphere and is a convenient option for quick meals or casual dining.
Mast Grill and Poolside Grill: These outdoor venues serve casual fare such as burgers, hot dogs, sandwiches, and salads. They are perfect for grabbing a quick bite while enjoying the pool or outdoor activities.
Café al Bacio and Gelateria: This European-inspired café serves specialty coffees, teas, pastries, and gelato. It offers a cozy ambiance for relaxing with a beverage or indulging in sweet treats.
Room Service: Celebrity Cruises provides 24-hour room service, allowing you to enjoy a meal or snack in the comfort of your stateroom. The menu typically includes a variety of options, including breakfast items, sandwiches, salads, and desserts.
Additionally, Celebrity Cruises often offers special dining events, such as brunches, themed dinners, and culinary demonstrations. The cruise line caters to various dietary preferences and needs, including vegetarian, gluten-free, and vegan options. It's advisable to inform Celebrity Cruises of any specific dietary requirements at the time of booking or speak with the restaurant staff onboard to accommodate your needs.
Entertainment and activities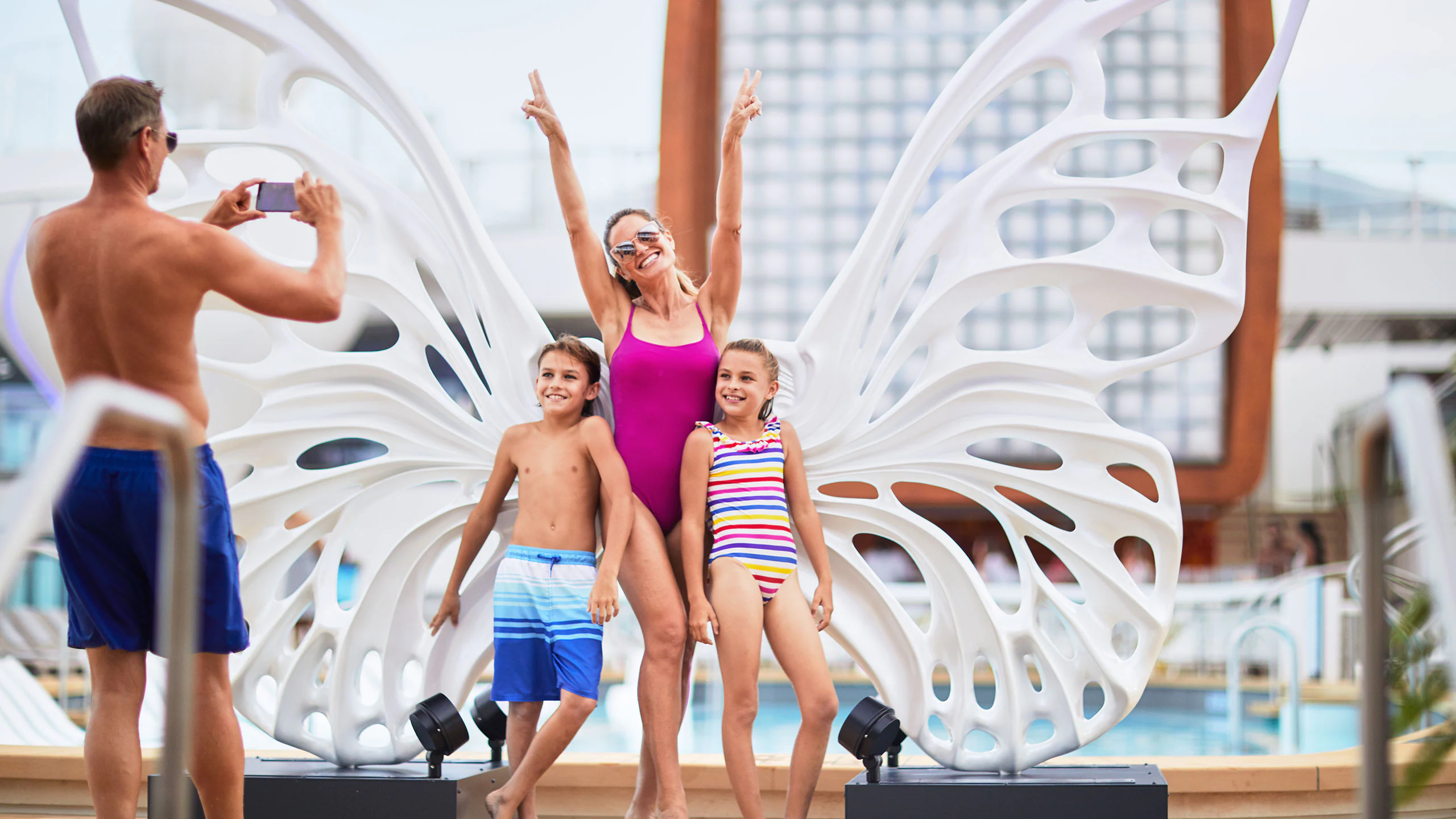 Celebrity Cruises offers a wide range of entertainment and activities onboard their ships to keep passengers engaged and entertained throughout their cruise. Here are some of the highlights:
Live Shows and Performances: Celebrity Cruises presents a variety of live shows and performances in their onboard theaters. You can enjoy Broadway-style productions, musicals, comedy acts, acrobatics, live music, and more. The shows feature talented performers and are designed to provide an enjoyable and immersive entertainment experience.
Celebrity Life Activities: Celebrity Cruises offers a program called Celebrity Life, which includes a range of activities and classes to suit various interests. You can participate in dance classes, art workshops, cooking demonstrations, wine tastings, trivia games, fitness sessions, and educational lectures.
Nightlife and Bars: The ships have numerous bars and lounges where you can relax, socialize, and enjoy evening entertainment. You can find venues offering live music, karaoke, DJ sets, themed parties, and dancing. There are also specialty bars like the Martini Bar, Wine Cellar, and craft beer bars to cater to different tastes.
Casino: Celebrity Cruises provides onboard casinos for those who enjoy gaming. You can try your luck at slot machines, poker tables, blackjack, roulette, and other popular casino games.
Outdoor Activities: Celebrity Cruises offers a range of outdoor activities to make the most of the ship's outdoor spaces. You can take a dip in the pools, relax in hot tubs, enjoy outdoor movies, participate in outdoor games and sports, or simply soak up the sun on the deck.
Fitness and Wellness: The cruise line provides fitness centers equipped with modern exercise equipment, including treadmills, weights, and exercise classes. You can join fitness classes, yoga sessions, or work with personal trainers. Celebrity Cruises also offers spa facilities where you can indulge in massages, facials, and other rejuvenating treatments.
Celebrity iLounge: The Celebrity iLounge is a dedicated area where you can access computers, attend technology workshops, and learn about the latest gadgets and digital devices. It's a hub for tech enthusiasts or those looking to stay connected during their cruise.
Family-Friendly Activities: Celebrity Cruises offers activities and facilities for families traveling with children. There are dedicated kids' clubs and teen lounges where young passengers can engage in age-appropriate activities, games, and supervised programs.
It's important to note that the specific entertainment and activities may vary by ship and itinerary. Celebrity Cruises continuously updates and enhances their onboard offerings to provide a variety of experiences for passengers of all ages and interests. It's recommended to check the ship's daily program or consult with the cruise staff to stay informed about the specific entertainment options and activities available during your cruise.
Carry-on drinks policy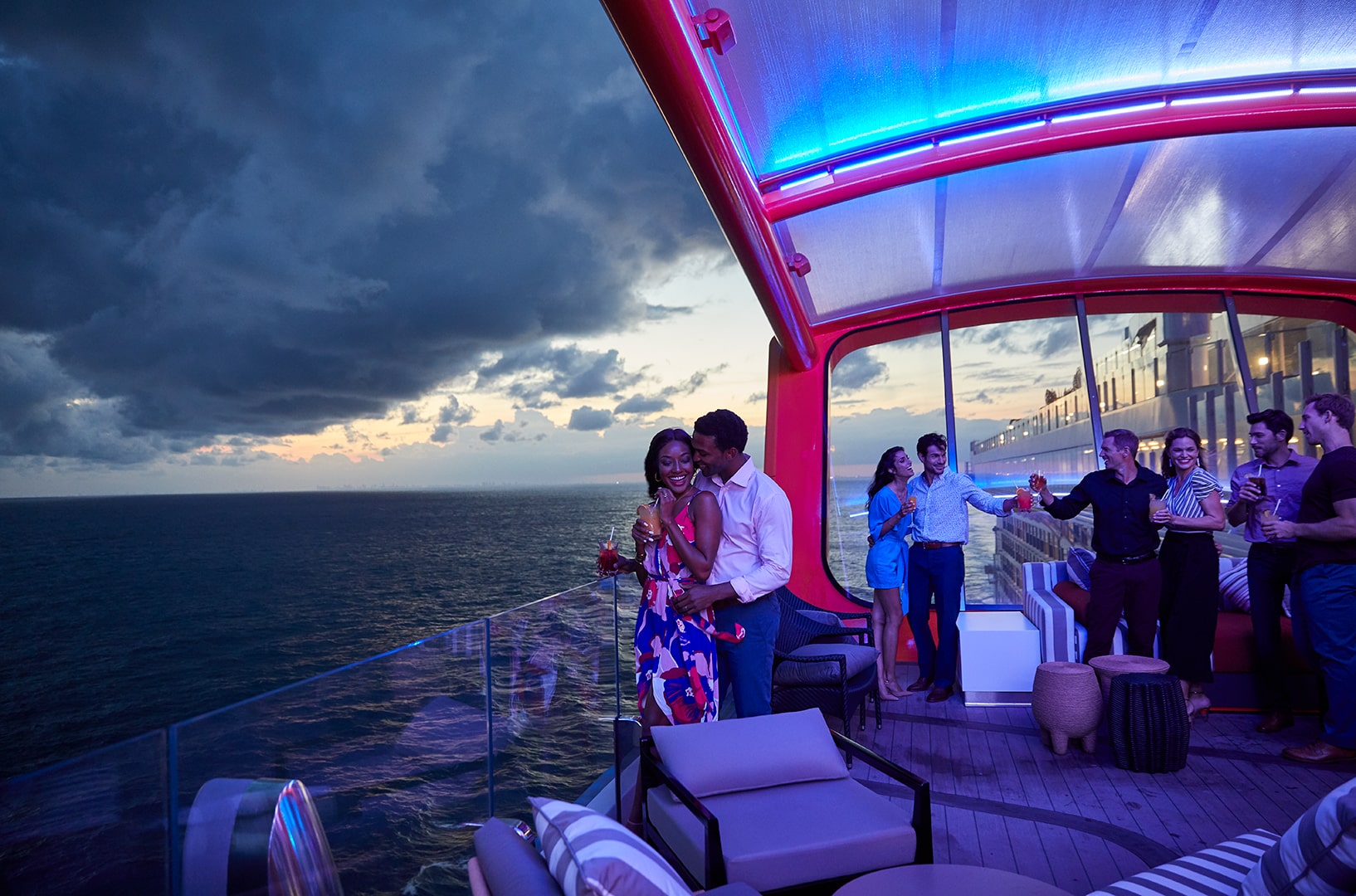 Celebrity Cruises has specific policies regarding bringing carry-on drinks on board their ships. As of my knowledge cutoff in September 2021, the general policy is as follows:
Non-Alcoholic Beverages: Guests are allowed to bring non-alcoholic beverages such as water, soda, and juice in their carry-on luggage. However, the quantity should be limited to a reasonable amount that is intended for personal consumption. It's recommended to bring these beverages in their original, sealed packaging.
Alcoholic Beverages: Celebrity Cruises has restrictions on bringing alcoholic beverages onboard. Guests are generally not allowed to bring alcoholic beverages, including wine and spirits, on board with them. However, there are some exceptions and options available:
Wine: Guests are permitted to bring two bottles of wine per stateroom on embarkation day only. These bottles should not exceed 750ml each. If you bring wine to a restaurant or public area, a corkage fee may apply if you choose to consume it there.
Specialty Alcohol: For certain occasions, such as celebrations or special events, you may contact Celebrity Cruises in advance to arrange for the purchase and delivery of specialty alcohol. This includes items like champagne, liquor, or wine.
Purchasing Alcohol Onboard: Celebrity Cruises offers a wide selection of alcoholic beverages for purchase onboard. You can find bars, lounges, and specialty drink packages to suit your preferences.
It's important to note that cruise lines may update their policies, including carry-on drinks policies, at any time. Therefore, it's advisable to consult the most recent guidelines provided by Celebrity Cruises directly or review the information on their official website for the most up-to-date details and any specific regulations that may apply to your sailing.
Celebrity Cruises' loyalty program
Celebrity Cruises has a loyalty program called Captain's Club, which rewards frequent cruisers with various benefits and perks. The Captain's Club offers different tiers based on the number of qualifying cruise points you have earned. Here are the main tiers and benefits:
Preview: The entry-level tier for new members or those who have not yet earned any cruise points. Preview members receive a dedicated Captain's Club newsletter, access to exclusive onboard events, and member-only pricing on select sailings.
Classic: Earned after accumulating one to 149 cruise points. Classic members receive all the benefits of the Preview tier, plus additional perks such as access to the Captain's Club loyalty desk, a complimentary Captain's Club cocktail reception, and priority embarkation.
Select: Earned after accumulating 150 to 299 cruise points. Select members receive all the benefits of the Classic tier, along with extras like a complimentary wine seminar, access to the Captain's Club lounge, and priority status for shore excursion waitlists.
Elite: Earned after accumulating 300 to 749 cruise points. Elite members enjoy all the benefits of the Select tier, as well as priority tender service, access to a private shipboard departure lounge with continental breakfast, and a 90-minute complimentary internet package.
Elite Plus: Earned after accumulating 750 to 2,999 cruise points. Elite Plus members receive all the benefits of the Elite tier, plus additional perks like complimentary laundry and dry cleaning, access to the Persian Garden relaxation room, and priority status for specialty restaurant reservations.
Zenith: The highest tier, earned after accumulating 3,000 or more cruise points. Zenith members enjoy all the benefits of Elite Plus, along with additional privileges such as a complimentary beverage package, access to Michael's Club lounge, and a complimentary 7-night cruise for two in a suite.
It's important to note that the number of cruise points earned is based on various factors, including the length of the cruise, the stateroom category, and any applicable promotions or bonuses. The Captain's Club benefits are subject to change, and some benefits may vary depending on the ship and itinerary.
To join the Captain's Club, you can sign up online on the Celebrity Cruises website or register onboard during your first cruise. As you continue to accumulate cruise points, you will progress through the tiers and unlock more exclusive benefits and privileges with each tier.
How much does a Celebrity cruise cost?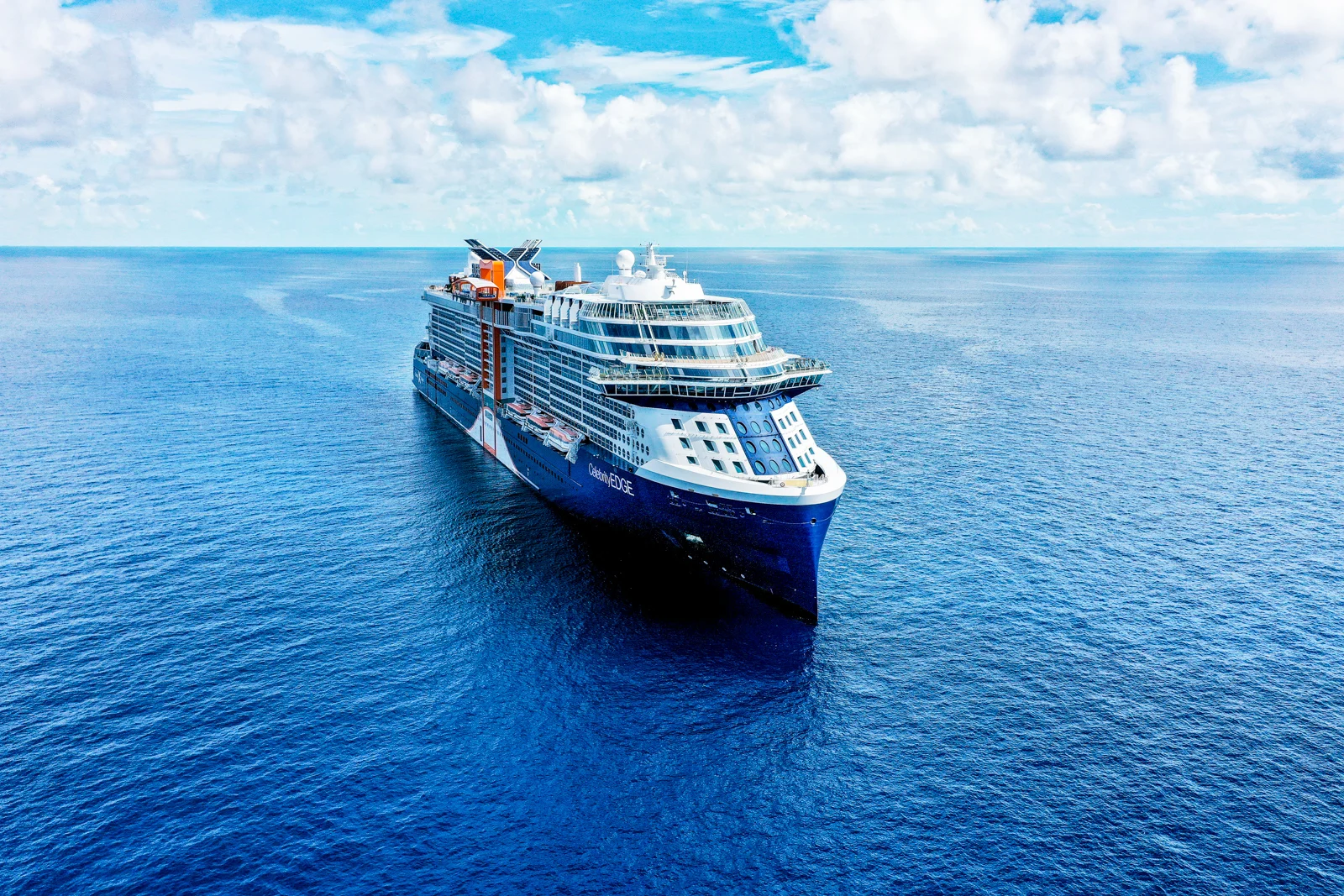 The cost of a Celebrity cruise can vary widely depending on several factors, including:
Destination: The price of a Celebrity cruise can vary based on the region or destination you choose. Cruises to popular and exotic destinations may have higher price points compared to more common itineraries.
Duration: The length of the cruise impacts the cost. Longer cruises generally have higher prices due to the increased number of days onboard and the potential inclusion of more ports of call.
Ship and Stateroom Category: Different ships within the Celebrity Cruises fleet offer a range of amenities, features, and stateroom categories. The price can vary based on the ship you choose and the type of stateroom, such as interior, oceanview, balcony, or suite.
Time of Year: Prices can fluctuate depending on the time of year and the cruise industry's supply and demand dynamics. Peak travel seasons and holidays may have higher prices compared to off-peak times.
Onboard Amenities and Packages: Additional costs may apply for certain onboard amenities and services, such as specialty dining, beverage packages, spa treatments, shore excursions, and Wi-Fi access. These optional extras can contribute to the overall cost of the cruise.
Promotions and Discounts: Celebrity Cruises frequently offers promotions and discounts that can reduce the overall cost of the cruise. These may include early booking discounts, last-minute deals, or special offers for loyalty program members, military personnel, or resident rates.
Due to the multitude of variables involved, it's challenging to provide an exact cost for a Celebrity cruise without specific details. It's recommended to visit the official Celebrity Cruises website or consult with a travel agent to obtain accurate pricing information based on your desired destination, dates, ship choice, and stateroom category. By considering your preferences and budget, you can find a Celebrity cruise that fits your needs and financial resources.
Celebrity Cruises Pros & Cons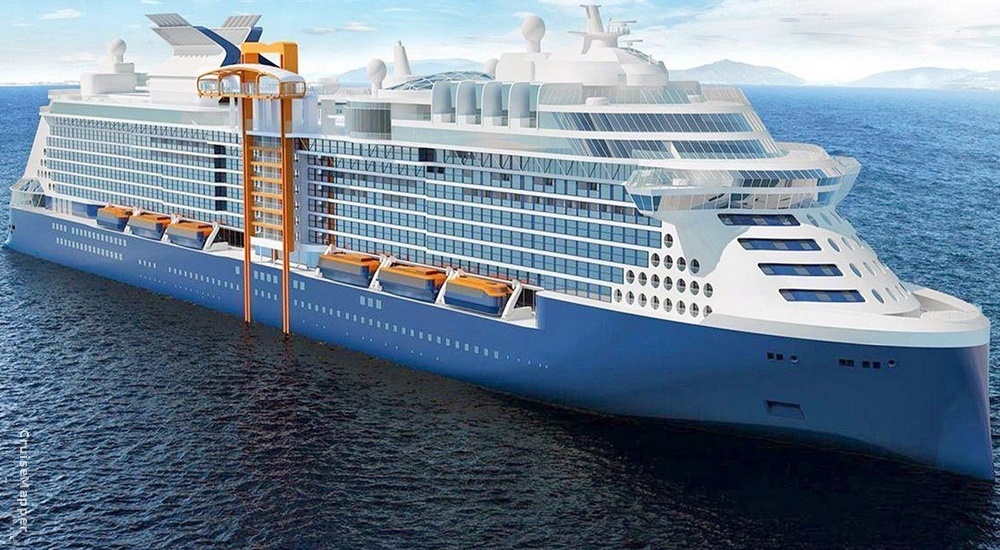 Pros:
Premium Experience: Celebrity Cruises offers a premium cruise experience with upscale amenities, elegant ship designs, and high-quality service. The cruise line is known for its sophisticated ambiance and attention to detail.
Culinary Excellence: Celebrity Cruises is renowned for its culinary offerings. With a variety of dining venues, including specialty restaurants helmed by renowned chefs, the cruise line provides a diverse range of gourmet cuisine options and dining experiences.
Unique Itineraries: Celebrity Cruises offers a wide selection of itineraries that cover popular and exotic destinations worldwide. Whether you're interested in exploring the Caribbean, Europe, Alaska, or other regions, the cruise line provides opportunities to visit unique ports of call and experience different cultures.
Modern Ships: Celebrity Cruises' fleet consists of modern and stylish ships equipped with state-of-the-art facilities and amenities. The ships feature innovative designs, spacious accommodations, and well-appointed public areas that contribute to a comfortable and enjoyable cruise experience.
Environmental Commitment: Celebrity Cruises prioritizes environmental sustainability and has implemented initiatives to reduce its ecological footprint. The cruise line employs advanced technologies and practices to conserve resources, minimize emissions, and protect the environment.
Cons:
Higher Price Point: As a premium cruise line, Celebrity Cruises generally comes with a higher price point compared to some other cruise lines. The luxury experience and enhanced amenities are reflected in the cost of the cruise, which may not be suitable for all budgets.
Fewer Family-Friendly Amenities: While Celebrity Cruises welcomes families and offers activities for children, the cruise line doesn't have as many dedicated family-friendly amenities and facilities as some other cruise lines. Families with young children may find more comprehensive options elsewhere.
Limited Onboard Entertainment: While Celebrity Cruises provides live shows, performances, and a variety of activities, some passengers may find the onboard entertainment offerings relatively more restrained compared to certain other cruise lines that focus heavily on high-energy entertainment and activities.
Specialty Dining Costs: While the main dining options are included in the cruise fare, dining at specialty restaurants typically incurs an additional fee. For passengers seeking a wider variety of dining experiences, the additional costs of specialty dining can add up.
Crowded Ports of Call: In popular cruise destinations, ports of call can sometimes become crowded with multiple cruise ships. This may lead to increased congestion and longer waiting times during disembarkation and shore excursions.
It's important to consider these pros and cons in the context of your preferences and priorities to determine if Celebrity Cruises is the right fit for you. Each cruise line has its own unique features, so it's worth comparing multiple options to find the one that aligns best with your vacation expectations.