Enjoy The Wood (ETW), a family brand in Ukraine, which produces top-quality handcrafted wooden accessories and customizable world maps. Since 2014, they have sent their signature products, Wooden Maps, to over 100,000 customers in 90 countries. Inspired by customers from all over the world, the brand has become truly unstoppable.
People knew about the value of wood thousands of years ago. This natural product was the only raw material offering good quality at manageable costs until it started being replaced with metal and plastic. The naturalness, warmth and versatility of wooden products is being rediscovered these days and wooden design finds its way and brings nature back into people's homes and lives.
To own an original piece by Enjoy the Wood is to own a bespoke artwork that will spark dinner conversations for generations. In an increasingly disposable world the ETW magnificently crafted maps will stand out as truly meaningful statement pieces for friends and family to enjoy.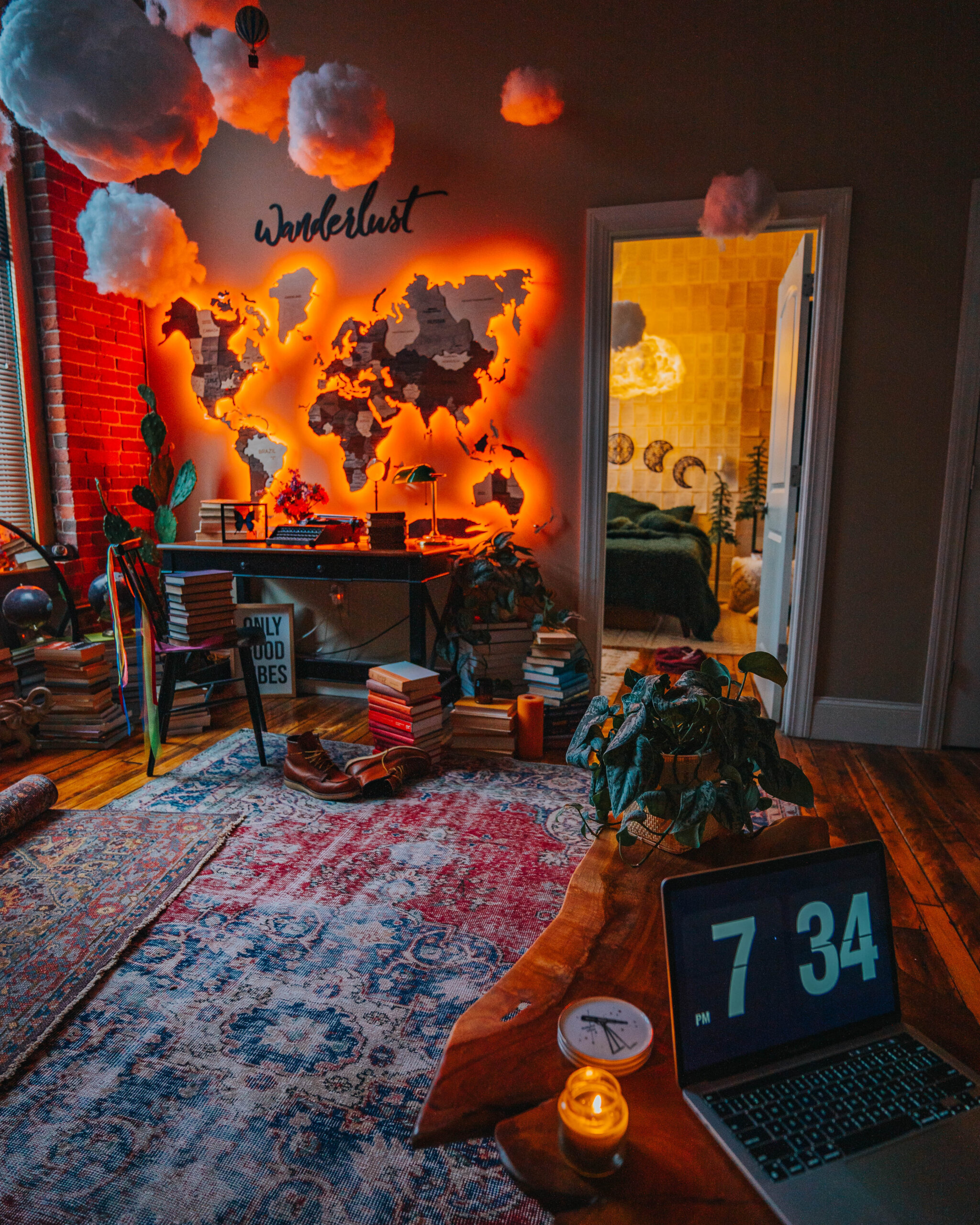 Enjoy The Wood has had five amazing runs on. In 2019, the ETW successfully funded the World's first 3D Wooden World Map that raised over $500,000. It is still one of its most popular minimalistic wall decoration products. A true bestseller. However, the 2021 launch of the 3D Luminous Colored Wooden World Map, has broken all records, when ETW walked away with over $800,000 to continue revolutionizing the map decor market.
When it comes to map decor, nobody does it better than Enjoy the Wood. A range of fascinating items to choose from in a variety of colors from soft and natural to simply glamorous: 3D Wooden World Map, 3D Colored Wooden World Map, Wooden World Map, Colored Wooden World Map, Cork World Map, 3D LED Wooden World Map, 3D Solid Wooden World Map. And last but certainly not least, the 3D Luminous Colored Wooden World Map, the most innovative product to date, has just gone public. It has a luminescence effect and a magnetic feature and is so much more than a map. Below is the map description by ETW.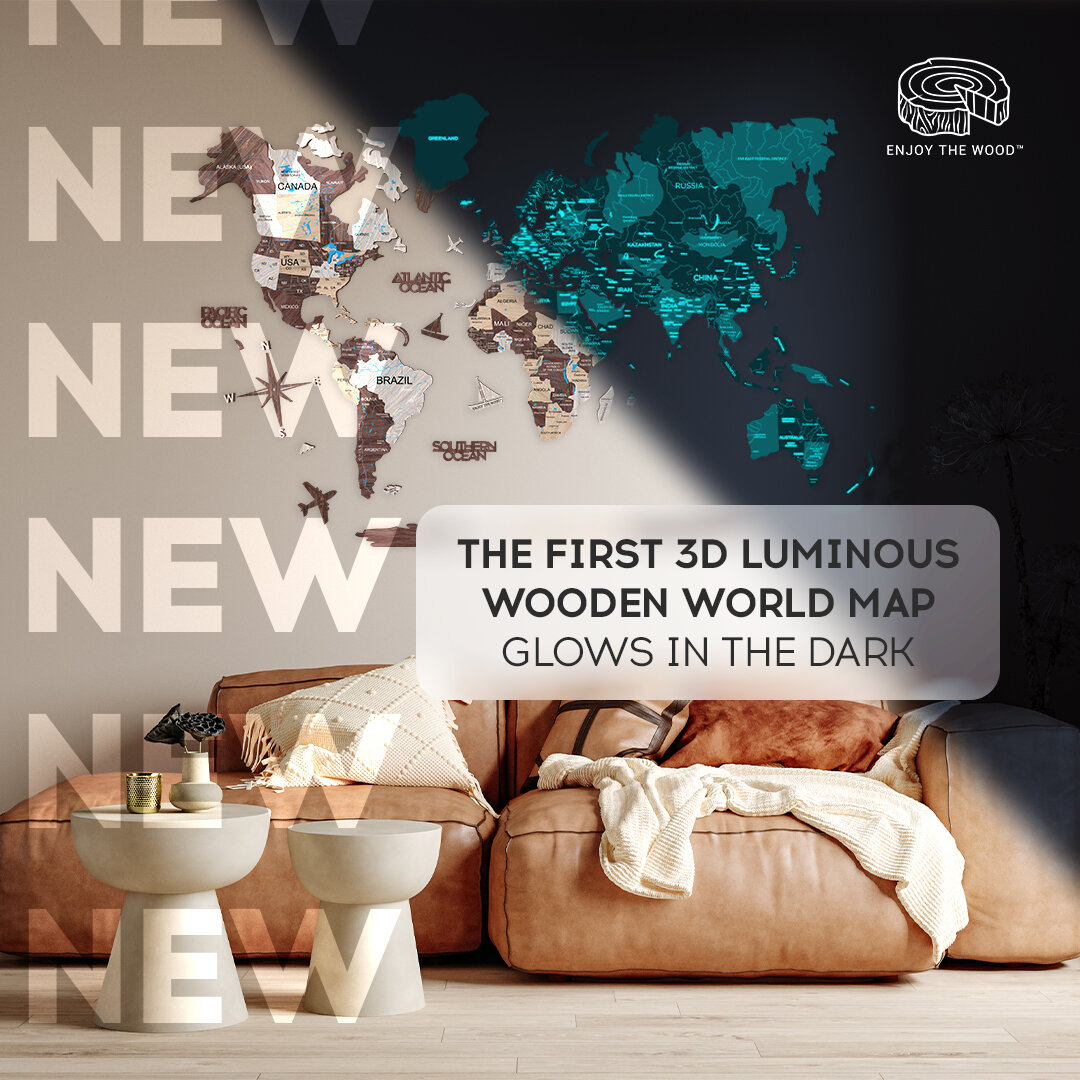 VIBRANT COLORS
With our innovative printing technology, we can offer the highest resolution, incredible precision, and detail, so you can see more and feel more. The products come in a variety of colors: bright and muted, textured and smooth, to fit any taste and interior.
Stores energy during the day, the darker it gets – the brighter it shines. Glows in the dark for up to two hours.
MAGNETIC COATING
The Map draws you in thanks to its fully magnetic surface. Pick out your favorite pins and place them effortlessly where they belong on the map and in your heart. You can also stick your photos, magnets included.
UPGRADED PUSHPINS
We have updated our pins and made some new magnetic and sticky ones to mark all your trips, past, present, and future ones. They can be added to the purchase. There are 40 colored pins and eight special events pins.
INSTALLATION
The Map has an acrylic background, ready to be placed on the wall. The installation takes several hours and there is a video with instructions. You will need to use double-sided sticky tape.  No wires, extra tools, or appliances are required.
We use top-quality fiberboard to handcraft our 3D Luminous Colored Wooden World Maps. In the box, you will find the following items: Map pieces including ocean names, wooden planes, boats and compass, double-sided sticky tape, instructions, corner stencils and a lifetime warranty. The map is available in different sizes.
The product is 100% our own. Our patented customizable world maps and wooden accessories are handcrafted at our workshop, with a keen eye for beauty, meaning and detail. We deeply care about the quality of our products, the novelty of our designs and customer satisfaction.
Life is a journey, not a destination. Life is a puzzle. Keep assembling the pieces of the puzzle. And who knows, by putting the pieces of the puzzle together, you may find a new meaning to your life. Carve your own path with Enjoy the Wood. Enjoy life and enjoy the wood.
A gift or a decoration like no other, an ETW map, regardless which one you choose, is a treat for the whole family, a surprise for house guests, and an object of pride. A perfect conversation starter and a mood setter. It is unique, educational, sustainable and fun, equally entertaining for people across all ages and backgrounds. Look no further. The ETW wooden maps will be a great asset to your home, office or business.
Whether it is reminiscing over paths walked and journeys undertaken or planning future trips, this map will see through your lifetime of travel and adventure. Just like the wood itself carries the memories of its age, the map will carry your memories and dreams.
So, what will the next ETW map look like? The LED backlight feature is the one that the company has been working on. You will be able to control it right from your smartphone. Multiple modes will become available including the twinkle modes. And this is just the beginning of more great things and features to come.
Check out a range of unique products by Enjoy The Wood and order your new 3D Luminous Colored Wooden World Map or any other wooden map of your choice today!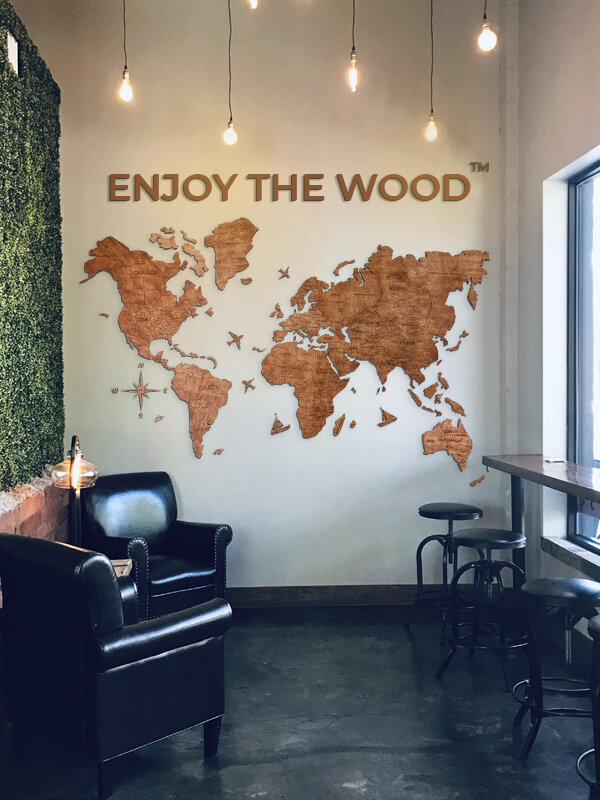 You just looked up enjoythewood.com using our Scam VLDTR® tool to see if this business is legitimate. We analyzed this website and its Work From Home sector – and we have news. Meanwhile, feel free to share your experience in the comments, whether good or bad, so we can adjust the rating. In addition, this article we'll show you a few other fraud prevention resources including what to do if you lost money to any scam.
The Scam algorithm finds enjoythewood.com having an authoritative rank of 58.7. It means that the business is Active. Mediocre. Common.
Our algorithm gave the 58.7 rank based on 50 factors relevant to enjoythewood.com's niche. From the quality of the customer service in its Work From Home industry to clients' public feedback and domain authority, we have considered many important details.
Other factors include, but are not limited to, WHOIS details, IP address, Alexa rank, modern technology used for their website, SSL certificate, and presence or absence on suspicious website lists.
What does "Active. Mediocre. Common." mean? It is a business that's been online for a while. It seems like enjoythewood.com has received both positive and negative feedback (occasionally), just like many other websites. That means that you need to exercise caution if you decide to proceed with using it.
What Else You Need To Know
Our algorithm used factors that analyzed in particular the company's website, in this case enjoythewood.com. When we look into websites, we search for professional details that reveal key information about a business – how they sell, poor customer service, etc. For example, if we analyze a brewery page, we don't rate the beer taste, but rather their website and how they sell the beer.
This is not a vanity tool, so if you are the owner of enjoythewood.com and not happy with the 58.7 ranking, remember that your website is your online business card. It REALLY needs some improvements. It could be anything from your online management system, to HTTPS connection. Or your public reviews, which are critical.
Is enjoythewood.com a Scam? How Would You Rank It?
Let others know what you think. Is enjoythewood.com a scam? Share the good or the bad. Help everyone be secure online. If you have dealt with enjoythewood.com, how would you rank it? Please talk about your experience by leaving a comment or a review at the bottom of this article.
How To Spot a Fake Website in 2022
The advancement of e-commerce and the thousands of websites that are created daily also show us that there are several types of scams. Watch the video below to see 5 ways to spot a scam website in 2022:
How To Remove Your Personal Data From The Internet
Whether you accept it or not, the Internet is full of your personal information. Why? Every time you visit a website and accept cookies or download an app, data brokers collect your name, address, and phone number, selling further to third parties. It's a fact. Your harvested personal data is used for sending you spam emails, targeted ads, and annoying telemarketing calls. Scammers or identity thieves make use of it.
If you want to remove your information entirely, contact our partners at Incogni immediately. It is a trustworthy data privacy tool that requests your data removal from almost a hundred brokers on your behalf.
The service is verified by our staff and is legitimate. By joining Incogni, you get a big powerful button that flushes your personal information and enforces existing data privacy laws. Totally worth it for only $5.79/month (trust us). US, UK, EU, Swiss and Canadian residents only. Click below.
Were You The Victim of Any Type of Fraud?
We are here to help. If you have been a victim of any type of fraud (other credit card scams, WhatsApp, eBay, PayPal, financial, Telegram, even romance scams, etc.) and lost money already, we might have some good news. Over the years, we have partnered with a few powerful asset recovery companies, and now, in an effort to help scam victims, we could take a look at your case. Due to several requests, please fill THIS FORM if you lost more than $1,000US to any type of fraud. The process of recovering the money is complex and requires a lot of tedious work. However, we'd be happy to take a look at your story, so let's hope you'll get your money back.
Last Word: Here Is The Best Way To Protect Yourself
For the end of the article we left a very powerful and important advice. After the increased amount of fraud online happening since the pandemic started, we've been asked many times what the most effective ways to stay safe online are. After experiencing and testing many fraud prevention platforms online, we we would recommend you to get Surfshark. Here is why:
They have an award-winning VPN service, protecting your privacy, securing your identity, and preventing third parties from tracking your device. They have a super aggressive antivirus program. It offers you effective protection from viruses and zero-day threats, a lightweight, clean, and easy-to-use app, and a 30-day money-back guarantee.
They will notify you when your personal info is leaked online.
They help you hide your online searches, which will get you purely organic search results, free from ads and tracking.
Travel wooden wall map is a unique wooden wall décor for your home, office or any other location. Easy assembling will make your leisure time fun and interesting. Travel map is a perfect gift for your family, friends or coworkers, especially if they are travel lovers and wonderlusters. It's natural and eco-friendly, made of the highest quality plywood.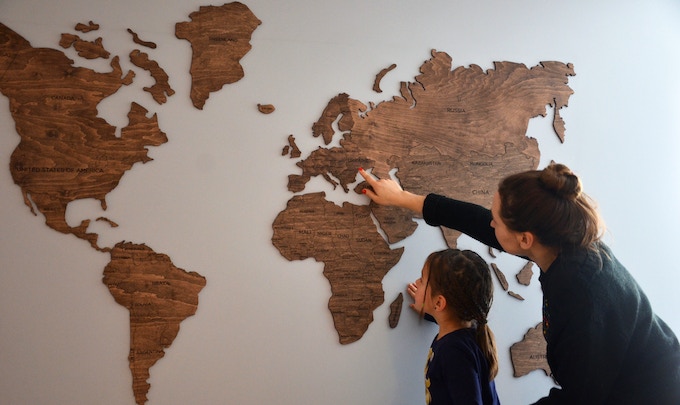 Travelling is life! The map is made for people who love freedom, travelling and life!
It is a high-quality minimalistic wooden map, created with laser-cut precision and love of tender hands.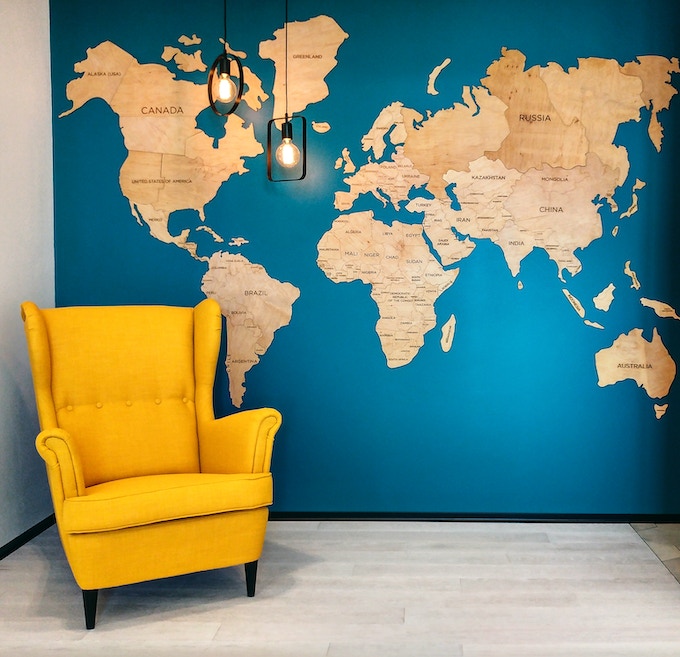 The exclusive features is that you can mark all countries that you've visited or any future travels that you might have!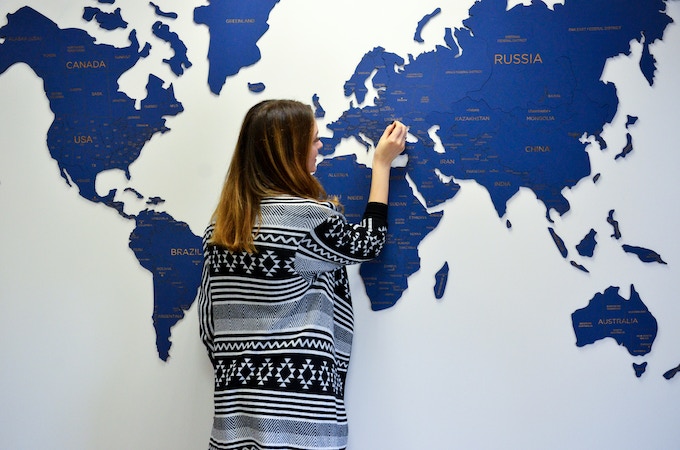 So just mark as much countries as possible! Map already has holes so you can put a pin in it and you won't ruin your beautiful map.
You can mark people and places where they live with their photos on it.
We've prepared some NEW Cool stuff for this map that will be available after we reach our goal.
So let's start from the First one to warm you up 😉
And it's push pins!
Size of pin = 4 cm (1.6″)
Pins are completely made from metal. So they are very durable. Color – white!
30 pcs in a pack.
Different designs – different styles. So, we offer you some other, more specific types of map for any taste.
Standard map + states names of USA, Canada and Australia + capitals of countries – Full Pack (English, German, French)
Map with country names and borderlines – Standard Map ( English, German, French)
And that's not all! You can choose the color of the map that will suit your décor.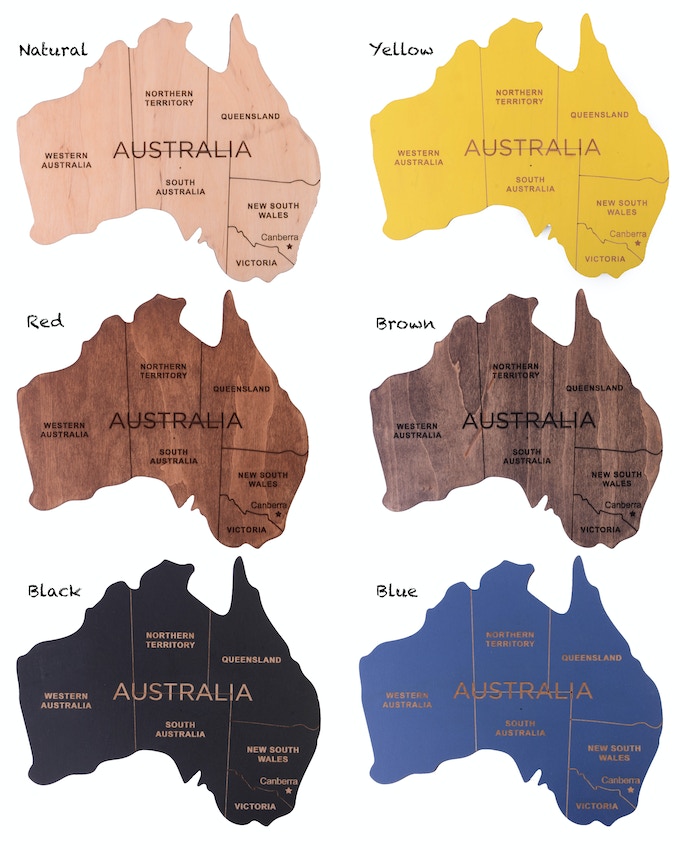 Also we prepared stretch goals for you which would be opened very soon.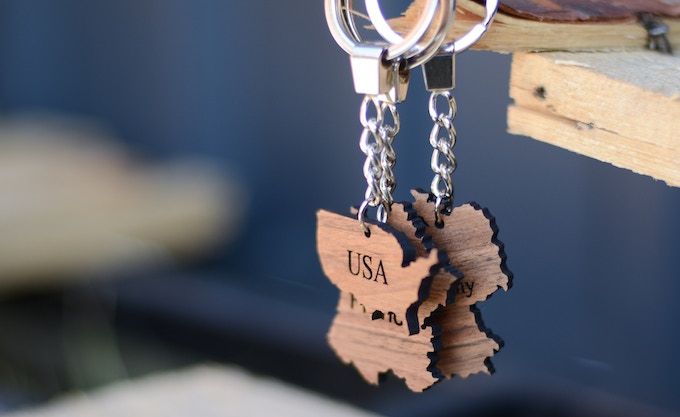 Home…Office…School…University…Hotel…Cafe? EVERYWHERE!
Spend quality time with your family. "Tell me and I forget, Teach me and I remember, Involve me and I learn." — Benjamin Franklin. It's a great way to involve children in the process of learning geography! Must have for home with kids.
Great unique design for office or cafe. This map could complement the design of any apartment and make it beautiful like never before!
Assembling is a really fun process. You don't need any special tools to install the map on the wall because all pieces of map already have sticky double sided adhesive (tape) and also on the each piece there are numbers which match template on the instructions you will get 🙂 And some help how to install the map
All pieces of the map are packed in polystyrene and also in gift wrapping so you don't have to think about it.
XL – 51x91x9 cm (20x36x3.5 in), 3.6-4 kg (8-8.8 lb)
L – 41x71x9 cm (16.1x28x3.5 in), 2.3-3 kg (4.6-5 lb)
M – 31x51x8 cm (12.2x20x3.1 in), 1-1.2 kg (2.2-2.6 lb)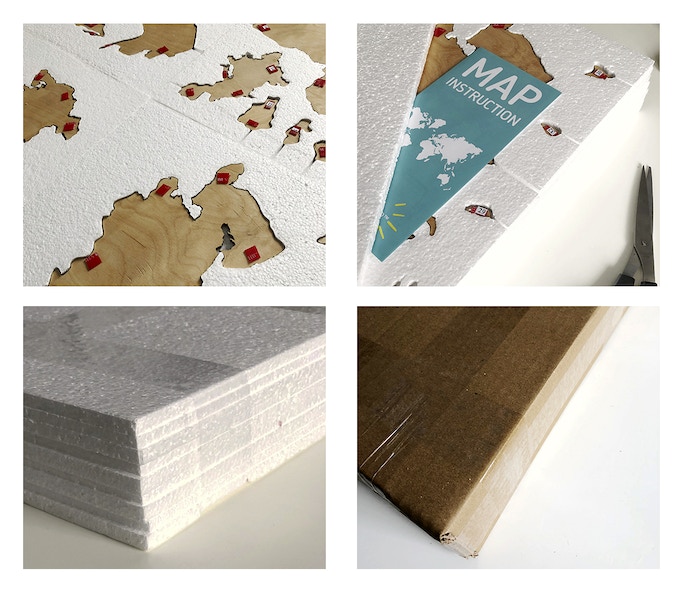 To find out the shipping fee, please sum up the weight of the maps in your pledge, and find the corresponding value in the table below.  Also there is  information in each pledge according to the shipping cost.
XL – 3.6-4 kg (8-8.8 lb)
L – 2.3-3 kg (4.6-5 lb)
M – 1-1.2 kg (2.2-2.6 lb)
For example, if you would like 2 Xl maps + L map + 2 M maps, you just have to add the weight: 2×4 + 3 + 1×2 = 13 kg all together. And Just find the right price in the table below.
If you want to buy push pins, simply add the cost of push pins to your pledge. With shipping costs.
If you have selected a few maps, the shipping cost will be less than if we send them one by one.
To find out the shipping fee, please sum up the weight of the maps in your pledge, including add-ons, and find the corresponding value in the table below.
We use the most convenient and reliable delivery method. Orders for our buyers in the United States and Canada will be shipped from the logistics center in the United States. European orders will be shipped from Ukraine.
We offer domestic and international tracking.
We do not want to loose any orders. And we will assist you with the information all the way untill you receive the package.
Once your order enters your country your order will be handed off to your local post office for final delivery
CUSTOMS & DUTIES INFORMATION
Our prices DO NOT include VAT, GST or other country taxes.
For international customers who are required to pay customs, you will receive an email from GFS Gateway, First Mile, or your local customs authorities asking for payment to have your order processed through customs. Unfortunately, there is no legal way around customs. Once you make that payment to the customs broker your order will be processed for final delivery.
Every Enjoy The Wood map is manufactured at our own production facilities. We guarantee high quality of our products, really helpful customer service.
We are confident in our ability to create each map and bring joy to all those who supported us.
We have experience in delivery and international transportation.
We have a well thought out plan how to proceed after the end of the project.
Our team is constantly engaged in developing of some new ideas for maps.
This project is an extension of what we have achieved till now.
With the support of – your support – Enjoy The Wood team can cross the borders and create much more pleasure for the World..
As we've been working and testing our first version of map, we've received some reviews and photos how it looks in the design. Reviewing those answers we've been able to improve our map. Thank you very much for that.
We want to share with you things that are important for us. So, first of all this is a family business that started 4 years ago. Wow, three years? Time flows fast. This 4 year tought us a lot!
We have great experience in production of quality products, more than 3 thousand happy customers all over the world and 3 years experience in international delivery – 100% guarantee that we won't let you down!
Our family — is Igor, Maryna, our 3 daughters (Agneshka, Ameli and Ivory) and parents Tanya and Tolya. And we are happy that we can make things that others like!
On  we want to show the greatest thing we make — our Wooden World Map. It inspires us every day because people like it, houses like it, we like it.
Additionally, the Enjoy The Wood World Map is a patented design—you won't see it in any other company!
And we definitely couldn't do it ourselves. So here is our Perfect TEAM!
It's our first project on . We are a small company. Although our production line is fully established since 2014 and a lot of amazing wooden maps have already been created and have their beautiful owners. We have about 4 years of experience in working with wood and worldwide. With your support, we'll be able to hire more workers and release new types of the map, we have a lot of ideas which is impossible to embody unless we would have more hands.
We believe that crowdfunding is the best way to expand the audience interested in innovational products. Help us to spread the word and share it with your friends.
We've been testing different variants of map for some time, developing and improving map with each version. We know that a lot is yet to come and we have a lot in mind that we can't done without your help.
We've been working around the world for some time. And here is the result.
With the support of – your support – Enjoy The Wood team can cross the borders and create much more pleasure for the World.
Risks and challenges
This is our first project on  and we are very excited about it. This is all we can think and talk about with our team.
While no project is without risk we are ready to face them and overcome them.
As for fulfilling the "rewards", we have extra part time staff available to step in for production at any time we need.
We already have the manufacturer in place and have started making some of our maps. We've sent over 2000 "masterpieces" and we are sure we can make more.
We have a lot of ideas how to improve our "baby" and how to make the process much faster! That's why we are here. To make the manufacture faster we need more tools (e.x. now we have 8 lasers and 30 lasers would make the process faster!).
We promise to keep you guys updated 100% of the way. We want to be completely transparent and honest.
We believe we have mitigated risk factors as much as possible—we just need funding to run the wider production round!
Please feel free to reach out to us if you have any questions or concerns or leave us a message through .
Disclosure: This post is sponsored by Enjoy the Wood. All opinions are our own. This post also contains affiliate links. Should you choose to buy through these links we make a small commission at no cost to you. You can read our full disclosure here.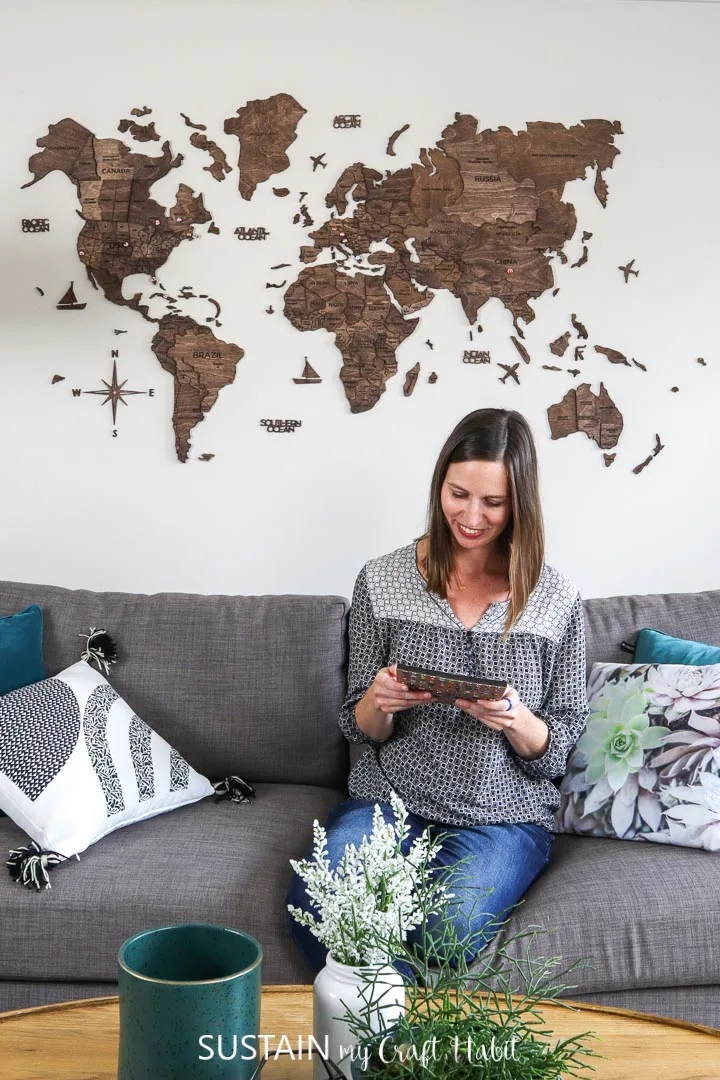 Handcrafted 3D World Maps Make Gorgeous Wood Wall Art
Like many people, our family plans this past summer went right out the window. With a dream vacation planned to Ireland; our stay booked and itinerary all plotted out, we had put all those plans on hold.
It just so happened that around the time we were supposed to be on vacation, we discovered Enjoy the Wood and their beautiful, signature 3-dimensional world maps.
Since we aren't able to travel the world, why not bring the world to us? Seeing the images of their 3D world maps, I couldn't wait to receive mine!
In all honesty, the map exceeded my expectations, the amount of detail and intricacy was almost surprising. The smallest of islands (like Corsica and the Bahamas) were cut out and even labelled with the country name. The capitals for most of the countries are also labelled, so not only is the wood wall art beautiful to look at but an educational piece too!
Founded in 2015 by a Ukranian family, Enjoy the Wood handcrafts beautiful accessories from wood and ships them to customers all around the world with free delivery. The maps are completely handmade from high-quality birch plywood and are offered in a bunch of different wood stain finishes as well as colored options. They come in 4 different sizes as well to suit your living space. And if that wasn't enough, they also offer customization options so if you want any changes at all, you simply contact the team directly.
Additionally, their 3D multilayered world maps are legally patented and come with a lifetime warranty. It's pretty clear this family run business stands behind their product.
Installing the 3D World Map
With my sister's help, we unpacked and installed this unique wood wall art in my living room. The whole process took a couple of hours…it is a bit of a puzzle after all!
But with the simple 3-step instructions and a couple of coffees on hand, we really enjoyed ourselves. In fact, we even learned a few things about geography…like, I now know where the Galapagos Islands are located!
We started by laying out all the pieces and attaching strips of double sided tape to the back using the guide provided.
Next, we wiped down and measured the wall and placed the starting templates.
Once the prep-work done, we placed the pieces on the wall. It was so satisfyling seeing the pieces click together and the world map come alive!
And that was pretty much it. As mentioned above, there are a lot of little pieces, so the installation took a couple of hours in total. But it was a simple and enjoyable installation.
We've also created a video on our YouTube channel, showing us unboxing and installing the Enjoy the Wood 3D World Map on my living room wall.
Marking your Travels
Once the map is on the wall, the fun continues with the push pins for marking your travels. There are both metal airplane and world flag options (we chose the latter).
My husband and daughter enjoyed finding the flags of the countries, states and provinces we'd been to and tacking them on to the map.
Consider this 3D World Map or any of the intricate wood products handmade by Enjoy the Wood as a gift idea. They even arrive in a gorgeous box, making them a perfect and thoughtful gift for the holidays or wedding/anniversary gift for a travel-loving couple.
Every time I walk by my living room, I glance at the map and smile. It is such a unique piece of art that will forever remind me of the places around the world we've been lucky enough to visit and places we hope to one day explore. I'm even more excited to visit Ireland soon, and in the meantime, have may gorgeous wood wall art to ogle!
Enjoy The Wood is an established name in home decor, offering literally hundreds of options when it comes to spicing up your house.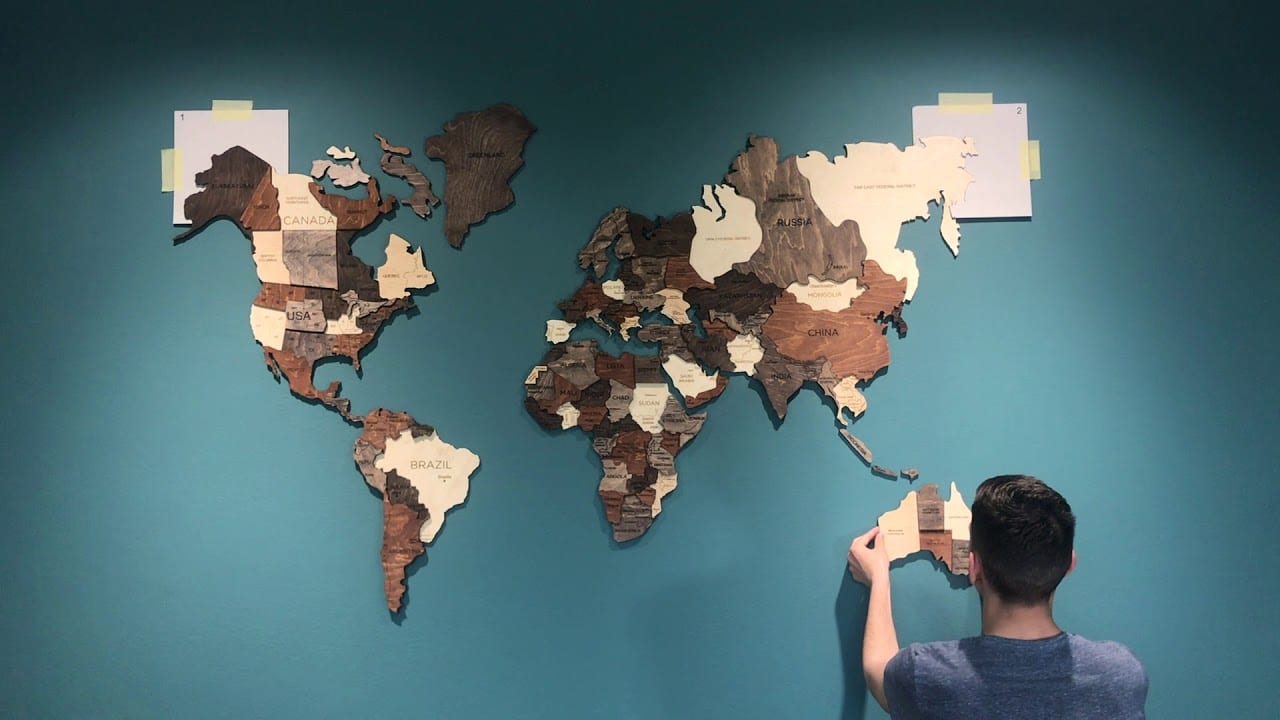 Their products are well-crafted a team of experts in the field of wooden handicraft, and promises to deliver every way in terms of quality and service. Enjoy The Wood's product catalogue is vast, with many different product lines such as recipe book covers, city maps, and most importantly, the Enjoy The Wood world map line. Being their most popular product line, let us take a look at how good these world maps really are. Additionally, to get these products for less, try out this Enjoy The Wood coupon code!
Enjoy The Wood world map review – 2D world maps
When it comes to the Enjoy The Wood world map product line, 2D world maps are the most long-standing type of map. Being crafted out of birch plywood by a Enjoy The Wood artisans, these maps not only look great but can also stand the test of time. Composed of dozens of pieces, a 2D world map meticulously details everything you need to know on a map with a high level of precision.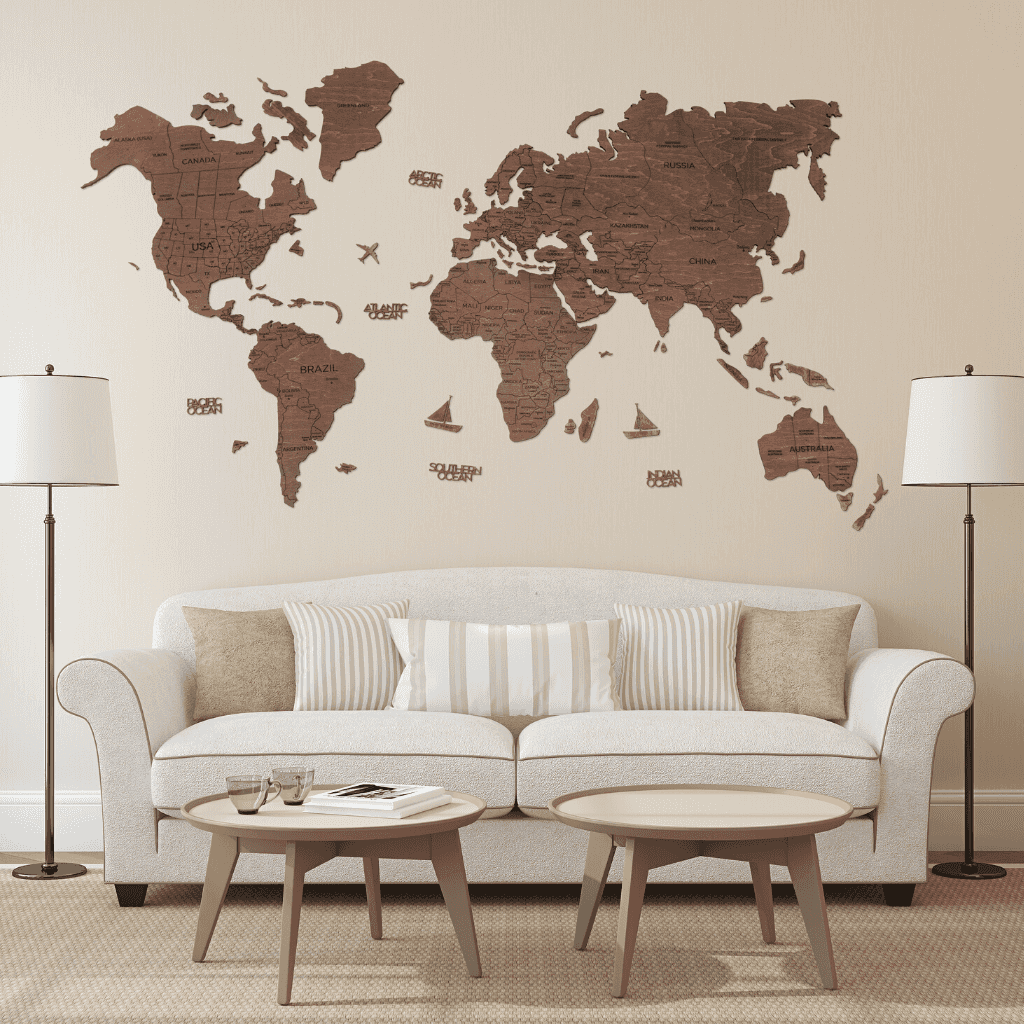 While they seem complex, these maps are actually relatively easy to install, as detailed in our article on Enjoy The Wood installation. The pieces come with two-sided tape inside the box, making it easy to stick on your walls without ruining them. What's more, the variety of these maps is also worth noting. In terms of color, you can find anything from your bog-standard oak brown to the more stylish black cork. You can even spice things up with a touch of navy blue or gold!
Sounds great, doesn't it? Grab these 2D Enjoy The Wood world map now for less with this Enjoy The Wood discount code!
Enjoy The Wood world map review – 3D world maps
3D world maps quite literally adds a new layer of depth to the Enjoy The Wood world map line. Made from the same birch plywood material and by the same team as 2D maps, these 3D maps sport an amazing level of detail and quality. What's better, the 3D layering effect of these maps mean they not only stand out more but also more vividly illustrate the different geographies on the map.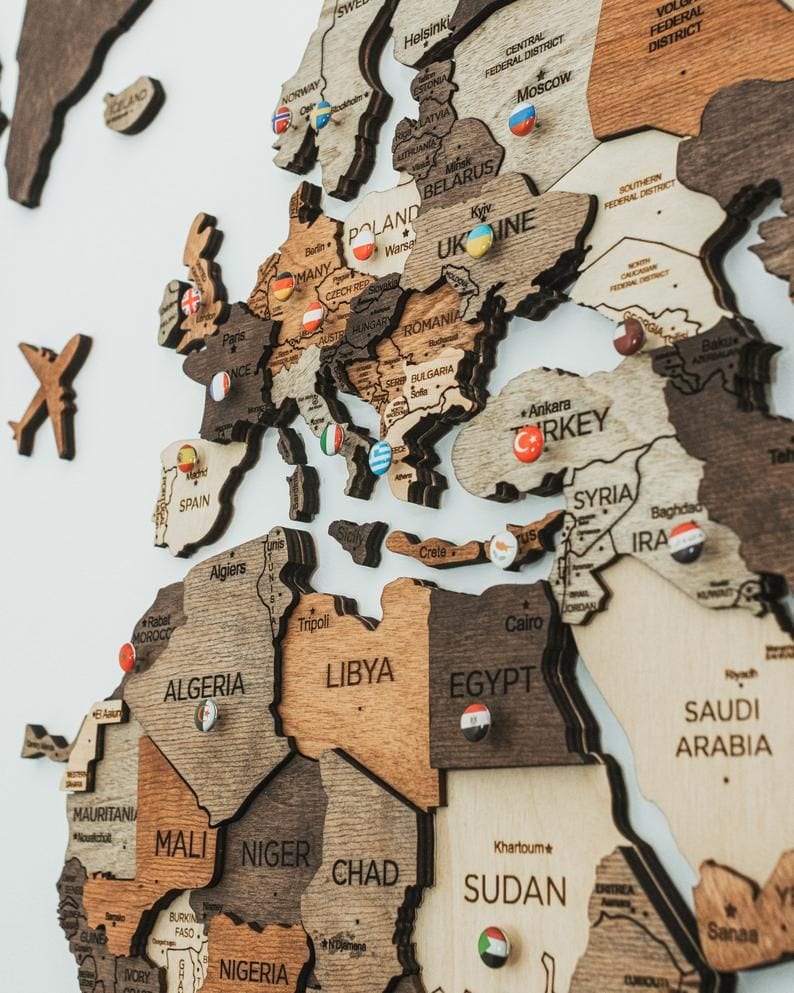 Once again, even with their relative complexity, Enjoy The Wood 3D world maps are a breeze to install, with detailed instructions for installation from Enjoy The Wood. The variety of colors of 3D is not to be glossed over either, as once again it is extremely expansive. For natural colors, you can get oak, walnut, or terra colors, or a combination of the three. For colored options, you can expand your choices to blue, black, and grey, perfect to fit any space in your home.
Enjoy The Wood world map review – Customizations
Apart from the basic features of each map type above, you can also dial in some crazy further customizations. Specifically, every Enjoy The Wood world map can customized in terms of detail level and size.
There are several detail levels, they are as below.
BLANK:
No writings
PRIME:
Countries names + states of USA, Canada, Australia
Capitals of countries (not available for M size)
PRIME PLANES:
Countries names + states of USA, Canada, Australia
Capitals of countries (not available for M size)
+ 45 metal airplane push pins
PRIME FLAGS:
Countries names + states of USA, Canada, Australia
Capitals of countries (not available for M size)
+ 300 Flags of countries and states of USA, Canada, Australia (notice: some countries' flags are omitted)
PRIME PLANES PLUS:
Prime type
+ Antarctica
+ 45 metal airplane push pins
PRIME FLAGS PLUS:
Prime type
+ Antarctica
+ 300 Flags of countries and states of USA, Canada, Australia (notice: some countries' flags omitted)
In terms of sizes, most maps come in these sizes:
M – 100 cm x 60 cm (39"x24″)
L – 150 cm x 90 cm (59"x35″)
XL – 200 cm x 120 cm (79"x47″)
XXL – 300 cm x 175 cm (118"x69")
Conclusion
So that's all you need to know about every Enjoy The Wood world map type. We hope you have found this review helpful and might interested in getting a map for your own home. If you do plan so, why not save lots with this Enjoy The Wood coupon code!
Looking for a unique gift for a travel lover? Enjoy The Wood Travel Map is a unique, high quality map decor that's perfect for any size wall.
Back with more Really Cool Stuff! This time, I'm installing the Enjoy the Wood World Map. This was a Christmas gift from my sister in 2020 and I finally got around to installing it! It's made of high quality wood, available in multiple sizes, and looks great on my wall.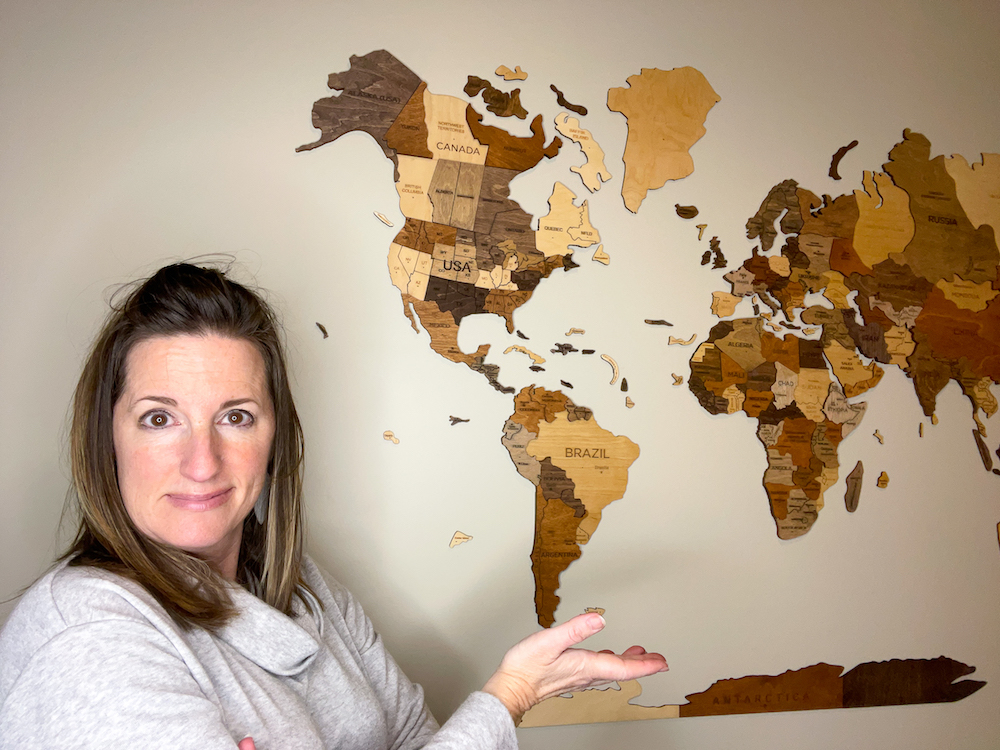 Enjoy the Wood a Ukrainian family-owned brand that has used several to successfully fund their business. On their website, you can find their most popular product – world maps – in various colors and materials, as well as maps of the USA, Europe, Germany, Canada, major cities, globes, and more.
The products shipped in well-packed boxes with easy to follow installation instructions. It took me about 2 hours by myself to install the World Map but I love how it turned out! (And I still have a few more pieces to add.
Be sure to look at my links below for a discount for for Enjoy the Wood as well as my recommendations for map pins to add. I've been using color coded flags to indicate places we've been as a family, places I've been on my own, places my husband has been, places my husband and I have been together, and places that my husband and I have both been to separately.
Yes, we have a complicated travel history but I want to document it all!
I have a few more pieces to add and I've ordered some flag pins that will help us track where we've been.
Really Cool Stuff Overview
Overall rating: A
Product design: B
Product quality: A
Value: A
I love everything about this travel map – especially the quality and packaging. They take great care to make sure everything packaged safely. My only complaint is the difficult to work with 3M mounting tape. Once it's up on the wall, it's going to there for a long time!