About Govee
Need lighting solutions in your smart house to set a mood, match a theme for an event, or just express yourself? If so, then you should check out this Govee review.
Govee is a brand that sells smart appliances to the North American and European regions. The company is best known for its LED and smart light kits.
It's built an impressive online community with 32k followers on Facebook, 82k followers on Instagram, and 163k fans on Tiktok. It's also been featured on several new sites, including The Ambient, Dallas Morning News, Android Authority, Windows Central, and Review Geek.
But is this brand really all it's cracked up to be? Well, that's what this Govee review will find out. Up next, I'll delve into its story, products, promos, and customer feedback. Let's light things up!
Overview Of Govee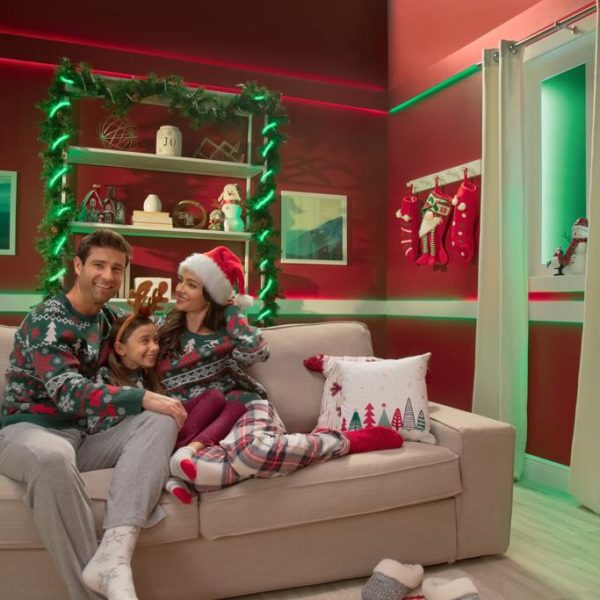 From the information I could find, Govee was founded in 2017 by Eric Wu. In 2018, he placed the company under its current parent, Shenzhen Intellirocks Tech Co., Ltd.
From its headquarters in Hong Kong, China, the brand develops and manufactures smart Govee home appliances—such as humidifiers, heaters, water sensor alarms, and its major claim to fame, the RGB and RGBIC lights.
Govee understands that light is a medium of artistic and personal expression, and its mission is to help people customize their spaces by giving them the tools they need. This is a task that can be easily accomplished thanks to the community of six million Govee customers who continue to inspire each other and encourage the brand to further innovate.
If you're looking for a quick snapshot of what this company is all about, check out the list of highlights below.
Highlights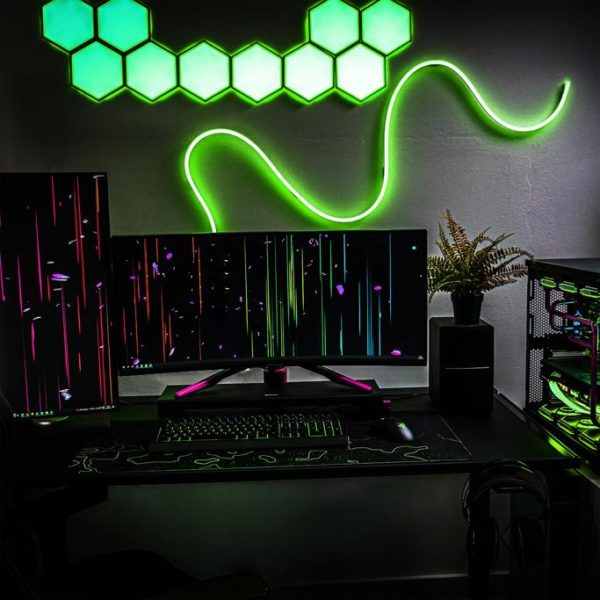 Sells a variety of smart lights and LEDs with a multitude of color possibilities
Students can get a 10% discount
Referral program
Ships internationally
30–day money-back guarantee
Lifetime customer support
With so many options to choose from, there's no doubt you'll find a Govee lights kit that suits your preferences. For this Govee review, I'll go over some of the brand's bestselling products to help get you started.
Govee Products Review
Whether you want something flashy, subtle, or that blends with the design of your space, you'll find the right lighting here. For this Govee review, I'll be checking out the Govee LED Strip Lights, Govee Glide, Govee Backlights, and the Govee App.
Govee Led Strip Lights
Govee RGBIC Bluetooth LED Strip Lights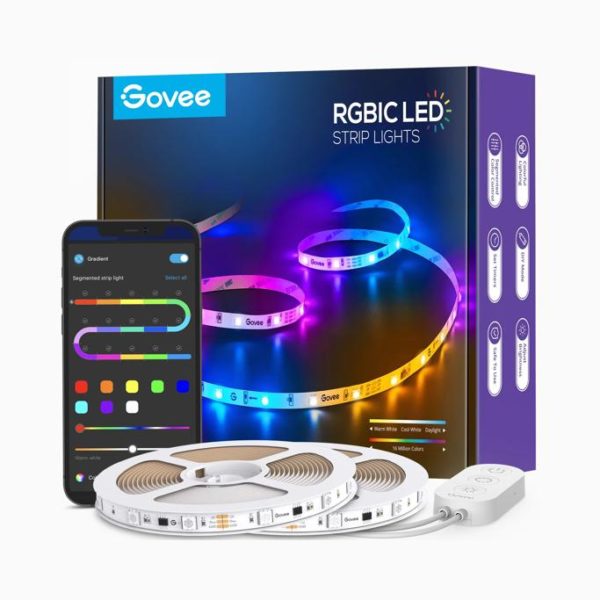 Want to deck out your interior space with vibrant, versatile lights? That's easy with the RGBIC Bluetooth LED Strip Lights (65.6ft) kit.
Each of the 300 lights on the included 32.8ft strips contains an IC chip that allows for a fluent transition of animated color effects along each strip. They're more like those extravagant changing holiday lights instead of the typical static LEDs. They're also very safe with a 24V/3A voltage on top of the included ETL-certified power adaptor.
With 64 scene and music modes available with the Govee App, you can light up your space for just $63 (down from $70).
Govee Phantasy Outdoor LED Strip Lights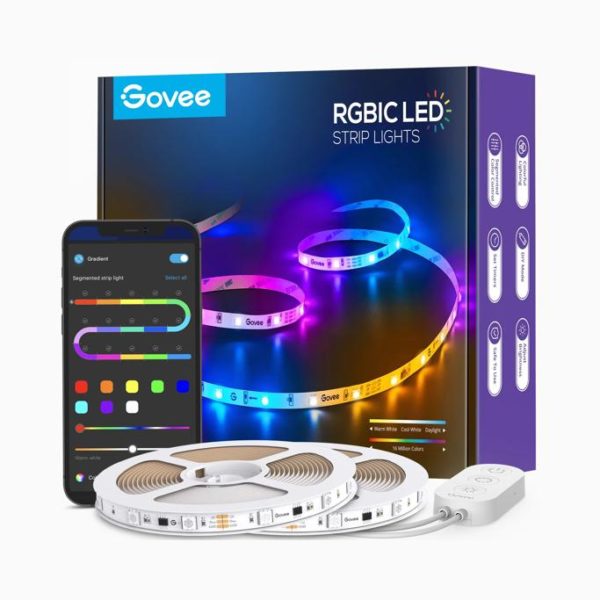 Planning an event or get-together indoors or out? Or do you just want your house to look super cool? Then try out the Phantasy Outdoor LED Strip Lights.
Installation is easy and safe. The 3M adhesive on the back of the strips provides a secure seal on any dry, smooth surface. Plus, the flexible material allows for application to tight corners, and strips can be left in proximity to water without worry—thanks to the IP65-rated water–resistant coating and low 12V/3A voltage for the RGB variety and 24V/2.2A for RGBIC.
With 64 scene modes available via the Govee App plus the included remote with a 30m control range, you'll be ready for any at-home occasion. The regular RGB kits cost $60, whereas the RGBIC kits cost $70.
Govee Glide
Govee Glide Wall Light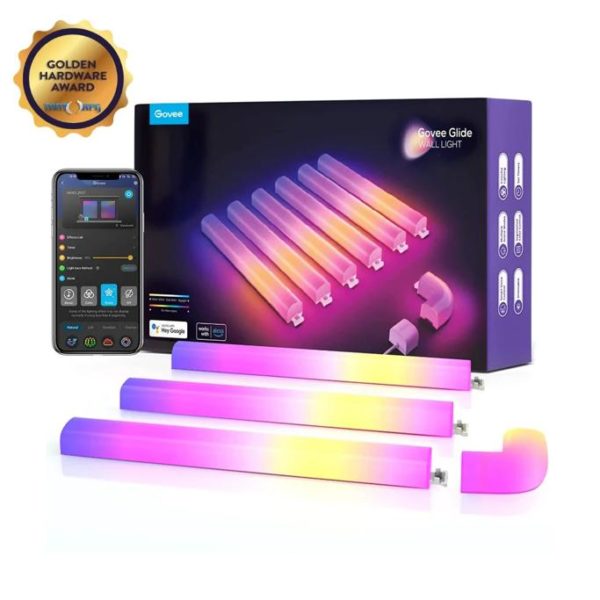 Looking for LED fixtures that make great showpieces as well as great mood lighting? If so, then get a Govee Glide Wall Light kit.
This wall light has straight and corner pieces that snap together easily into any configuration and can simultaneously project up to 57 colors. Plus, these lights configure into over 40 scene modes, so you'll have the perfect accents for furniture, gaming setups, and more.
You can get the 6+1 kit that comes with six straight pieces and one corner piece along with a 71-inch-long power cord for $100. Or you can purchase an 8+4 kit with corresponding part type ratio and a 95-inch power cord for $150. Everything runs with a 100-240 voltage and a 12V/3A input and can be controlled via Alexa or Google Home.
Govee Glide Hexa Light Panels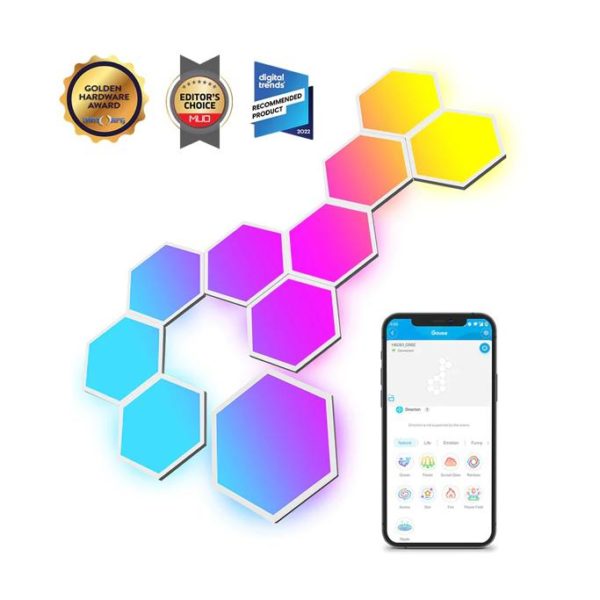 Want to create gorgeous, complex shapes with your wall lights? Let your creativity run wild with the Glide Hexa Light Panels.
You can configure these hexes into any shape you desire, and since each panel can produce up to six colors at a time, you can create some truly funky effects—be it one of the 28 pre-programmed effects or an original design you create.
The translucent shell also lets each panel backlight your wall for further ambiance. Plus, you can swap modes easily with Alexa or Google Home.
The hexes run at a voltage of 120 with an input of 24V/1.5A and can function between 14 and 104 degrees Farenheight.
Each kit comes equipped with a mini level, orientation piece, connection cable, power adapter, control box, and 10 linking cables. You can purchase a 7-pack kit for $170 or a 10-pack kit for $185 (down from $200).
Govee Backlights
Govee RGB Bluetooth LED Backlight Review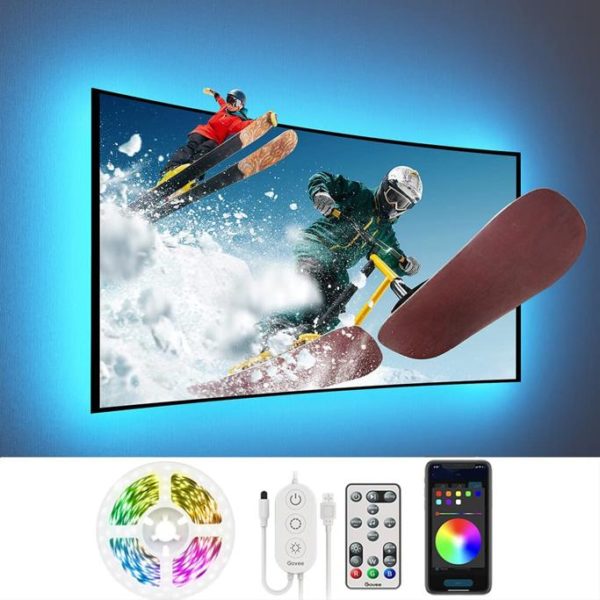 Looking for an affordable way to make your movie nights or gaming sessions more interesting? If so, then try on the RGB Bluetooth LED Backlight kit.
Able to accommodate monitors of 46-60 inches, these backlight strips sync with the display's sound or music audio to provide a gorgeous viewing experience. Choose from seven preset modes or set your own. Plus, you can easily adjust the brightness to what's comfortable for you.
Every kit comes with four 32.8ft strips, a lithium metal battery, and a remote—all for just $18 (down from $20).
Govee DreamView T1 TV Backlight Review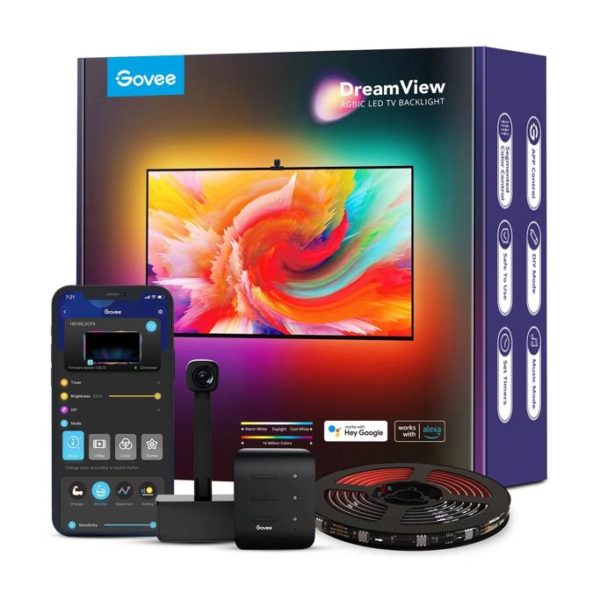 Want some multi-color backlighting for your monitor? Try out a DreamView T1 TV Backlight kit.
It's similar to the RGB Bluetooth LED Backlights in that it can sync with sound and provide a variety of colors. Plus, the strips come with 12 pre-programmed scene modes and have a safe voltage of 12.
Here's what sets the DreamView T1 apart: the included camera tracks the colors showing on your screen and relays that information to the RGBIC lights to match with the colors at the edges of that screen–expanding the experience beyond the screen itself.
For flatscreens between 55 and 65 inches, you can get a kit of four 12.5ft light strips with a camera and controller for $90. Or, if your monitor is in the range of 75-85 inches, you can get the kit with four 16.4ft strips for $105 (down from $120).
Govee App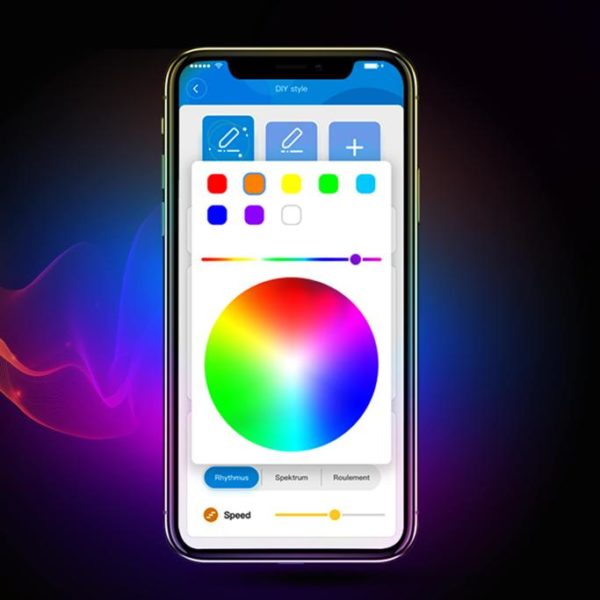 The Govee Home App is your gateway to everything the brand has to offer. It can monitor most Govee home appliances when you're away, and give you quick access to brand news, customer support, and the Govee community. Plus, it can be voice-controlled via Alexa or Google Home.
It also acts as a remote for many of your Govee LED lights, giving you access to numerous modes for different occasions, music syncing, and a DIY mode that gives you access to 16 million colors to customize animated effects. You can even save time by setting your modes to timers.
The app is completely free and definitely an essential tool for any Govee product.
Who Is Govee For?
Those who host parties and get-togethers on a regular basis will find that Govee is an affordable solution for their lighting needs—both inside and outside their homes.
In addition, gamers could create a cool atmosphere for when they're playing, musicians can create their own private concert stages, and content creators can put together customized soothing or energetic creative spaces.
Govee Reviews: What Do Customers Think?
Most customers certainly enjoy the easy setup and application of the lights, such as this reviewer of the DreamView T1 TV Backlight. Here is their rave review:
"installation was easy enough. The lights are super responsive to whatever you're watching or playing, and really immerse you. I watched pro wrestling on it the first night and was blown away. the controls are simple and there's robust customization with the app."
The star ratings on the Govee website looked like this:
RGBIC Bluetooth LED Strip Lights (65.6ft) – 4.7/5 stars based on 77 reviews
Phantasy Outdoor LED Strip Lights – 4.7/5 stars based on 16 reviews
Glide Wall Light – 4.4/5 stars based on 66 reviews
Glide Hexa Light Panels – 4.8/5 stars based on 22 reviews
DreamView T1 TV Backlight – 4.8/5 stars based on 687 reviews
People are also very appreciative of the attentive customer service and the community this brand has grown. For instance, one of the 72 Facebook reviewers who left a 3.8/5 stars rating wrote, "The Govee brand in all is great. They constantly take care of their customers and listen to the community for future products and updates."
And, of course, the freedom of choice in how you express yourself with these products is a big draw for many. An Amazon reviewer of the Glide Hexa Light Panels said it best: "The ability to setup your own design or follow the manufacturer's suggestion is a nice addition."
The star ratings for the featured products in this Govee review looked like this:
Phantasy Outdoor LED Strip Lights – 4.4/5 stars based on 550 reviews
Glide Wall Light – 4.7/5 stars based on 1,202 reviews
Glide Hexa Light Panels – 4.7/5 stars based on 154 reviews
DreamView T1 TV Backlight – 4.6/5 stars based on 14,754 reviews
Is Govee Worth It?
While some Govee lighting products might be somewhat expensive, their quality, easy installation, and incredible customization features are well worth the price. Plus, the brand offers great after-sale service, along with an inspiring community that pushes them to new heights. So, this Govee review definitely recommends this brand.
Govee Promotions & Discounts
You can get the latest news and a $5 discount on your first order by signing up for the Govee newsletter.
I also found a referral program that allows you to give your friends a 6% discount on their first purchase and give you 6% in commissions of that sale.
In addition, students can get 10% off with Student Beans.
Where To Buy Govee
You can buy Govee products on its website, Amazon store, Best Buy, Costco, or Walmart.
FAQ
Who owns Govee?
This Govee review found that this brand owned by Shenzhen Intellirocks Tech Co., Ltd.
Why can't I find my strip light model on the Govee Home App?
Unfortunately, the app doesn't support all Govee light kits. Those that aren't supported must controlled via their own remote or control box.
Can I cut the strip lights to any length I want?
If you have a way to power the separated piece, you can cut the RGB strips on the gold spaces and use pin connectors to re-attach the pieces. RGBIC strips, however, cannot cut.
Does Govee ship internationally?
Yes, Govee ships to Canada, the UK, and Europe via its international sites.
What is Govee's shipping policy?
This Govee review discovered that the brand offers free express shipping on most orders. You'll only charged shipping fees if your order being delivered to a remote location.
Order processing takes about one business day. After that, it will take 2-7 business days for your package to arrive. You can check the status of your order via the tracking details emailed to you after you've made your purchase.
What is Govee's return policy?
This brand provides a 30–day money-back guarantee. So long as you return all items in your order in their original condition and with their original packaging, you can get a refund for those items.
Most of the products also come with a one–year warranty to cover manufacturing defects, in which case you'll receive a full refund or a replacement. Just be sure to have proof of purchase and visual proof of the defect.
If the order you received was incorrect or incomplete, you need to contact their customer service team immediately with your order ID and pictures of the shipping label, SKU model number on the box, and the product within the box.
How To Contact Govee
After reading this Govee review, do you have further questions? If so, you can contact the brand's team in two ways: