About Hydro Flask
Hydro Flask makes smart, functional outdoor drinkware that inspires people to get outside and explore. Offering a range of insulated bottles, tumblers, and cups, the brand helps cut down on single-use plastics to help save the earth.
Featured in notable publications like The New York Times, Fast Company, and Self, Hydro Flasks has been praised for its superior spill-proof lid, streamlined design, and admirable mission.
You've likely seen the brand's colorful bottles carried by ultra-popular influencers—so it's no wonder it boasts more than 850k followers across its social media profiles.
Looking to make the switch to reusable but want a reliable product? This brand may be the right fit. To be sure, we invite you to read this Hydro Flask review.
Here, we'll fill you in on everything you need to know about the brand and its top sellers, provide customer feedback, information on promotions, and more, to help you in your final decision.
Overview of Hydro Flask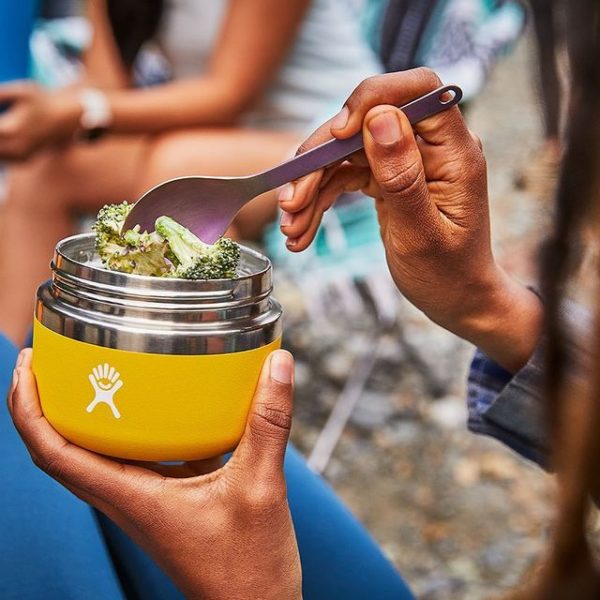 Plastic trash is overrunning the earth. 20 years ago we knew we needed to make a change, and while many jumped on the path to sustainability, many more still need a nudge in the right direction.
Hydro Flask is that nudge. Developed in 2009 by Travis Rosbach and Cindy Weber, the brand is a product of the two's frustrations with, not just plastic water bottles, but the reusable versions that companies offer as a green alternative.
Starting as a stand at a local market, Hydro Flasks has grown exponentially over the years. It was recently acquired by Helen of Troy, a consumer products company located in Texas.
Though now owned by a parent company, the brand is still dead set on the same goal: to help share the outdoor experience with others. It tells us, "whatever you need to help you be outside living your best life, we're in."
With its headquarters located in Bend, Oregon, the team is made up of naturalists and outdoorsmen who live and breathe nature. Partnered with Parks For All, a non-profit organization that oversees building and restoring parks, Hydro Flasks aims to help everyone enjoy the wonders that this beautiful world has to offer.
Now that you know a little more about the brand's heart and how it came to be, this Hydro Flask review will move on to its pros and cons before diving into its product lineup.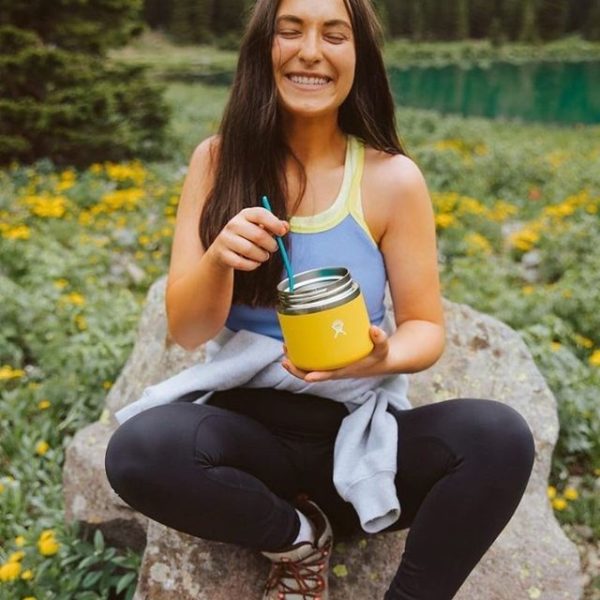 Pros
Wide range of reusable, insulated bottles, tumblers, cups, and food storage
Keeps drinks hot for 12 hours or cold for 24 hours
Has supported 122+ nonprofits & donated over $1.9 million
Affordable & made to last
BPA & phthalate-free
Refer a friend & get a free gift
Free shipping over $30
Lifetime Hydro Flask Warranty
Cons
Does not ship outside of the US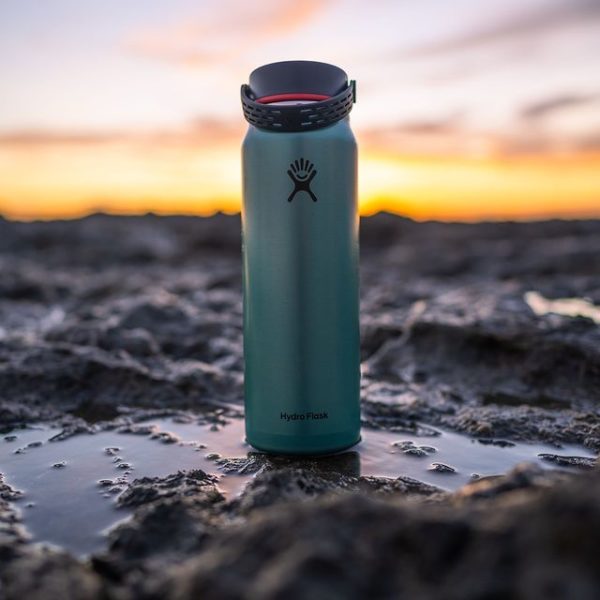 The next section of this Hydro Flask review will showcase a selection of the brand's bottles, mugs, and tumblers for adults and kids. No matter the format, you'll always get the same dependable TempShield technology that keeps drinks cold for up to 24 hours or hot for 12, pro-grade stainless steel, and Color Last Powder Coat that resists scratches.
We'll also introduce you to a few accessories to make sipping from and protecting your bottle a little easier. But for now, let's start with the brand's most popular picks, its water bottles.
Hydro Flask Water Bottle Review
Built for convenience, durability, and temperature regulation, the brand's 18/8 stainless steel water bottles are offered in Standard and Wide Mouth formats. We'll be focusing on the latter in this Hydro Flask review, and below, you'll find details on its 20 oz, 32 oz, and 32 oz with Straw Lid versions.
Hydro Flask 20 oz Wide Mouth Review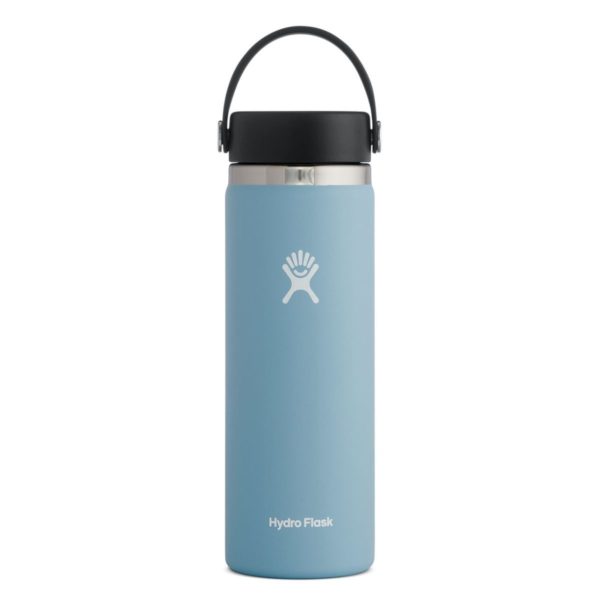 Providing enough room for 2.5 cups of liquids, the Hydro Flasks 20 oz Wide Mouth bottle is ideal for short activities out in nature, like trail walks or backyard badminton games. It's easily portable, thanks to the top handle.
With a thinner lip than other reusable bottle brands, this one is much more user-friendly when it comes to drinking. Available in 11 colors, as well as a design-your-own option, grab one up for $33.
Hydro Flask 32 oz Wide Mouth Review
All-day activities call for buckets of hydration. Even though the Hydro Flask 32 oz Wide Mouth is big, it still offers the same high levels of insulation, keeping your water cold while you're out on the boat, trail, or swimming pool.
The wide mouth format allows for easy guzzling during pit stops, as well as convenient refilling when you hit a hydration station.
The 32 oz Wide Mouth comes in 13 colors. Get yours for $45.
Hydro Flask 32 oz Wide Mouth with Straw Lid Review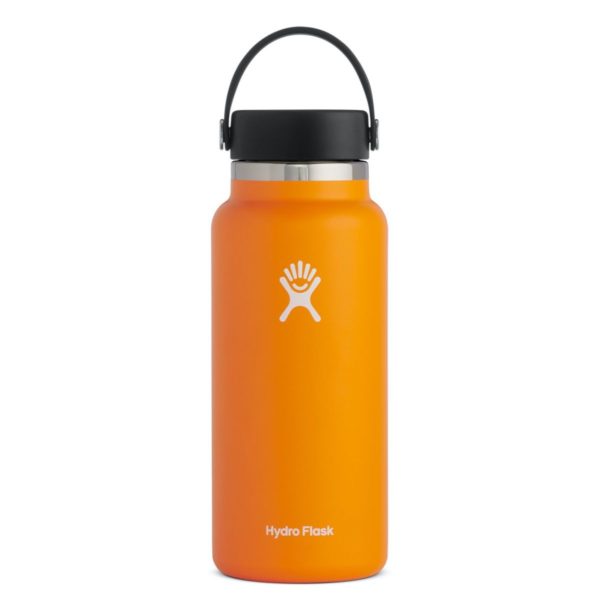 When it comes to drinking cold beverages, sipping through a straw isn't just convenient, it's enjoyable. The Hydro Flask 32 oz Wide Mouth with Straw Lid is the same insulated stainless steel bottle you know and love from Hydro Flask, just with a durable, dishwasher-safe rubber straw lid.
Flip up the straw anytime you need a drink, and down to create a spill-proof seal. Offered in 9 matte colors, make your life easier with this handy Hydro Flasks bottle for $50.
Hydro Flask Coffee Mug Review
In its selection, you'll find a few different sizes of Hydro Flask coffee mugs, but here, we'll feature the 12 oz—its most popular size. Below, you'll read all about what it's made from, how it closes, and what you can expect from it in terms of performance.
Hydro Flask 12 oz Mug Review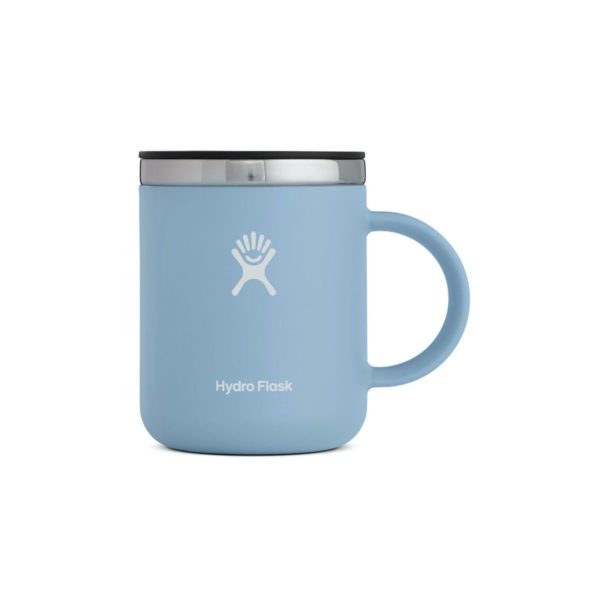 Hot drinks are a precious commodity, but keeping them at the ideal temperature can be tricky. The Hydro Flask 12 oz Mug uses TempSheild insulation to keep your beverage piping hot for up to 12 hours.
With a soft, silky exterior offered in 6 eye-catching colors, like dreamy cobalt blue, the mug not only performs well but looks good too. For easy sipping and sealing, the vessel also has a closeable press-in lid.
The interior is made from 18/8 stainless steel, a dependable material that won't suck in stains or odors. It's all BPA and phthalate-free too, so you won't need to worry about chemicals.
Enjoy a hot beverage on long journeys with the 12 oz Hydro Flasks Mug for $25.
Hydro Flask Tumbler Review
Bottles are convenient, but Tumblers are made to party. The next section of this Hydro Flask review will showcase the brand's best-selling tumbler, designed to fit sizable sips of your favorite tasty beverage.
Hydro Flask 22 oz Tumbler Review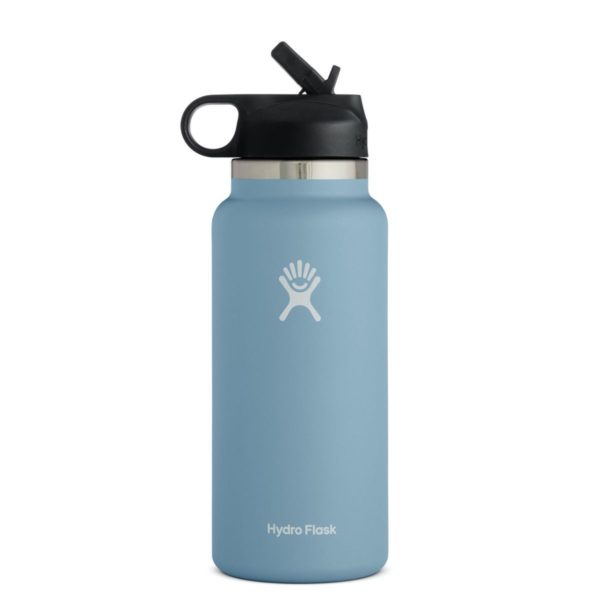 The feel of a cup, the temperature regulation of a bottle, Ladies and Gentleman, the 22 oz Tumbler. With double-wall vacuum insulation, this cup will keep your beverages icy cold for 24 hours. So, pour in the lemonade on a hot day spent in the backyard, or a cold soft drink to enjoy during a drive-in movie.
The Hydro Flask 22 oz Tumbler has a splash-proof, sliding press-in lid that keeps your drink in the cup and not on your lap. With its narrow body, it'll fit in most car cup holders, a plus for road trips or long bouts of traffic.
Offered in 7 colors, like alpine, a pretty morning mist green, pick up the 22 oz Hydro Flask Tumbler for $30.
Hydro Flask Kids Review
When it comes to the battle of kids versus bottles, usually the kids win. That's something Hydro Flasks kept in mind when designing its kids collection, fitting the bottles with a protective boot and easy-sip straw.
Ahead, you'll get to know two of the brand's most popular kids picks, the 12 oz, and 20 oz Wide Mouth bottles.
Hydro Flask 12 oz Kids Wide Mouth Review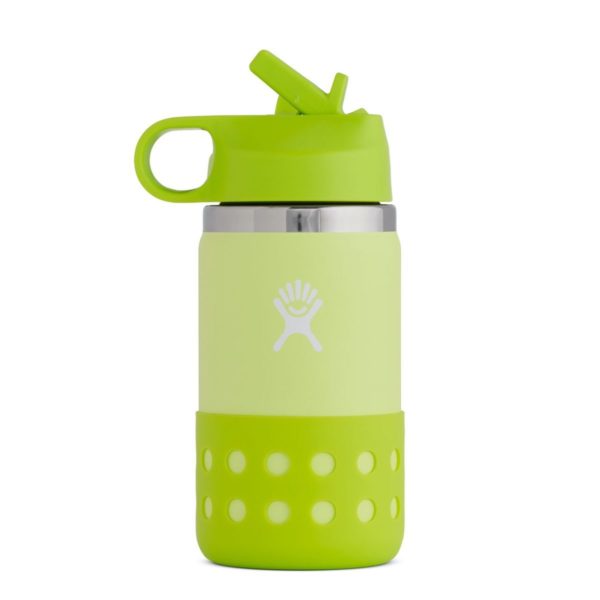 With all the running around they do, kids need ample hydration.The Hydro Flask 12 oz Kids Wide Mouth Bottle offers convenient, chilled sipping throughout their day.
This bottle features a perforated flex boot for extra grip, a straw cap for quick drinking, and a personalizable name tag so it doesn't get lost at camp or school. Suitable for kids over 3 years old, the bottle comes in 4 fun colors and is $30.
Hydro Flask 20 oz Kids Wide Mouth Review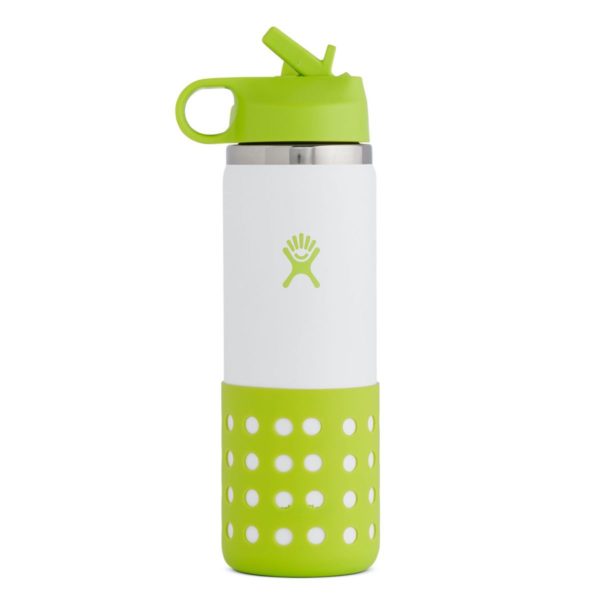 For longer or more active days, the 20 oz Kids Wide Mouth keeps kids happy and cool. It co
mes in 4 friendly colors and fitted with a matching protective boot. You'll also find a Hydro Flask Straw Lid for quick drinking.
Ensuring liquids stay cold for up to 24 hours, your kids can stay cooler during hot days of play. To make things even cooler, add a few Hydro Flask stickers to jazz up your bottle's appearance.
Leak-proof and spill-proof, theHydro Flask 20 oz Kids Wide Mouth is $38.
Hydro Flask Lids Review
The brand offers a range of lids, from Sip to Straw to Sportscap, but in this section of our Hydro Flask review, we'll showcase its #1 bestseller, the Wide Mouth Straw Lid.
Hydro Flask Wide Mouth Straw Lid Review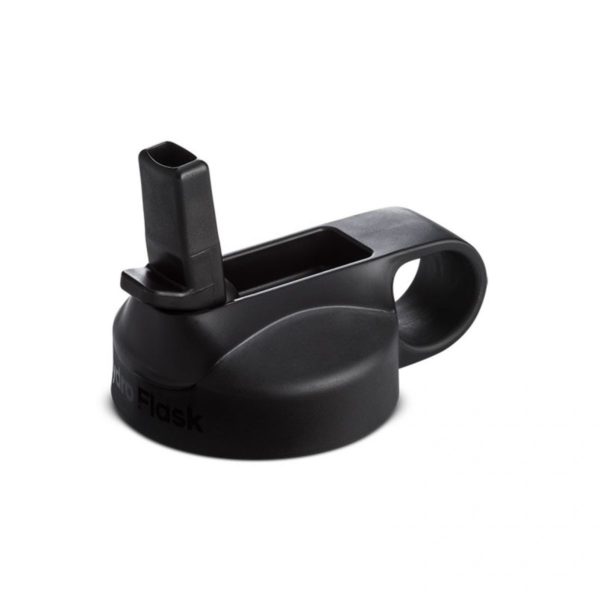 Wide Mouth flasks are great for taking big sips of water, but sometimes, unscrewing the lid isn't ideal. Instead, the Wide Mouth Straw Lid allows you to simply flip up the straw piece and start sipping.
Designed for cold liquids only, this Hydro Flask lid works with all Wide Mouth bottles and features a carrying loop for carefree travel. To clean, toss in the dishwasher. It's BPA-free so you won't need to worry about leaching toxins while you hydrate.
Available in black only, grab one up for $10.
Hydro Flask Boots Review
Drops happen. Whether that's down the Rocky Mountain trail or on the sidewalk, though Hydro Flask is tough, dings can happen. Ahead, we'll introduce you to two of the brand's most popular boots to keep your bottle safe and sound no matter where you are on your journey.
Hydro Flask Small Flex Boot Review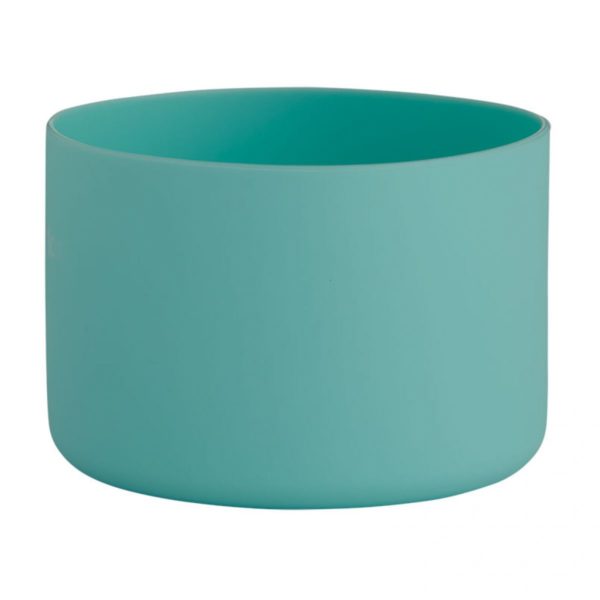 Your Hydro Flask is ultra-durable, but a little added protection never hurts. Available in 4 colors, the Small Flex Boot adds a pretty pop of color to your while shielding your bottle from damage.
Fitting 12 oz – 24 oz wide and standard bottles, the BPA-free Small Fex Boot is $8.
Hydro Flask Medium Flex Boot Review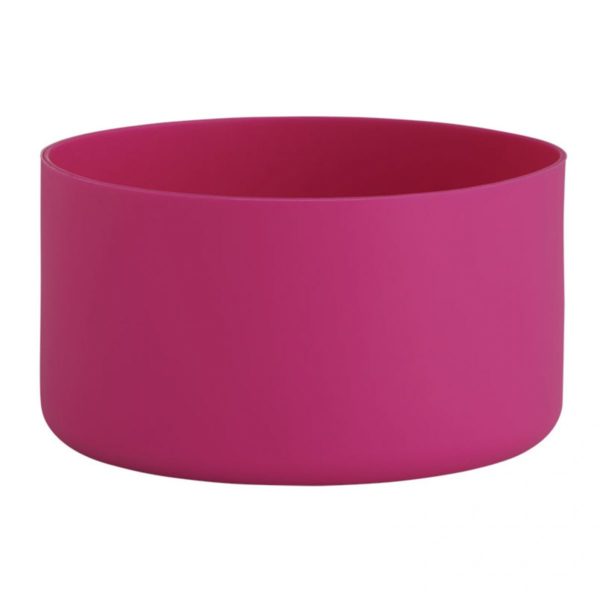 Accommodating wide mouth bottles 32 oz to Hydro Flask 40 oz sizes, this BPA-free silicone boot comes in 4 soothing colors that add extra protection to your favorite bottle.
Get one for $8.
What Are The Sizes Of Hydro Flask?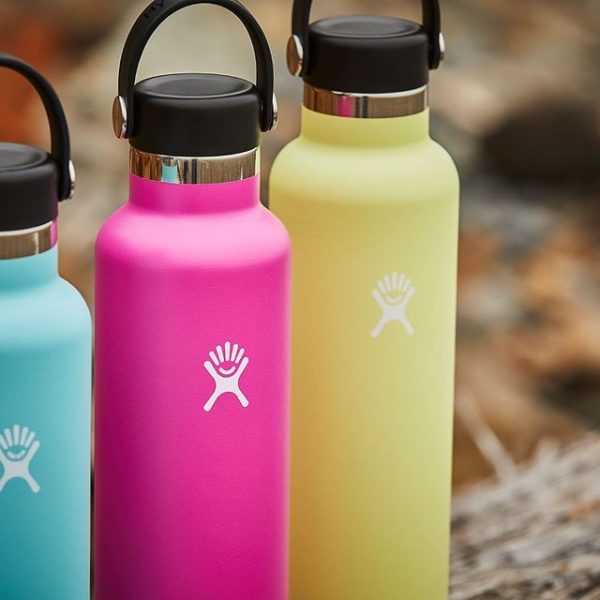 There are a ton of Hydro Flask sizes, and to outline them all here would make quite a lengthy list. Instead, we've compiled them into a short collection of ranges for each bottle or cup type so you know what you're getting.
Wide Mouth Bottles: 20 oz – 60 oz
Standard Mouth Bottles: 18 oz – 24 oz
Kid's Bottles: 12 oz, 20 oz
Tumblers: 16 oz, 22 oz, 32 oz
Coffee Mugs: 12 oz, 16 oz, 20 oz
Beer & Wine: 12 oz –Hydro Flask 64 oz size
How Wide Is The Mouth On Hydro Flask?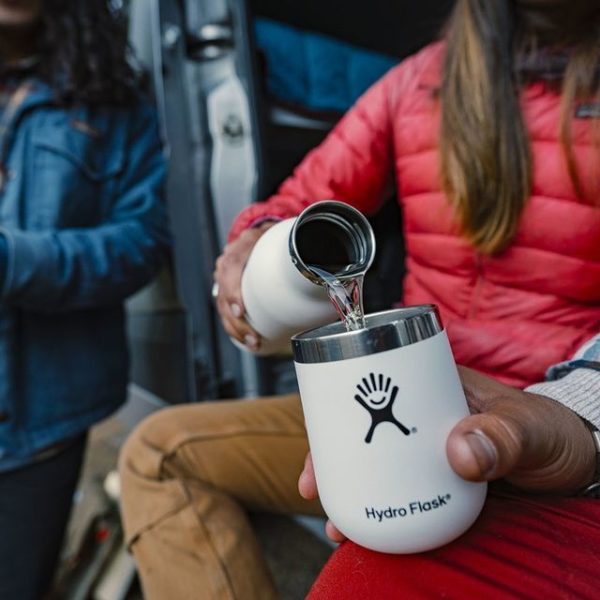 The brand makes its bottles in Wide Mouth and Standard sizes. Which one you choose is up to your personal drinking preferences. But, we've outlined both options for you below to give you an idea of what the differences are.
Wide Mouth: 2.28"
Standard Mouth: 1.91"
Can Hydro Flask Hold Hot Coffee?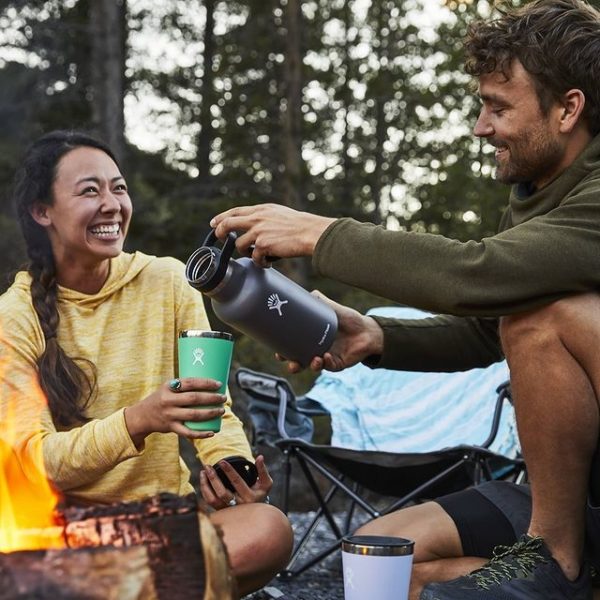 Yes! Hydro Flask can hold hot or cold beverages and keep them hot for 12 hours. The brand even offers 12 oz, 16 oz, and 20 oz coffee mugs if you prefer a more drinkable format.
Who Is Hydro Flask For?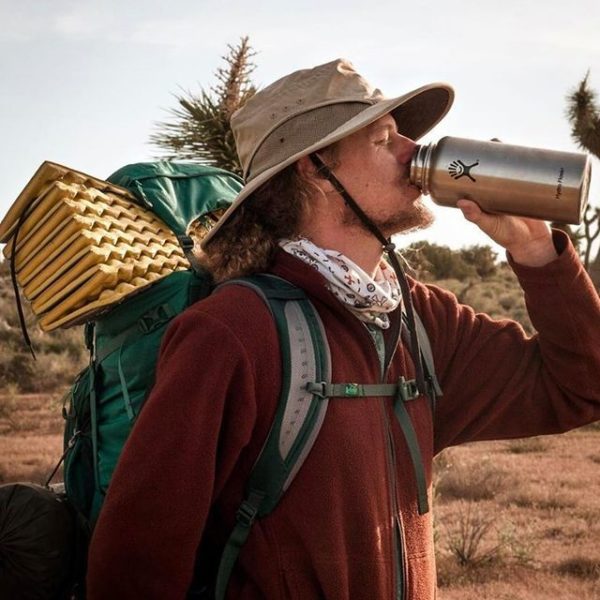 Hydro Flask is designed for the outdoors and made for adventurers, backyard loungers, or anyone who wants to cut down on single-use plastics.
Offering planet-friendly, reusable drinkware and partnering with organizations to improve the earth, Hydro Flask is a great choice for anyone who cares about improving our ecosystem, reducing plastic waste, or wants a cold or hot beverage along the way.
Hydro Flask Reviews: What Do Customers Think?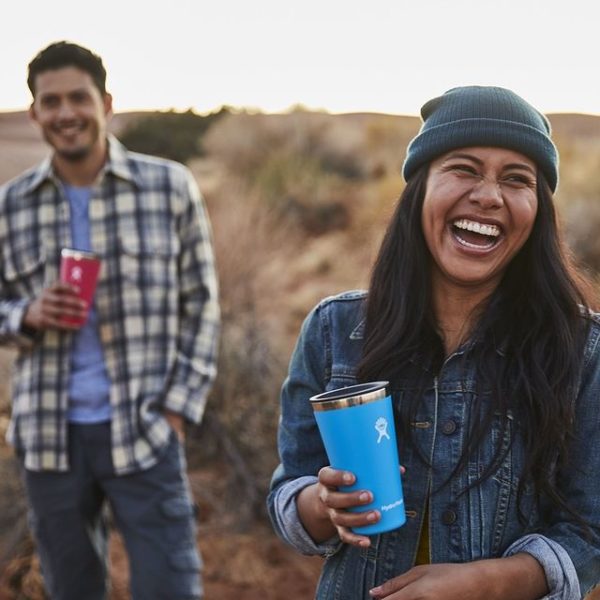 You've seen how well Hydro Flask compares to a brand with a sterling reputation, but to fully understand what its products are really like, we'll need to hear from customers. In this section of our Hydro Flask review, we've compiled a collection of comments gathered from around the web that shed some light on the quality and performance of the brand's bottles.
To kick things off, below, you'll find a list of ratings for some of Hydro Flask's bestsellers taken from the brand's website.
32 oz Wide Mouth: an average of 4.6 stars from 1,792 reviews
12 oz Coffee W/ Flex Sip: an average of 4.6/5 stars from 296 reviews
22 oz Tumbler: an average of 4.5/5 stars from 440 reviews
12 oz Kids Wide Mouth: an average of 4.3/5 stars from 232 reviews
24 oz Standard Mouth: an average of 4.5/5 stars from 952 reviews
We decided to take a closer look at the 32 oz Wide Mouth as it looks like it's one of the brand's most popular picks. The comments section was filled with a heap of positivity about how cold the bottle keeps drinks.
Showing just how cold that actually , one review revealed, "Keeps my water cold for more than 24 hours with ice still floating in it!" Others mention how durable and secure it is—those three things combined really all you could ask for in a reusable bottle.
Craving a little more in-depth information, we headed to a Hydro Flask review on Outdoor Gear Lab. Awarding the 32 oz Wide Mouth bottle an overall rating of 91/100, these folks also gave it the following scores:
Ease of Use: 10/10
Durability: 9/10
Ease of Cleaning: 9/10
Weight: 7/10
Taste: 9/10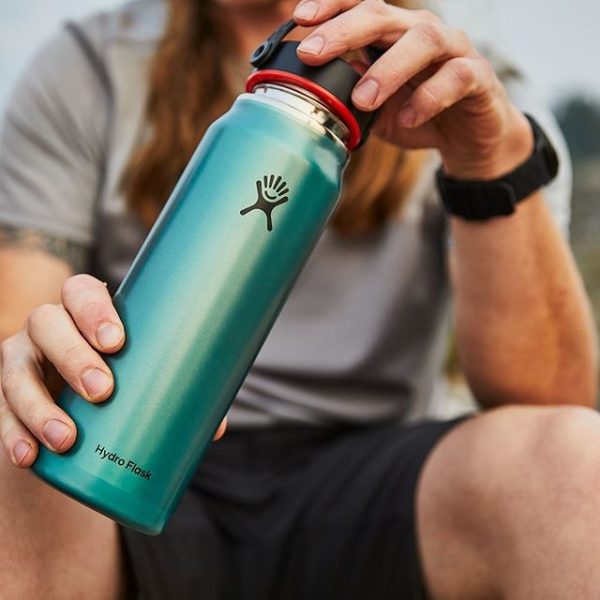 Of its overall performance, the review read, "it proved easy to use, resistant to residual flavors, and very quick and easy to clean." If you've ever used a cheap reusable bottle, then you know how yucky it can smell and taste after a few uses of juice and coffee. The fact Hydro Flask resists both residual smells and tastes is one of the things that makes it a winner.
So far, we know that the brand's bottles are durable, easy to use and clean, keep water cold, and resist smells. But still, we wanted a little more information to back those things up.
Relying on the honest opinions provided on Influenster, we headed to the review site and checked out the 21 oz Standard Mouth bottle. Over 8.3k Influensters rated the bottle 4.7/5 stars.
Ok first, let's talk about how no one gave the bottle 1 or 2 stars out of the over 8k that used it—that's super rare and tells us how effective this Hydro Flask water bottle really is.
We came across a review that compared it to Yeti. It read, "It's durable for one but two, it keeps my water cold longer than a yeti and living in South Florida, this is a must." If in the previous section of this Hydro Flask review you didn't realize just how well it stacks up against the competitor, hopefully, that comment will do the trick.
Other comments mention that the bottle "doesn't taste like metal," and in general, people seem to super impressed at just how cold and hot the 21 oz Standard Mouth bottle keeps liquids.
Overall, there weren't any real issues we came across about Hydro Flask. Buyers seem very pleased with its performance and it's received high ratings consistently across sites.
Is Hydro Flask Worth It?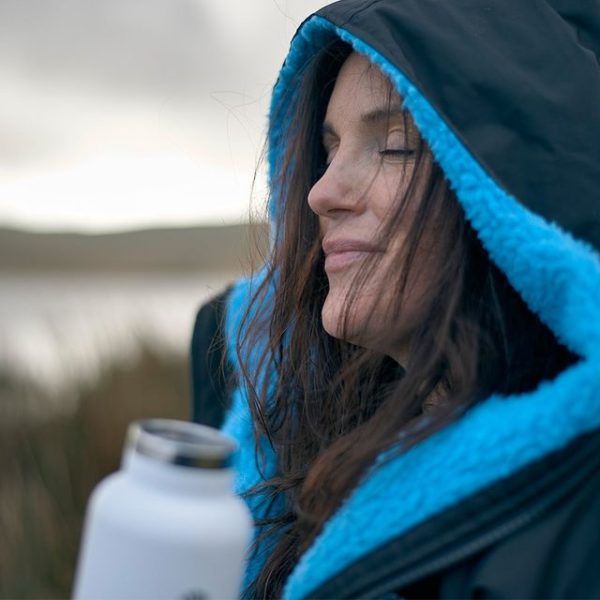 Within its wide range of products, each one retains the same peak performance levels across the board—whether it's a wide mouth bottle or wine cup.
Offering insulation, easy cleaning, and durability,Hydro Flask bottles and cups are a dependable way to keep your beverages hot or cold while you're outside. They're all sold for pretty affordable prices and perform just as well as other brands that get all the limelight.
The folks at Hydro Flask are on an admirable mission, and overall, this brand is incredibly solid, and though we think it goes unsaid, totally worth the buy.
Hydro Flask Promotions & Discounts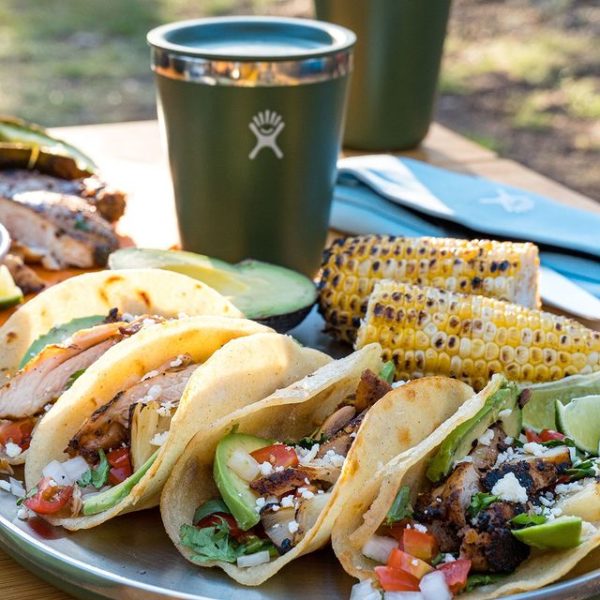 At this point, helping the earth is non-negotiable, and every little thing we do to try and save it is incredibly important. Even though Hydro Flasks is of great value, the brand knows a little incentive here and there helps!
Throughout this Hydro Flask review, we spotted two ways the brand helps customers save a few bucks while they save the planet:
Free shipping on orders over $30
Share with a friend: invite a friend and Hydro Flasks will send you both a gift!
Where to Buy Hydro Flask
If you want access to deals and the full product lineup, the best place to shop is directly from HydroFlask.com. The brand also stocked at a ton of other retailers, like Walmart, as well as sports shops like Altitude Sports, Sporting Life, and MEC.
FAQ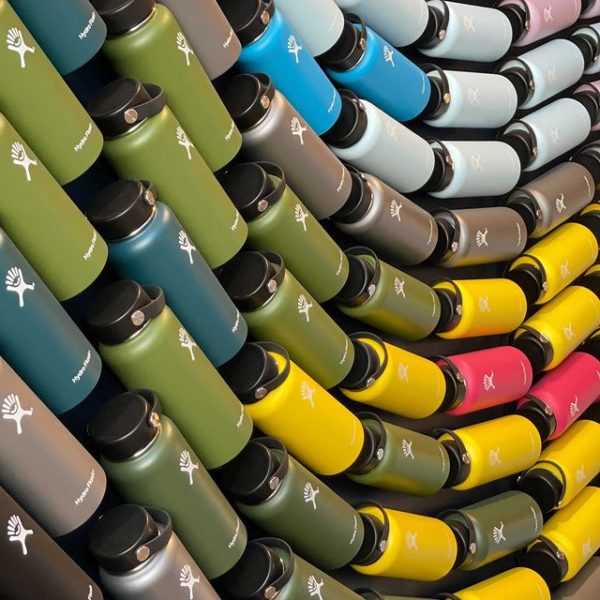 Where is Hydro Flask Made?
Hydro Flasks are made in China by Ecoway Houseware Ltd.
What is Hydro Flask's Shipping Policy?
Hydro Flasks ships anywhere in the USA and offers a few different types of shipping. Delivery costs vary based on the type of shipping you choose and what's in your order.
If, when you place your order, a delayed shipping message pops up on the website, there may be a few extra processing and shipping days added on to delivery estimates.
FedEx Ground 2-5 business days free for orders over $30
2-Day 2 business days $TBD
1-Day 1-2 business's days $TBD
Once your order ships, you'll receive a confirmation email with a tracking link that you can click to see where your package is on journey to you.
What is Hydro Flask's Return Policy?
For the folks at Hydro Flask, saving the earth is the end mission here, not bottle sales. That's why the brand offers a 30-day return policy that offers a full refund.
If you try out your new product and find it's not exactly the right fit, you can return it, but it needs to totally unused and in original packaging.