Chances are, if you're a candle lover, La Jolie Muse is a brand name you've heard before. This brand is becoming widely popular in the candle scene and are fairly affordable, their prices comparable to other big name brands. With the growing popularity, though, you may be wondering if this brand actually creates good, high quality candles. So the question is, are these candles actually good?
La Jolie Muse is dedicated to giving their customers candles made with the highest quality ingredients and highest level of care for an affordable price. The mixture of these aspects creates a brand that guarantees their customers are going to receive candles that are actually good and will leave them wanting more.
Before jumping right in and buying a candle from La Jolie Muse, though, it's always helpful to do some digging into the company to figure out if their values and candles are going to be a good fit for your home. There are a lot of times where companies are well loved but then you buy a product from them and end up not enjoying it.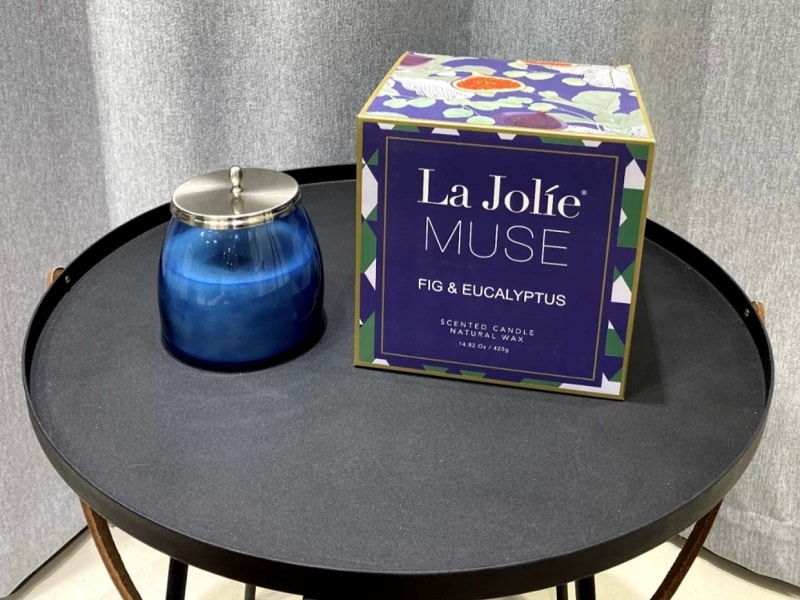 So, by looking into what this company is all about, you're saving yourself from spending the money on a product that may not be a good fit for you.
What You should Know about La Jolie Muse
Luckily, you won't have to go digging around La Jolie Muse's website trying to figure out if this brand is going to be a good fit for you or not. I have already figured out everything that I feel you should know about them before making this decision. This includes their story and philosophy, the different kinds of candles they sell, and the other products they sell.
La Jolie Muse's Story
La Jolie Muse is a relatively new brand in the candle scene, having been founded in 2015. This brand is dedicated to providing their customers with a sense of luxury with a design that's going to blend into your décor instead of standing out against it. This company is set on trying to create an aesthetic that will leave your home feeling comforting with a hint of style through a long lasting product.
This brand lives by the philosophy that even small details can create an oasis in your home, giving you the comfort and relaxation you're striving for. They show this philosophy through their product designs by keeping three things in mind: beauty, style, and practicality. By focusing on these three aspects, this brand is able to create a product that is high quality and well crafted that will make your home feel relaxing, just like an oasis.
The amount of care that is put into La Jolie Muse's products is meant to match the care that you're putting into creating your ideal home. They use ingredients that are environmentally sound in order to ensure that you're bringing a product that is carefully created into your home. The point of all of this care and caution they take when creating their products is to give you candles that are going to turn your house into a home that is distinct and fitting for you and your style.
Design is incredibly important when it comes to La Jolie Muse. They work tirelessly to create designs that are going to be beautiful and timeless for an affordable price. The design team puts in the effort it takes to create products made from high quality materials that look aesthetically pleasing that the company will take pride in distributing.
The Different Types of La Jolie Muse Candles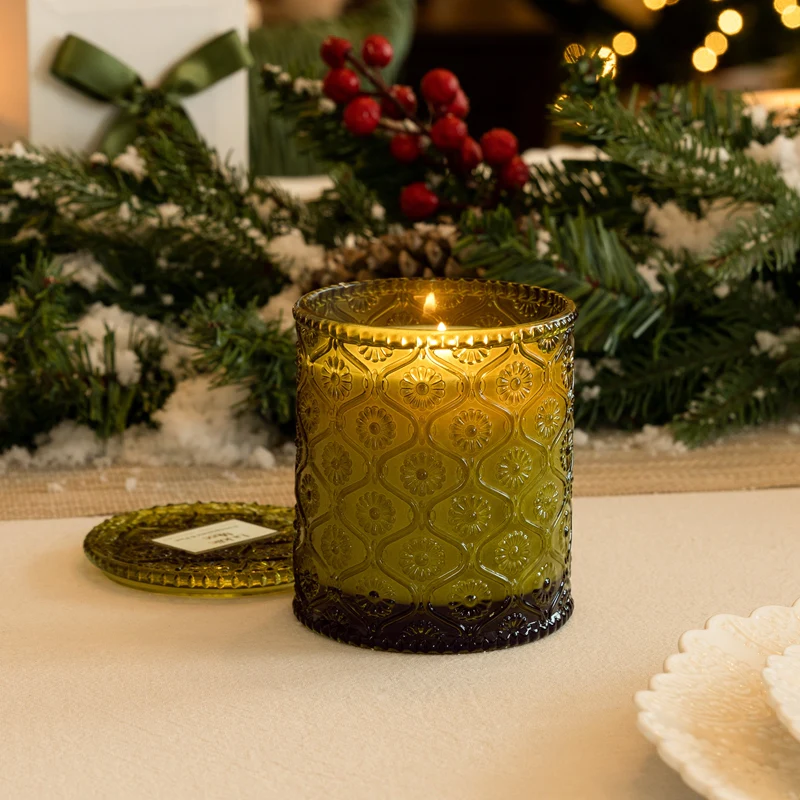 There are three different categories that La Jolie Muse advertises for their candles. Each category has its own unique aesthetic to it, which comes from the fragrances and the vessels the candles are poured into. These categories are:
Scented candles
Citronella candles
Holiday and gift
In the scented candle category, you are given the most products to choose from as well as a large variety of different vessels to choose from, too. Not all fragrances are available in every variety of vessels, though, so you'll want to make sure that you're choosing the fragrance rather than the vessel. By choosing the fragrance, you're going to be giving yourself a product that comes in a beautiful vessel that will make your home fill with a fragrance you love.
The citronella candle collection only has three options to choose from with two different fragrances. These candles are packaged in tins rather than the glass jars you'll typically see with La Jolie Muse. These tins are beautifully decorated in either a floral print or a marbled design, both of which are aesthetically pleasing. These candles come with a magnificent fragrance while still being able to repel those pesky mosquitos while you're entertaining outside during the warmer months.
The holiday and gift category gives you one glass jar vessel and several tin vessels. There are only five options to choose from, but each fragrance is well crafted using the highest quality of ingredients that are responsibly sourced. Any candle lover will enjoy getting a gift from La Jolie Muse. And, if you don't have a candle lover to buy for, you can always get yourself a gift from this category, too!
Other Products Sold by La Jolie Muse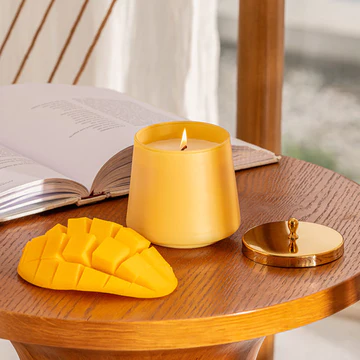 La Jolie Muse dedicated to giving their customers products that will fit in with their aesthetic while still maintaining the same high quality standards they hold for their candles. Most companies that known for their candles pretty much only sell other home fragrance products, but La Jolie Muse breaking that mold. The other products they bring to their customers are:
Planters
Garden decorations
Storage and organizers
Dinnerware
Not only is La Jolie Muse a great brand to make your home smell aesthetically pleasing, they're also a great brand to make your home look aesthetically pleasing, too. In their planters section, they provide their customers with planters that hang, stand alone, or come with a stand, so you will have many options to choose from. Every planter created using the same dedication to design that used when creating candles.
Their garden decorations take gnomes to the next level and even branch out to other creatures, such as snails and owls. They also have different fairy garden settings that you can choose from, too, that will bring a level of sophistication to your garden.
The storage and organizing section gives their customers a wide array of containers created using ropes in neutral colors, so these containers can fit in anywhere in your home. These containers come in several different sizes and styles, so you'll be able to pick the right shape and size for your home and your needs.
The dinnerware section is the smallest section, only having three products to choose from. Regardless of the small amount of items to choose from, these products created beautifully and will fit in with the dinnerware you already have and will make a great addition to the dinnerware you use while entertaining guests.
A Review of 5 La Jolie Muse Candles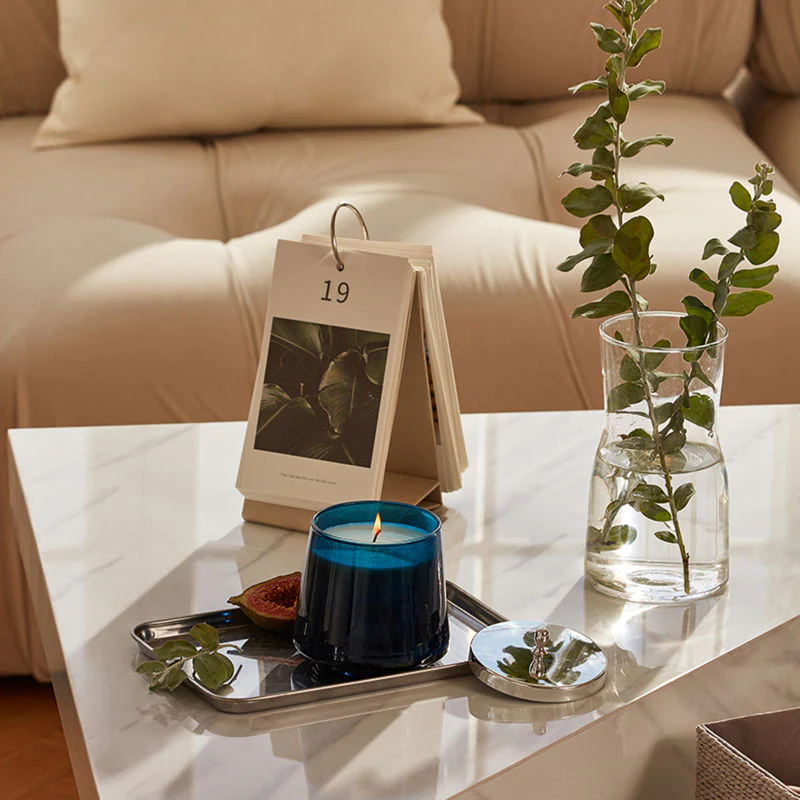 This candle comes beautifully packaged in a textured clear glass vessel, which makes it a great addition to any kind of décor because it won't stand out unnecessarily. Inside the vessel, you'll find a white wax candle with a wooden wick embedded into it. The wooden wick creates a great relaxation factor because it gives you the crackling sound you would typically associate with a fireplace.
The fragrance in this candle is floral, including the fragrances of gardenia, tuberose, jasmine, lavender, and violet. Added to this is a note of red berry, which helps to round out the floral fragrance. This fragrance meant to make you feel like you have a gardenia field at your fingertips, giving you the feeling of purity that the gardenia symbolizes.
Pros:
This candle comparative to higher priced candles with the fragrance quality and luxuriousness.
The floral and fresh fragrances make this candle warm and inviting.
This candle's ambiance enhanced by the wooden wick.
The jar can reused around the house when the candle finished.
Cons:
The fragrance is very light, so it won't fill a large room with ease.
This candle will bring luxury into your home not just through the fragrance, but also through the appearance. The glass jar this candle poured into made from a heavy glass that makes it sturdy as well as aesthetically appealing. You'll be getting a product that can either become a focal point if you want it to or an accent in the background that you use more so for fragrance than for decoration. This versatile vessel also great to use for other purposes after the candle finished.
The fragrance in this candle gives you the feeling of luxury. This fragrance created using jasmine essential oils to ensure that you not only get the best quality fragrance, but you also get a fragrance that is going to be long lasting. The jasmine essential oil provides you with a way to unwind and destress after a long day, making this great for the bedroom, bathroom, living room, or anywhere else you go to relax and destress.
Pros:
You get decent scent throw even when the candle lit.
This candle comes beautifully packaged in both the jar and wrapping.
The scent throw of this candle can fill a large room easily.
This candle has a long lifespan.
Cons:
The fragrance can sometimes be weak.
3 . Sandalwood Scented Candle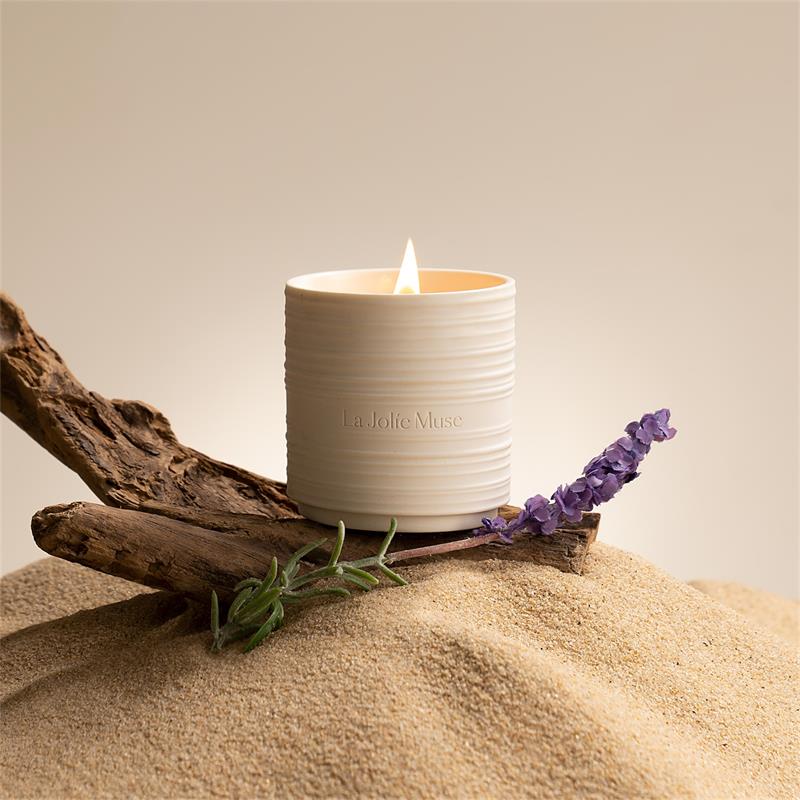 This candle poured into a lovely amber tinted textured glass using pure soy wax and fragrance oils. This product is eco-friendly, so it's a good addition to the homes of people who are trying to use products that are healthy for the earth. This is another candle that uses a wood wick, so you'll get the extra ambiance that a wood wick offers.
This candle's fragrance created using sandalwood fragrance oil, making the scent simple and true to its name. One of the great things about the sandalwood fragrance is that it can promote better sleep and relieve anxiety. This candle will bring you a soothing effect through the woody fragrance, making your home feel more peaceful and relaxed.
Pros:
The woody nature of this fragrance makes it unisex and easy for everyone to enjoy.
The jar illuminates a lovely glow while the candle burns.
The wood wick provides a soothing crackling to go along with the soothing fragrance.
The glass jar thick and heavy, making it a sturdy candle that won't tipped easily.
Cons:
Some people may find the fragrance to be too strong.
4 . Cedar and Balsam Scented Candle
This candle packaged in a simplistic green tinted glass jar with a gold metal lid, making the candle itself the focal point and allowing you to use this jar as a background decoration if you choose. The green tinted jar does make this candle versatile enough to have the jar be the focal point, too, but there aren't designs in the glass like there are on other La Jolie Muse candles. This candle comes with a cotton wick and created using purely soy wax.
The fragrance in this candle is perfect when paired with the colder winter months, but works perfectly fine throughout the year, too. The woodsy fragrance will make your home feel like you're in the middle of a forest with hints of bergamot and fir needle leaf mixed with the heavier fragrances of cedarwood, rosemary and pine.
Rounding out this fragrance, you'll get hints of fir balsam and musk. This blend of fragrances will give you the perfect woodsy scent to make any home feel cozy.
Pros:
This is the perfect fragrance to make your plastic Christmas tree feel like the real thing.
The jar and lid make a great decoration, especially for the holidays.
This candle created using high quality products.
The fragrance has a natural feel to it and isn't overpowering.
This candle has a long lifespan because soy wax is slow burning.
Cons:
Some people may find this fragrance to be too potent.
5 . Vanilla and Coconut Stress Relief Candle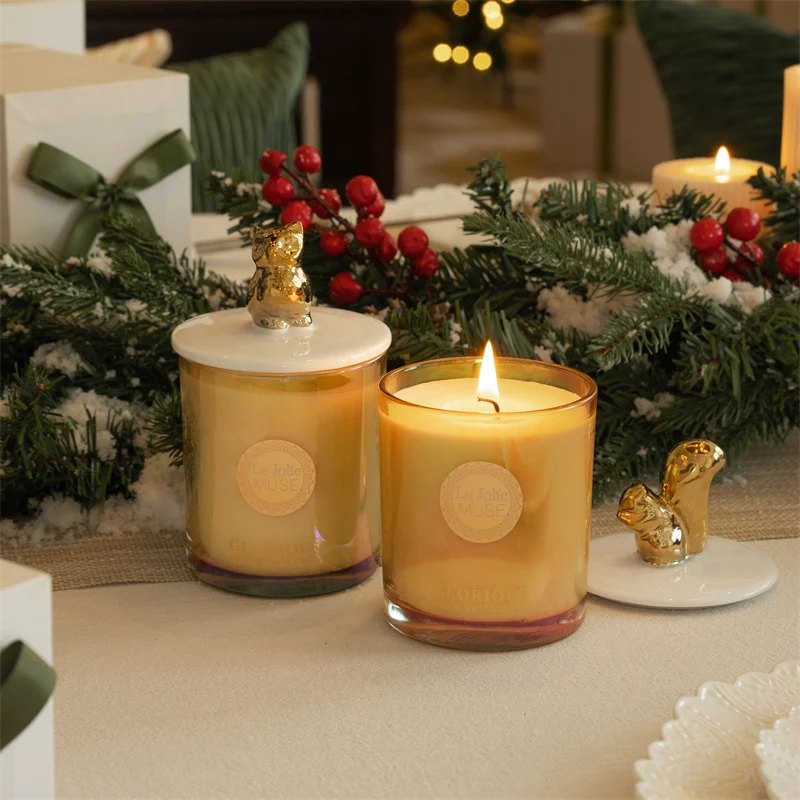 This candle sets itself apart from the others partly because of the packaging. It comes in a white tin vessel with gold leaf accents printed onto it.
Topping it off is a lovely gold lid, making this candle a great focal point in your decorations. The subtle color scheme also makes this candle's vessel a great addition to your relaxation because it's easy on the eyes, giving you more stress relief effects.
The fragrance in this candle created using a lovely mixture of the floral vanilla orchid mixed with coconut. Blending it together, there are notes of tonka beans and balsam bourbon vanilla with a hint of floral accents. The mixture of these fragrances gives you the perfect candle to come home to after a long day and just burn to relieve your stress.
Pros:
This is a strong fragrance that can easily fill a large room.
The fragrance is versatile and can appeal to a wide range of people.
The decorative tin is easy to fit into most decors, especially around the holidays.
You can expect to get a candle that is high quality.
Because this candle made from soy wax, it burns slow and lasts a long time.
Cons:
Some people may find the vanilla notes smell artificial.
Customer Opinions
Before buying a candle from a brand you've never purchased from before, it's always a good idea to look at the customer opinions. Customers generally post their true feelings about a product online without holding anything back. In this section, I'll go over what customers like and don't like about La Jolie Muse candles.
What Customers Like
Customers genuinely enjoy what La Jolie Muse has to offer. They love the packaging and the fragrances and even praise the longevity of the candle's lifespan. There isn't much that customers don't praise about these candles, including the comparability to other luxury brands that higher priced.
What Customers Don't Like
While most customers genuinely love La Jolie Muse candles, there are always going to be a few that don't enjoy it as much as the rest. The few that don't enjoy their candles have stated that they feel the candles hold an artificial fragrance or no fragrance at all. These comments do appear to be outliers but they are worth taking into consideration.
Final Thoughts
La Jolie Muse puts out candles, and other products, that genuinely made with the highest quality of care and products, giving you a high quality candle that you're going to able to enjoy and going to be worth your money. There is no going wrong when buying from this brand.