About Moroccan Oil
Moroccan Oil pioneered the hair care industry with Argan Oil-infused hair care and body care products.
Moroccan Oil has won over 120 awards internationally and has been featured in notable media sources like InStyle, ELLE, and Vogue. Celebrities such as Jennifer Lopez, Rosie Huntington-Whitley, Charlize Theron, and Anna Kendrick love their products and the brand's Instagram account has over 500k followers.
This Moroccan Oil review will take an in-depth look at the brand and its products, customer ratings, promotions, and more, to help you decide if it's worth the buy.
Overview of Moroccan Oil
Haircare and body care products are key to your overall well being, so ensuring that these products are made with the best ingredients is something that many people make a priority. In this review[1], research shows that when botanical oils are applied topically, they have different functional outcomes according to their phytochemical composition and the state of a person's skin or hair.
No matter what shape your hair is in, Moroccan Oil is sure to do it some good. The company has become a household name today, but its creation was the result of an accident. Ex-salon owner and fashion executive, Carmen Tal, received a hair dye job, which left her tresses extremely damaged.
Tal went to Tel Aviv, Israel, where she got an amazing oil treatment in a salon that saved her hair and made it smooth again. She spoke to her husband, Ofer Tal, and convinced him he needed to work with her on this idea, and as of 2008, the brand was born.
The company became famous for its initial product launch of Moroccan Hair Oil. Since it was developed, the range of Moroccan Oil hair products has grown tenfold with hair care, style, and body products like MoroccanOil brushes, curlers, and more.
Headquartered in New York City and manufactured in Israel, the Moroccan Oil founders have a mission "to empower beautiful transformations[2] and create products that inspire confidence."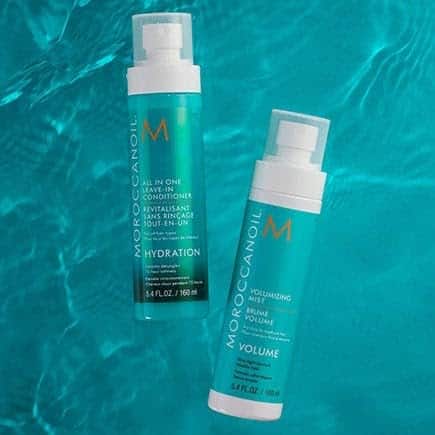 This Moroccan Oil review will now take a look at the highlights of the brand:
HighlightsPros
Vast inventory of products that cater to many different hair types and needs
Products contain high-quality ingredients sourced from Morocco
All products contain Argan Oil
Recurring auto-delivery option
Rewards program includes free gifts and special offers
Many positive customer reviews
Recurring auto-delivery option
This Moroccan Oil review will take an in-depth look at a selection of shampoos, styling, and haircare products. Whether you have a frizzy, curly mane, dry and over processed locks, or want to maintain color, Moroccan Oil has targeted formulas for a range of hair needs.
All Moroccan Oil hair products are available for auto-delivery monthly, every 3 months, or every 4 months. Take a look at their most popular items for your mane:
Moroccan Oil Shampoo Review
Moroccan Oil covers a diverse set of hair concerns with its matching shampoo and conditioner lines. They carry formulas specifically for hydration, volume, smoothing, curls, color-saving, and repair. This includes options for all hair types[3]!
This Moroccan Oil review will feature their most popular shampoos, including color-saving, hydrating, and dry formulas.
Moroccan Oil Purple Shampoo Review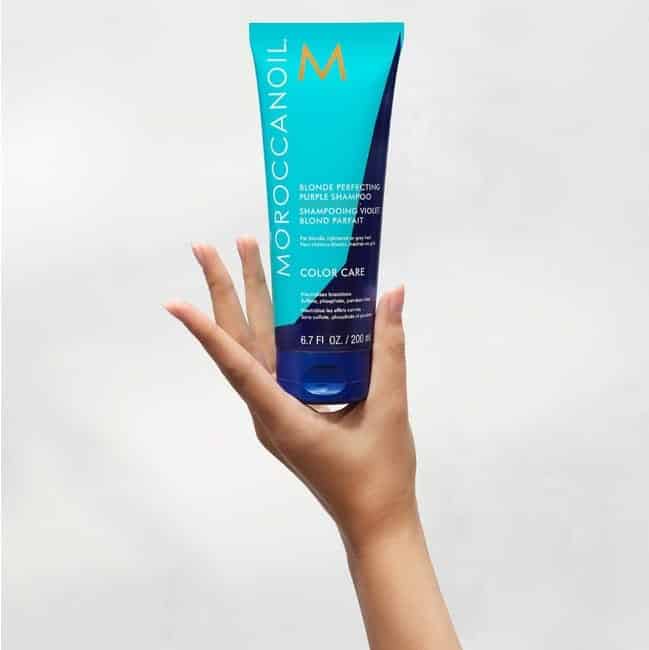 Purple Shampoo is the shampoo that every blonde, lightened brunette, or gray/silver-haired person looks for to fight brass. This formula has deep purple pigments that fight discoloration with a professional-strength toner that will keep your color intact.
This shampoo is also color-safe, sulfate, phosphate, and paraben-free, and contains ArganID™. 91% of users aged 18-65 say that after one use it refreshed dull highlights and 92% said their brassiness was toned down.
Argan oil protects your skin from sun damage and can treat a number of skin conditions. According to this study[4], argan oil demonstrated a reduced elevation in blood pressure, hyperglycemia, and insulin resistance through its anti-oxidative properties within studies completed on animals.
Parabens in hair products are known to cause scalp irritation and hair loss, which leads to premature scalp aging. This is due to evidence suggesting that parabens have estrogenic effects on the skin and hair when found in cosmetics, which is studied in an in vitro test[5], concluding that a specific enzyme that mitigates the production of this hormone is inhibited.
Thank goodness this product contains no nasties! Massage it into your hair and let it sit for 3-5 minutes, rinse, and follow with a Moroccan Oil conditioner.
Moroccan Oil Hydrating Shampoo Review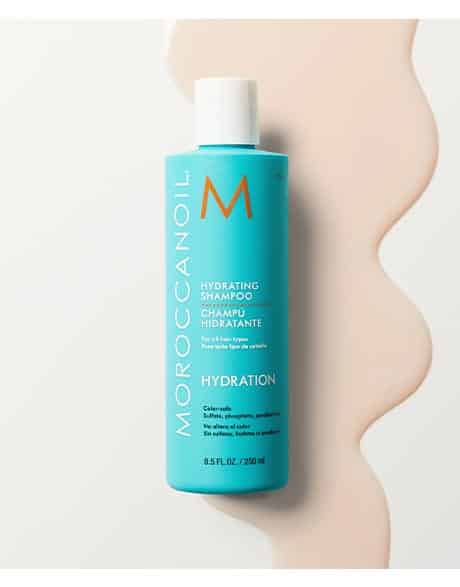 The Hydrating Shampoo from Moroccan Oil is great for all hair types, especially dry hair. This product contains Vitamin A, E, Argan Oil, and Red Algae for hydration and health that lasts.
Vitamin A is also known as retinol and contributes to hair health by supporting the secretion of sebum, which prevents hair breakage. A recent study[6] that was completed on mice reported the importance of this vitamin in many conditions associated with hair loss.
Vitamin E is essential for a healthy scalp and supports it by giving the hair a strong base layer to grow. It reduces the oxidative stress present and preserves the lipid bilayer protecting the hair. A study[7] using a form of this vitamin demonstrated that supplementation with capsules increases hair numbers in volunteers suffering from hair loss as compared to the placebo group.
Safe for color-treated hair and made without sulfates, parabens, or phosphates, you can use this shampoo normally and follow it up with the Hydrating Conditioner.
Treat your thirsty hair to Moroccan Oil's Hydrating Shampoo, available in full size (8.5 fl oz/ 250 ml) for $24 or travel size for $11 (2.4 fl oz/70 ml).
Moroccan Oil Dry Shampoo Review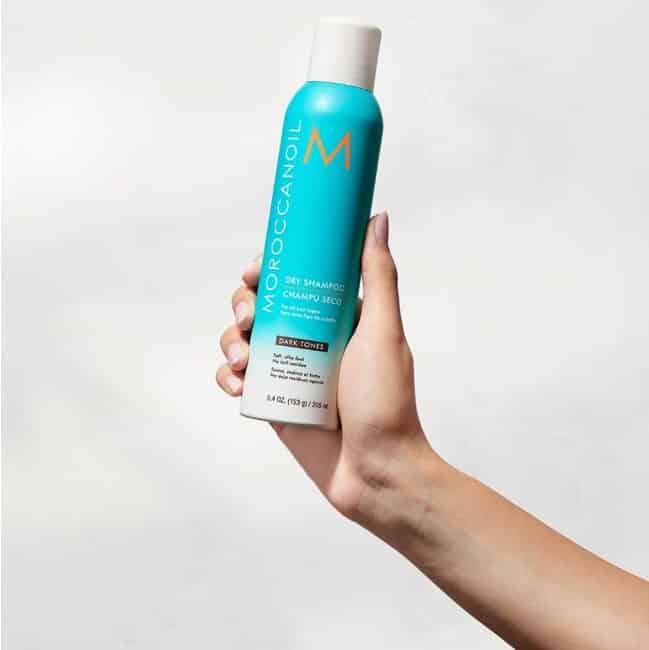 Haircare experts don't recommend washing your hair every day, since stripping it of oil continuously can lead to dryness and dandruff (yuck). For people with naturally oily hair, that's easier said than done. Enter Dry Shampoo, which can keep your mane looking fresh for days.
This is a go-to product for all hair types and a savior for going a few more days without washing, but not looking like you could grease a pan with your head. Available in two versions, one for dark hair and another for light hair, this protects your color while refreshing oily strands.
This Moroccan Oil product has rice starch that absorbs oil, odor, and removes oil buildup. Spray 6-8 inches away from the roots of your hair, massage, then brush for fresher strands. The Dry Shampoo retails for $26 (10.2 fl oz/300 ml).
Moroccan Oil Styling Review
Moroccan Oil has a range of styling products loved by consumers at home and in salons. This includes Moroccan Oil hairspray, oils, sprays, creams, mousses, and lotions for whichever look you're going for. This Moroccan Oil review will focus on their bestselling styling products.
Moroccan Oil Curl Defining Cream Review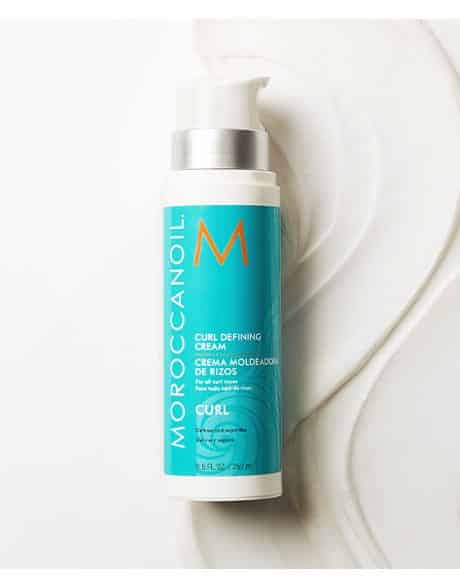 The Curl Defining Cream adds extra style and definition to fight frizz for natural, bouncy, and hydrated curls. Classified as an Intense Curl Cream, you can apply one to two pumps into towel-dried hair and use a diffuser, or let your hair dry naturally.
The Curl Defining Cream retails for $34 for the full-size bottle (8.5 fl oz/250 ml) or $12 for travel size (2.5 fl oz/ 75 ml).
Moroccan Oil Hydrating Styling Cream Review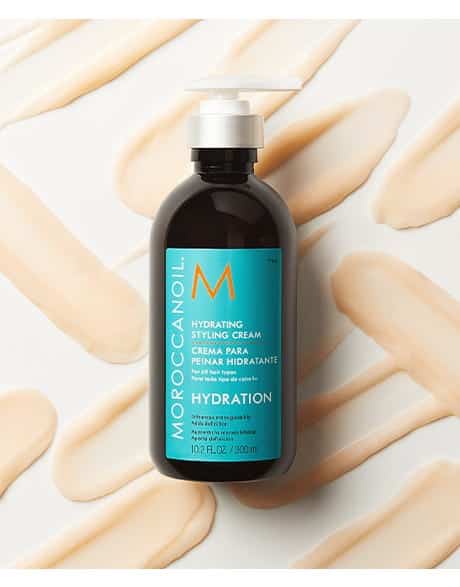 The lightweight Hydrating Styling Cream will make your hair look extra smooth and touchably soft. This leave-in styling cream is great for all hair types and will deeply condition your hair making it appear healthier.
Infused with natural Vitamin E and Behentrimonium Chloride, it conditions hair without causing heaviness. Apply one or two pumps to damp or dry hair from mid-length to your ends then blow-dry hair or air dry naturally.
Behentrimonium chloride is used[8] to reduce static and frizzing in hair conditioning products. It also acts as an emulsifying agent to moisturize your hair.
The full size of the Hydrating Styling Cream can be yours for $34 (10.2 fl oz/ 300 ml).
Moroccan Oil Dry Texture Spray Review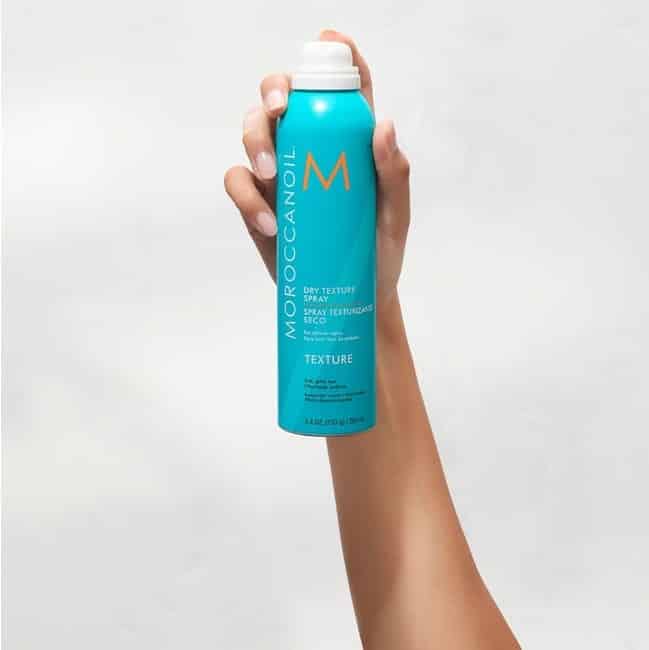 The Dry Texture Spray works on all hair types for a long-lasting hold. Its Zeolite and Resins add texture and hold without the brittle feel that hairsprays provide.
Use this product as a finishing spray to add volume or as a prep spray before styling. Simply shake and spray on hair for the perfect tousled look. This Dry Texture Spray costs $28 for a full size bottle (5.4 fl oz/ 205 ml) and $30 for travel-size (1.6 fl oz/ 60 ml).
Moroccan Oil Haircare Review
Moroccan Oil offers formulas to repair and improve your locks, inside and outside the shower. Their masks, treatments, protectants, and scalp balancing products specifically heal damaged strands for better growth and texture. We'll showcase some of the restorative haircare products that customers love most:
Moroccan Oil Color Depositing Mask Review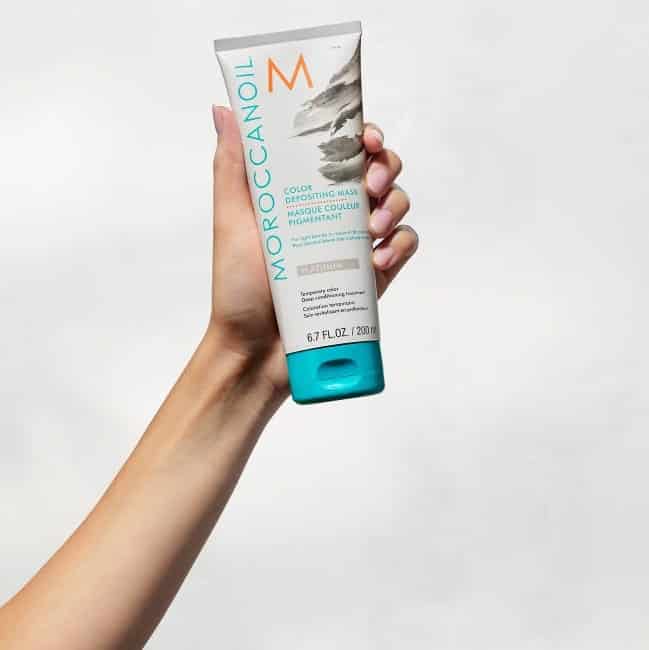 The Depositing Mask is a color treatment for those who like to experiment and refresh their color. A hybrid between a conditioning mask and a temporary hair color, this mask nourishes with an Amino Acid Blend, Apricot Kernel Oil, and ArganID™ technology.
Note that only temporary color results appear, but overall softer, healthier, and shinier hair remains. Available in 9 colors including Aquamarine, Hibiscus, Lilac, and Rose Gold, be sure to select the tone that matches your color. Not sure? The brand has an online quiz that can help you.
To use, wash and towel dry hair, section off, apply the mask throughout your strands, and let it sit 5-7 minutes. Rinse and continue with your normal styling routine.
It is also worth noting that the packaging of this mask is made of 50% recycled material. This Depositing Mask comes in a full size bottle for $28 (6.7 fl oz/ 200ml) and $7 for travel size (1 fl oz/ 30 ml).
Moroccan Oil Restorative Hair Mask Review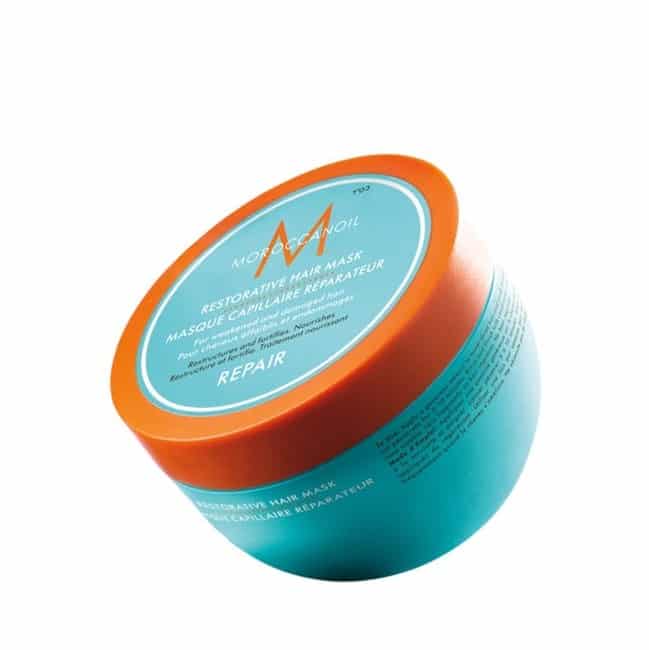 Revive your locks with the Restorative Hair Mask, formulated to repair damage from heat styling, strong treatments, and excessive bleaching. Nourishing ingredients like Shea Butter and Keratin Proteins provide long-lasting effects, but if your hair is beyond repair, try the Intense Hydrating Mask.
Keratin is aprotein that makes up your hair, skin, and nails and it is considered to be a protective protein, which means it is less prone to tearing compared to other types of cells your body produces. This study[9] explores the efficacy and safety of widely used keratin treatments on hair. No results have been reported from these clinical trials.
Apply a generous amount after shampooing and towel-drying, then thoroughly comb from roots to ends. Leave the mask on for 5-7 minutes then rinse and condition. To see optimal results, use this mask once a week. This Restorative Hair Mask is available in 3 convenient sizes including:
Half Liter (16.9 fl oz/ 500 ml) for $64
Full Size (8.55 fl oz/ 250 ml) for $42
Travel Size (2.5 fl oz/ 755 ml) for $18
Moroccan Oil Dry Scalp Treatment Review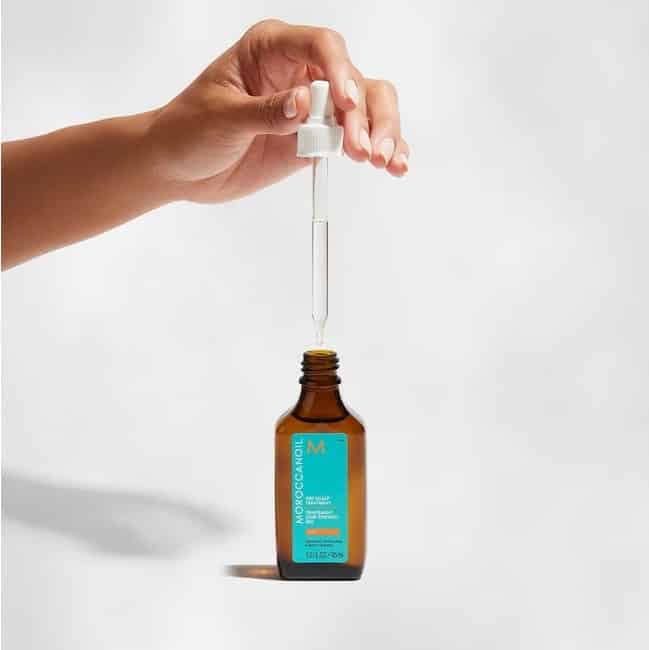 The lightweight Dry Scalp Treatment will soothe your scalp for a fresh, nourished feel. This product instantly addresses dry, flaky, and itchy scalps, restores imbalances, and nourishes irritations with Lavender, Geranium Seed Oil, and Salicylic Acid. But don't worry, this treatment won't cause your hair to become too oily or heavy.
Geranium Seed Oil works to regulate dryness, excess oil, and the production of sebum which ultimately supports the maintenance of a healthy scalp. When administered in this study[10], the oil showed significant potential for anti-inflammatory effects.
Salicylic Acid has multiple functions on the hair follicles such as the prevention of sebum buildup, which leads to a reduction in the risk of acne developing on your face and scalp. A randomized study[11] exploring the clinical effectiveness of this ingredient showed that it was safe and effective in the treatment of dandruff.
To use, separate your hair into four equal sections, apply three to six drops of oil on each section, massage into your scalp, let sit for 5-10 minutes, then comb the product through your strands and rinse.
To see the best results, start by using this oil once a week before applying shampoo and conditioner as usual. The Dry Scalp Treatment comes in one size (1.5 fl oz/ 45 ml) for $38.
Moroccan Oil Reviews: What Do Customers Think?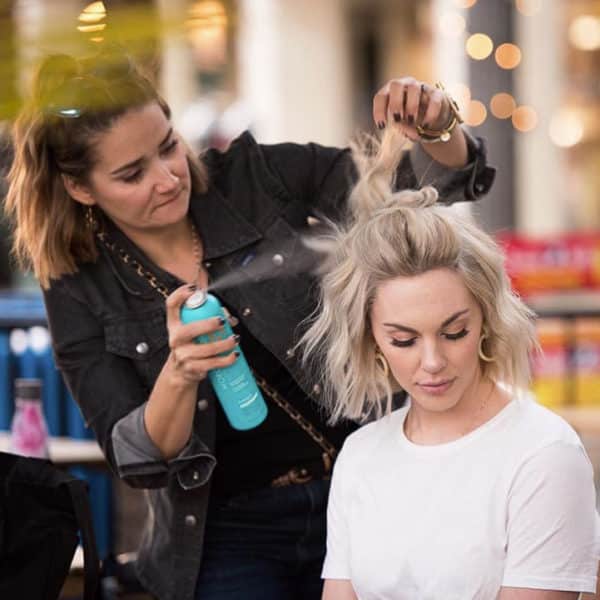 This Moroccan Oil review found the vast majority of customer ratings are extremely positive. Moroccan Oil has over 57.7k reviews on Influenster with over 301 products. Impressively, only 6 reviews are less than 4 stars.
Customers frequently comment on products effectively restoring and nourishing their hair and how they help reverse severe hair damage. The Moroccan Oil website also has outstanding reviews. The best-selling products featured in this review have an average of over 4.5/5 stars:
Purple Shampoo: 4.8/5 stars out of 1655 reviews
Dry Shampoo: 4.6/5 stars out of 274 reviews
Hydrating Shampoo: 4.5/5 stars out of 531 reviews
Curl Defining Cream: 4.6/5 stars out of 541 reviews
Hydrating Styling Cream: 4.7/5 stars out of 1591 reviews
Dry Texture Spray: 4.5/5 stars out of 157 reviews
Color Depositing Mask: 4.6/5 stars out of 55 reviews
Dry Scalp Treatment: 4.6/5 stars out of 98 reviews
Take a look at some of these buyer testimonials for Moroccan Oil:
Moisture Repair Shampoo: "This makes my hair smell so good. I've been trying different shampoos because my hair is super oily and It hasn't been responding to my shampoos. This one makes my hair feel so clean!"
Smoothing Conditioner: "My hair absolutely loves this conditioner. I had to buy the liter size bottles because my family keeps using it. They love this product as much as I do! Highly recommend"
Intense Hydrating Mask: "I don't style my hair with heat very often but when I do this is my go-to heat defense. It smells great and hair is still soft after use. Haven't found a Morrocan Oil product that I don't like yet."
Buyers on the official site report that Moroccan Oil products do what they are intended to and more. Numerous users highly recommend their products. Though some customers describe the haircare as expensive, many agree that they're worth the extra money.
The ratings on the Sephora website are also extremely high, with customers experiencing great results. But the few negative comments felt that some of the products were not hydrating enough and pricey.
Even so, the Moroccan Oil range seems to satisfy the majority of its customers.
Is Moroccan Oil Worth It?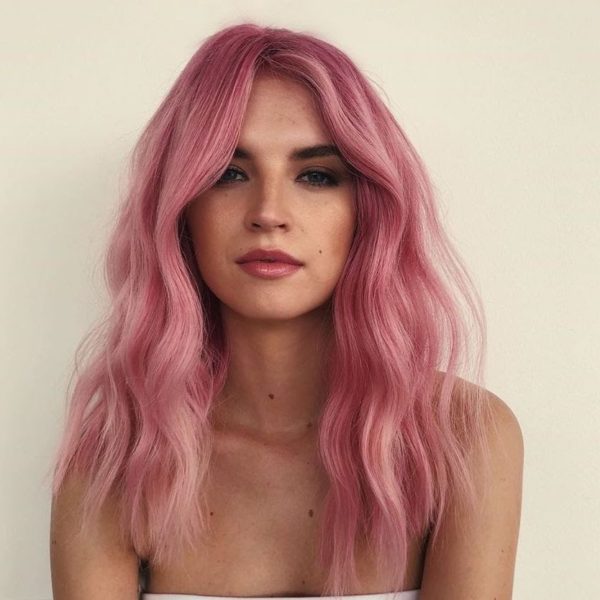 Is Moroccan Oil a good brand? Based on hundreds of glowing customer testimonials, we think this haircare is a solid option. Their collection includes an assortment of specialized products for a variety of needs, all infused with the company's famous Moroccan Argan Oil.
While the Moroccan Oil price is higher than your average haircare brand, customers say the cost is worth it or the benefits they get. With proper use, these products are making a real difference in users' hair.
As with any beauty product, everyone will experience different results. But Moroccan Oil has risen to fame for a reason, and we think this line is well worth the buy.
Moroccan Oil Promotions & Discounts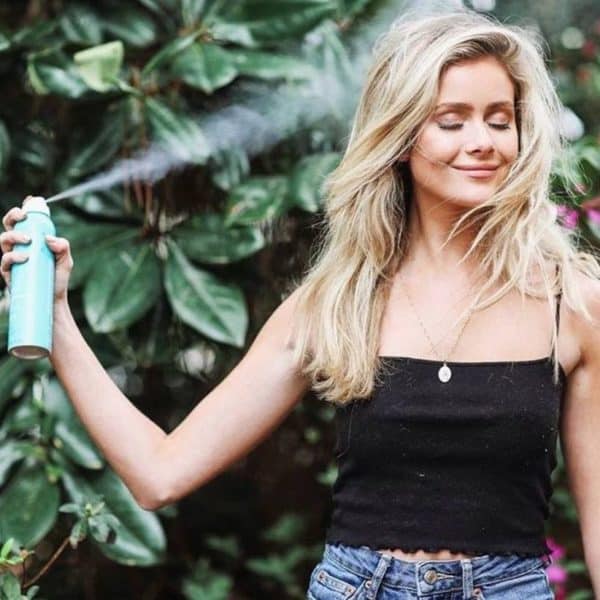 Moroccans Oil offers a Beauty Circle rewards program that will give you rewards every time you shop! Sign up for an account by creating a password and inputting your email address. New members get 15 points upon joining and earn points by shopping.
You can redeem points for gifts or money towards later purchases. Beauty Circle members get 1 point per $1 spent, and there are other ways to gain points:
Birthday reward: 20 points
Writing a product review: 20 points
Leaving a photo review: 25 points
Reading a blog post: 10 points
Following the brand on Facebook: 10 points
Share the brand on Facebook: 10 points
Follow the brand on Instagram: 10 points
The more points you earn, the more perks you receive. There are three levels: Argan Insider, Beauty Enthusiast, and Iconic Gold.
Moroccans Oil also has a Refer a Friend program. Your friend will get $10 towards their first purchase of over $80, and you will get $10 worth of points for referrals.
Where to Buy Moroccan Oil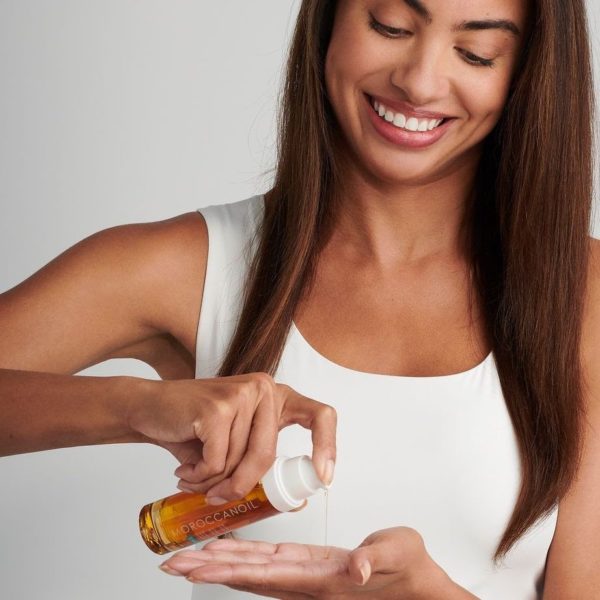 Who is Moroccan Oil owned by?
Moroccan Oil is owned by MOROCCANOIL Israel, Ltd. The founders of this company are Carmen and Ofer Tal.
Is Moroccan Oil for black hair?
Moroccan Oil products are very hydrating for all hair types for softer, smoother, and more manageable hair. Black hair is no exception!
Is Moroccan Oil all-natural?
Moroccan Oil is not all-natural, although it does contain many natural ingredients such as Argan Oil.
What does Moroccan Oil do to your hair?
Moroccan Oils improves the health of your hair by infusing it with vitamins, minerals, Argan Oil, and antioxidants. This combination repairs your hair by softening and hydrating.
Is Moroccan Oil better than Argan Oil?
Moroccan Oil is Argan Oil. Although, Argan Oil has a pure form while Morrocan Oils has added ingredients. Argan Oil is best for fine hair that is less dry while dry hair that needs intensive help would benefit more from Moroccan Oil.
Does Moroccan Oil make your hair grow?
Argan Oil promotes cell production and contains vitamins that help keep your scalp healthy, which is the key to hair growth.
What is the best way to use Moroccan Oil?
Moroccan Oil products are appropriate to use on either wet or dry hair. If you have thick or dry hair, you should apply more of the oil, while thin hair gals can apply less. It is best to use this product daily and then use it less as you see improvement.
Should you use Moroccan Oil every day?
If your hair is dry and damaged, incorporating Moroccan Oil products into your daily hair care routine will help repair those issues.
Can Moroccan Oil expire?
Their products have a 'use by' date on their container that looks like a small container with an open lid and has a number and M next to it (ex: 12M), meaning your product will last for 12 months after opening.
What is Moroccan Oil's Shipping Policy?
This Moroccan Oil review found that their US shipping policy is as follows:
Free shipping for Beauty Circle members
$6 flat rate shipping
Spend $45 for free shipping
$35 flat-rate for shipping to Alaska and Hawaii
You will receive MoroccanOil shipping tracking after placing your order, you can view this via email or your account. It takes 1-2 business days to process shipping and up to 5-10 business days to ship.
What is Moroccan Oil's Return Policy?
This Moroccan Oil review found that their return policy requires you to contact their team via phone (1-888-700-1817) or email ([email protected]) within 30 days of purchase to initiate a return.