Ofx As new technology continually advances, business, travel, and globalization have never been more essential. Our business and personal needs mean we sometimes have to get money from one country to another. While this isn't a new concept, globalization has made this more necessary than ever.
International money transfer companies like OFX make transferring money convenient, secure, and simple. It's not just about having the ability to transfer money worldwide, but also receiving top quality service. With this online money transfer provider, you can breathe a sigh of relief knowing that your money is in safe hands.
You've probably already heard about OFX, especially if you've done your research on overseas transferring. This transfer provider allows you to send money to over 190. This can be done via its website or mobile app. The largest advantage found is its cost – it is among the cheapest international money transfer providers around. Not to mention there's no limit on the transfer amount.
In this OFX review, we hope to make your life a bit easier by clarifying what this service is and whether it could be beneficial to you.
OVERVIEW OF OFX
There are many reasons why you might want to transfer money abroad. Some of the most common are for education, migration, or property. Whichever it is, it's most likely OFX has considered you and your specific needs.
With over twenty years of experience, you won't be dealing with amateurs. OFX has over 55 different currencies, suitable for a wide variety of countries. As a large business that started small in a garage, the company now manages over one million customers globally. As every prosperous business usually does, it is ever-expanding and gaining the support of valuable customers.
While the facts and figures are well said and true, this business doesn't just assist with money transfers. OFX offers a range of guides to lead you through the confusing process of managing money internationally. These are just a few guides you'll find on their site:
Paying a Mortgage Abroad
Your Pension Abroad
Paying Taxes Abroad
WHY DO PEOPLE NEED INTERNATIONAL MONEY TRANSFERS?
Anyone can use this kind of service; it's not an exclusive gig. However, there are particular reasons why international money transfers can be of use to some more than others. For instance:
Businesses often make good use of companies like OFX. You may be looking to send money to suppliers who are abroad. Alternatively, you may need to buy or sell your goods from overseas.
Online sellers that are on Amazon or eBay need to be able to send and receive money to clients abroad.
If you have moved abroad, you may be looking for a way to get your money to you.
Those who are paying a mortgage in a foreign country will make good use of international money transfer.
People who have children or other relatives that are studying abroad will use the service to pay tuition fees.
If you're paying for a wedding that is taking place overseas, this service will come in handy.
You may be supporting a family member who is either living or traveling abroad.
This type of service is necessary for those who have investments overseas.
Don't see your reason listed here? Visit the OFX official website as we're sure your needs are covered by this reputable provider.
ADVANTAGES OF OFX
Initiated back in 1998, OFX has continued to flourish since starting up. That, in itself, is a comfort for those looking for a trustworthy business. Let's have a look at some of the other advantages of OFX.
Here is where OFX shines:
It's completely free to open an account.
There's no transaction fee, no matter where in the world you're sending your money.
You can track your money every step of the way through SMS, email, the app, or website.
Transfers are processed quickly.
Alternatively, you can schedule payments for when you want them.
The company provides 24/7 customer service, suitable for any work schedule, or when there's a problem. Customers can use this service in various countries.
There is a range of transfer options that help you make the most out of changing exchange rates.
Did we mention over 55 different currency options? We won't begin to list them, but you name it, they'll most likely cater for it.
The service is accessible by individuals, professionals, online sellers, and businesses. There are little to few limitations to your transfer requirements.
OFX is trusted internationally, with offices in Hong Kong, Canada, the USA, New Zealand, Singapore, and the UK.

DISADVANTAGES OF OFX
It would not be a balanced review if we didn't look at some of the disadvantages of OFX. Where does OFX fall short? Some limitations include:
You can not use credit cards to make payments overseas.
Money can only be transferred electronically to other bank accounts, as opposed to physical cash pick-up locations.
There is a minimum transfer.
There is no option for same-day delivery.
Customers may be required to speak to a representative over the phone to trade in some particular currencies.
HOW DOES SIGNING UP WORK?
With OFX, the signup process is simple, easy, and streamlined. You can register with OFX here. You will be asked to select between a business and a personal account. Then, you will need to fill in some information about you. Only relevant information is needed, and you'll never be asked anything intrusive or unnecessary.
OFX may give you a phone call at this stage, just to verify identification. Along with this proof of ID, you will need to provide another form of ID. This can include photos or scans of a passport, driver's license, or a utility bill. Its website is entirely secure. If you don't believe us, check for the little padlock symbol in front of the HTML.
Once you are all set up, any correspondence between you or OFX can happen swiftly through email or phone call with three easy steps. Now you'll be able to send money to your desired location and recipient.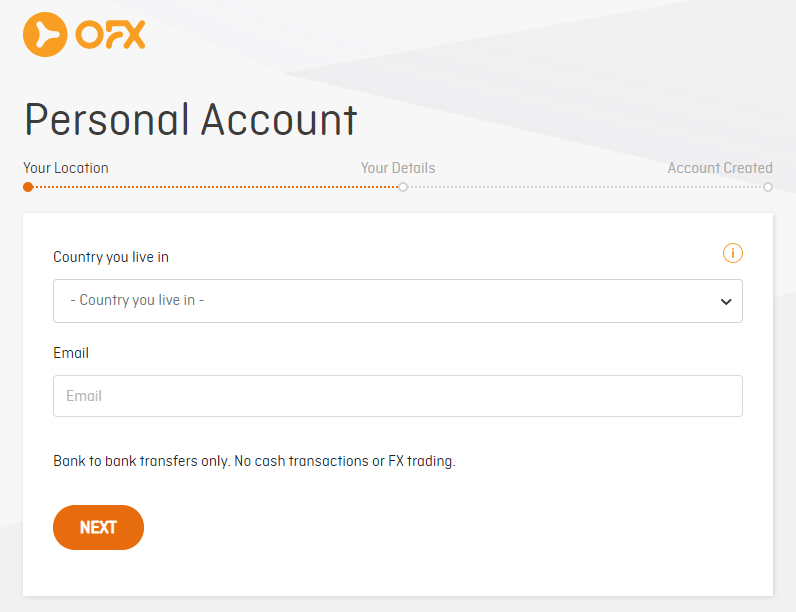 SETTING UP A PAYMENT
One thing some customers will be pleased to know is that you can arrange a transaction over the phone, as well as online. When it comes to money, some people prefer speaking on the phone with a real person, as opposed to sorting it online. OFX provides both options.
First, you'll want to log into your account. Select your currency and amount and then click 'Get Quote.' After this, you will be directed to a page to check both bank account details.
Here, you will add the destination or beneficiary's bank details. At the end of the process, you will be able to send the funds to the recipient you have stated. Then, OFX will manage the rest of the work! Simple.
You can set up notification alerts, where you will receive an SMS or email or both on the status of your transaction. You can also track your parcel yourself through the app, SMS, website, or email, to keep an eye on when your funds arrive.
WHO IS THE SERVICE SUITABLE FOR?
Anyone using the site for legal purposes can use OFX. Small to medium business owners are best suited using this site for whatever foreign currency exchange that is required. If you are looking for a global expansion of your business, then this is an ideal route. This is alongside online sellers, and those using it for a variety of the personal uses mentioned above.
It is also suitable for those wishing to partner with this money transfer service. Yes, that's an option! They provide partner relationships for the following: boosting member benefits, eCommerce partners, API platform integrations, and referral partnerships.
Have additional questions? You can talk to OFX at any time to get a further understanding of your business and the partnership.
ARE THERE ANY PROBLEMS WITH OFX?
When it comes down to safety, speed, and exchange of funds, here is what we found:
SAFETY
OFX is just as safe as any other bank you will come across. It's a highly regulated company with regulations that take place in each of their offices around the world. This includes New Zealand, Canada, UK, Australia, and the US. In the USA, they are obliged to follow varying state rules where they operate.
OFX also holds a Money Laundering Regulation Certificate, which aids with anti-money laundering laws that apply to the countries where they operate. They also follow appropriate data protection laws and are registered with the Information Commissioners Office (ICO). This is an independent authority set up in the UK which deals with information rights.
It is also regulated by FINTRAC, FCA (Financial Conduct Authority), ASIC (Australian Securities and Investment Commission), and FinCEN. It is registered with the Monetary Authority of Singapore (MAS). If more reassurance is needed, this company is also insured against any sudden cases of bankruptcy. In this case, customers with pending transactions will be able to get their money back, no hassle.
So, it seems it would be highly unlikely for any fraudulent, illegal, or unsafe behavior to take place with OFX. However, do remember that fraud can happen just about anywhere and to anyone!
SPEED
Some have critiqued OFX for not being the fastest international money transfer service out there. It will take roughly two to four business days for your money to reach its recipient. It is not a competitive offer, as other companies can do this within minutes. However, this will usually cost customers more money.
If you want to cash out more money for a quicker transfer time, it may be worth looking at some other options.
FUNDS NOT SEEMING TO ARRIVE
A lot of issues have related to customers claiming their funds have not arrived. This tends not to be a fault with OFX, but with the banks where the money has been received. While the money may seem to have not arrived, it is more than the relevant bank is still processing the transaction.
OFX may have confirmed to you that the money has arrived, but different sources may be telling you otherwise. This is because OFX does not take into account the processing time it can take in receiving bank accounts. This isn't always the case and does not mean your money will not be delivered. It will just take a bit longer than expected.
ADDITIONAL DETAILS TO CONSIDER
COUNTRIES
They can send money to over 190 countries in over 55 different currencies. This includes, but is not limited to:
Australia – Belgium – France – Germany
Hong Kong – Japan – Indonesia – India
Mexico – New Zealand – Philippines – Taiwan
Italy – Switzerland – Thailand – Sweden
The Netherlands – The USA – The UK
If you have a country in mind, it's likely OFX will cover it!
FEES AND EXCHANGE RATES
In some countries, OFX may charge you around $15 for transactions under $10k. While OFX won't be charging you any set-up or transfer fees for larger sums, the banks you are using may charge you. This is not something OFX has much control over; however, if you check your options with your bank, you should be able to find a free one. They also have a local bank network, which means they can pay straight into your bank, wherever it may be, and this should keep extra fees at bay.
There is also a small exchange rate fee of 0.6 – 0.2%. As your paying amount increases, your percentage will decrease. You can, however, save even more money by being a part of their unlimited free transfer deal. You can also save over 60% of what your bank may be charging you to send money.
They do offer a better exchange rate than standard banks. However, it is not a set number and is subject to change depending on varying factors. You can only properly see the exchange rate on OFX after you have signed up.
TRANSFER TIME
This is the all-important factor for some. There are a couple of steps involved in the process of transferring your money to your desired destination.
Your money will first be sent to OFX's bank account, which will take around a day or two for transfers local to their offices.
From their bank account, your money will be directed to the bank account of your overseas recipient. At the minimum, this can take one day, but shouldn't take longer than three, on OFX's part anyway.
You can also select a regular transfer feature, which can be beneficial to payments that have to be paid on set dates such as mortgages. This way, your money should be paid to the correct place, on time each week/month/year.
REVIEWS
This money transfer service has overall received excellent reviews. OFX.com shows that they have earned 4.5 out of 5 stars from 3,747 reviewers on Trustpilot.

FAQ'S
Is it safe to wire money?
Yes! Wiring money overseas with the right company is safe as anything. The only thing you should look out for is fraudsters who can infiltrate anyone just about anywhere. Always keep an eye on payments, especially regular ones and make sure no more than expected is leaving your account.
OFX is fully regulated; what does that mean?
This means they are governed by a variety of legal bodies to ensure they aren't doing anything fraudulent or illegal. The Financial Conduct Authority has authorised them as an Electric Money Institution.
Do you accept partial payments?
OFX realize the complexity of finances, so, therefore, depending on certain circumstances, do accept partial payments. Once the entire payment has been received, they will then transfer it.
What can I do with the app?
The app is great for those who want to transfer money quickly. You can track transfers, make single transfers, view live exchange rates, and call or email to customer service desks.
Are there any transfer fees?
There are no fees if you apply with the legal entity. Third-party fees may apply.
I've registered, when can I make my first transfer?
Once your identity is verified, you can make your first transfer.
BOTTOM LINE
OFX is an established and trustworthy payment service. Many financial security boards regulate the service, which means it has to follow legitimate legislation and rules.
The extra fees are incredibly low, if not non-existent. These are much lower than you may find with your generic banks and other competing services (although XE Money Transfer is our #1 recommendation). The transfer time is good for the price you pay. Customers can speak over the phone with someone at any time of any day, should they need it. Though there is no live chat option online, email is available.
You can't argue against the vast list of currencies and countries available to deal with. With OFX, there isn't much to dispute. We can see why OFX has been listed as the top choice by many international wiring service reviewers.
If you need a quality overseas transfer service, OFX won't disappoint. But, you don't just have to take our word for it; see for yourself by visiting OFX.com to get set up with the service. It's easy to get in touch with a representative if you have any questions about your account or getting started.