There's often a fallacy that ecommerce merchants have to be experts in every aspect of their business: there's advertising, website design, video production, product design, sales, and a whole lot more. But the truth is, you can't do it all by yourself — at least not at the "expert" level of skill that is necessary to make your business successful.
Thankfully for online retailer, there are websites and tools out there that offer a step-by-step, easy-to-use process for creating brand mockups and demo videos that require least time and totally no design or Photoshop skills. This means you can create clothes like custom attire and branded products that can set your store apart from the rest, all in a few simple steps.
One of those companies is Placeit, which has been around since 2013. What do they offer? How do they compare to similar websites? Why should ecommerce merchants give them a shot? Read on under to find out whether or not Placeit is right for you and your online business.
What Is Placeit?
According to the company, Placeit is "your one-stop-shop for mock-ups, logos, design templates, and animated videos."  Maybe you sell T-shirts and want a new way to show off your design in a professional and realistic way. Placeit has thousands of apparel and digital device mockups that take just seconds to make.
Or maybe you need a new logo for your online business. Placeit has you covered with easy-to-use logo makers that can help set your e-commerce store apart from the rest and solidify your brand. Along with apparel and logo designs, they even offer business cards, book covers, flyers, and more with thousands of templates — and more are being added every day.
Placeit maintain that their teams "marry design and technology to create high-quality branding and marketing tools" so anyone can create effective visual assets and products for their brand regardless of technical or artistic skills.
How Much Does Placeit Cost?
When it comes to purchasing Placeit, they offer a free trial where you can test out the tools that they offer. If you find something you like, the subscription options include:
Unlimited Subscription — For  $19.95 a month or $99.95 a year, you have unlimited access to all of Placeit's mockups, design templates, video templates, and logo makers. There's no subscription minimum, so keep your subscription for as long as you like. You can also make and download as many assets (i.e., mockups, videos, logos, etc.) as you need.
Single Purchases — Here you only pay for what you need. For example, if you only want one mockup or a single T-shirt design, you can pay for just that item without paying for a full monthly subscription. Image mockups are $7, video mockups are $9, a single logo purchase is $39, a single video purchase is $9, and a single design template is $2.
How To Get Started with Placeit
To start using Placeit's tools, head to placeit.net and click the sign up button at the top left corner of the page. Enter your email address, tick the boxes to agree to their policies, and you'll be good to go.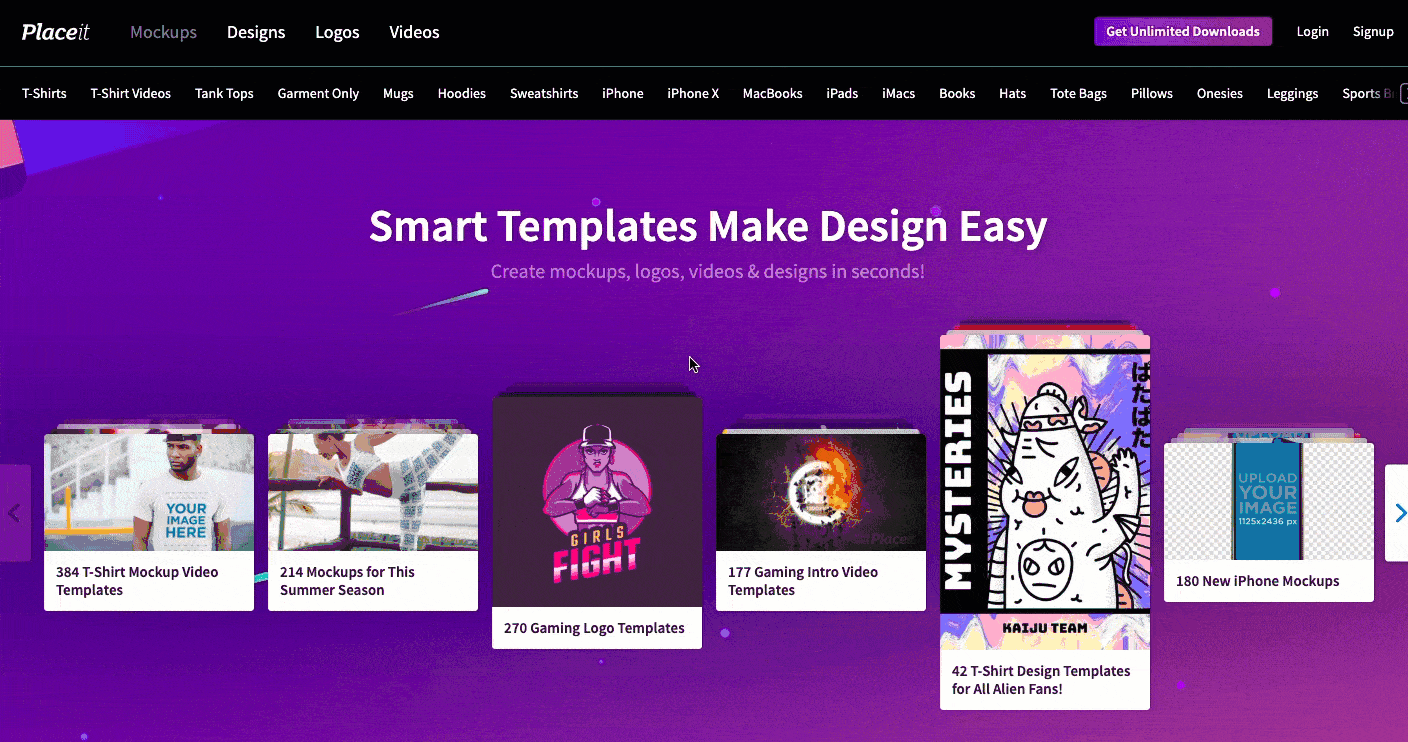 How Does Placeit Work?
Once you have your account, it's fairly easy to generate the assets you need for your ecommerce site. In this section, we'll walk you through how to use Placeit's different offerings, including:
Mockup Generator
Design Templates
Logo Maker
Video Maker
Placeit Mockup Generator
Placeit has thousands of product mockups to choose from. For the uninitiated, product mockups  are preset merchandise templates on which you can place your own images and designs.
Here's how to create your own:
Click or hover on the "Mockups" link at the top-left corner of the page. From there, select the type of mockup that you'd like to create. Placeit lets you choose from a handful of mockups, including T-Shirts, hoodies, leggings, mugs, tote bags, and more.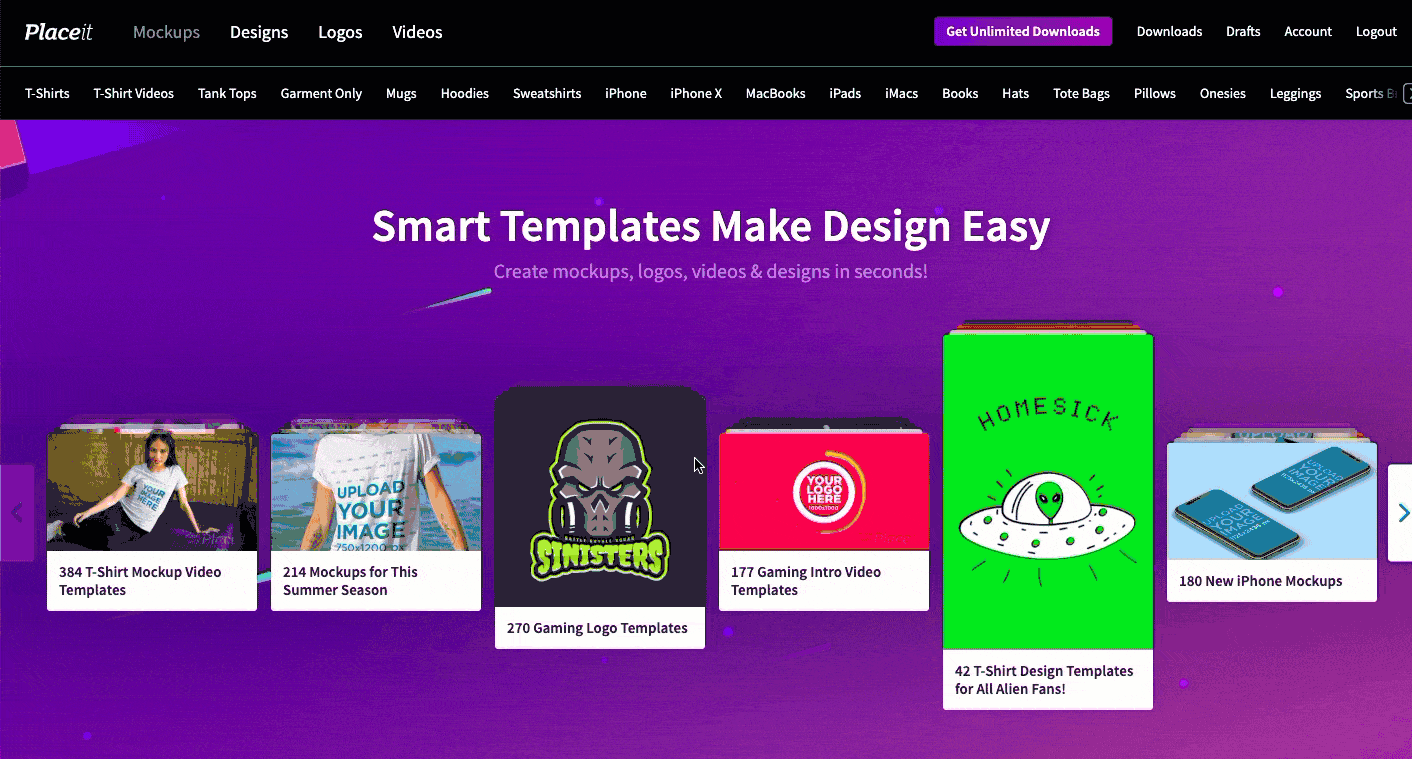 2. Once you've chosen the type of mockup you need, you can browse through Placeit's library of designs and templates. For example, if you're creating T-Shirt mockup, Placeit has templates featuring different models and environments.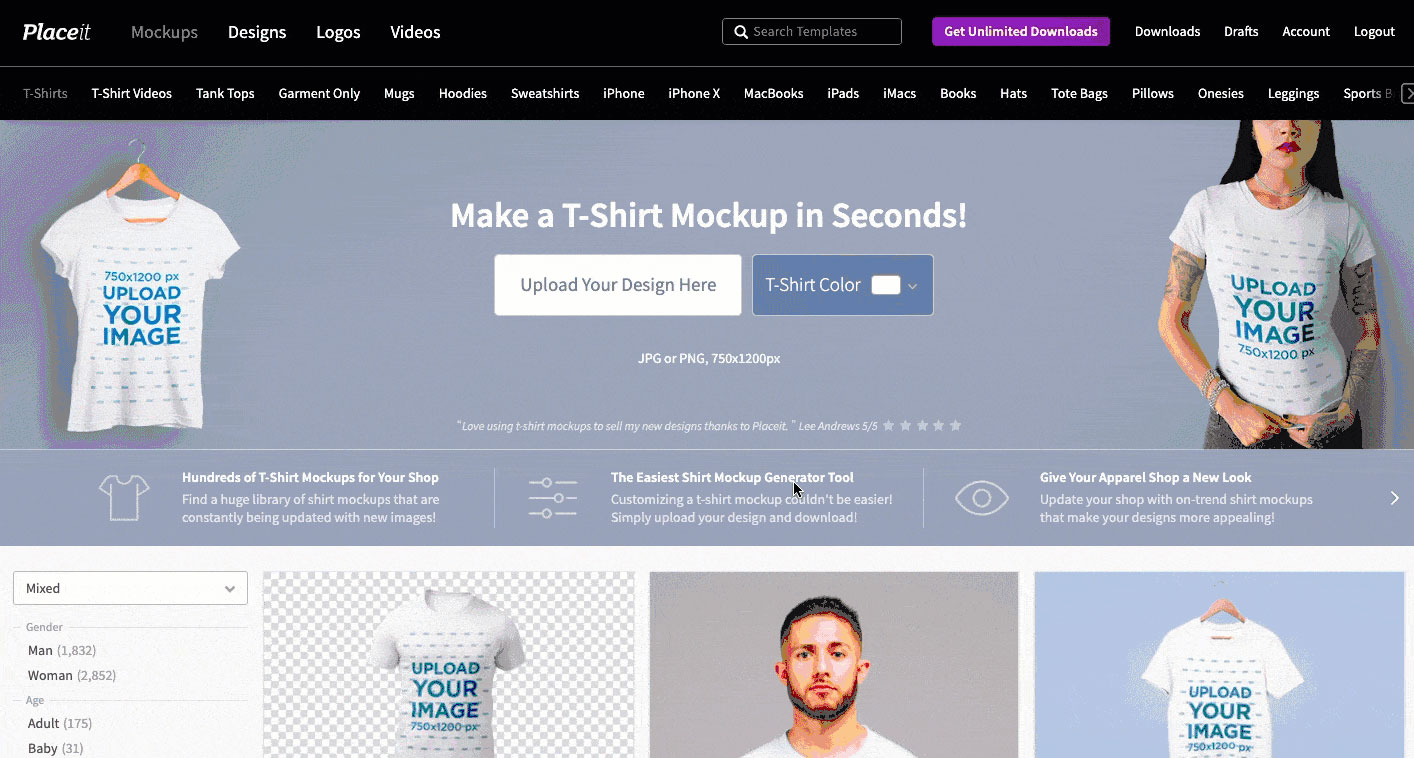 3. Select the template you'd like to use, then add text or upload your own image.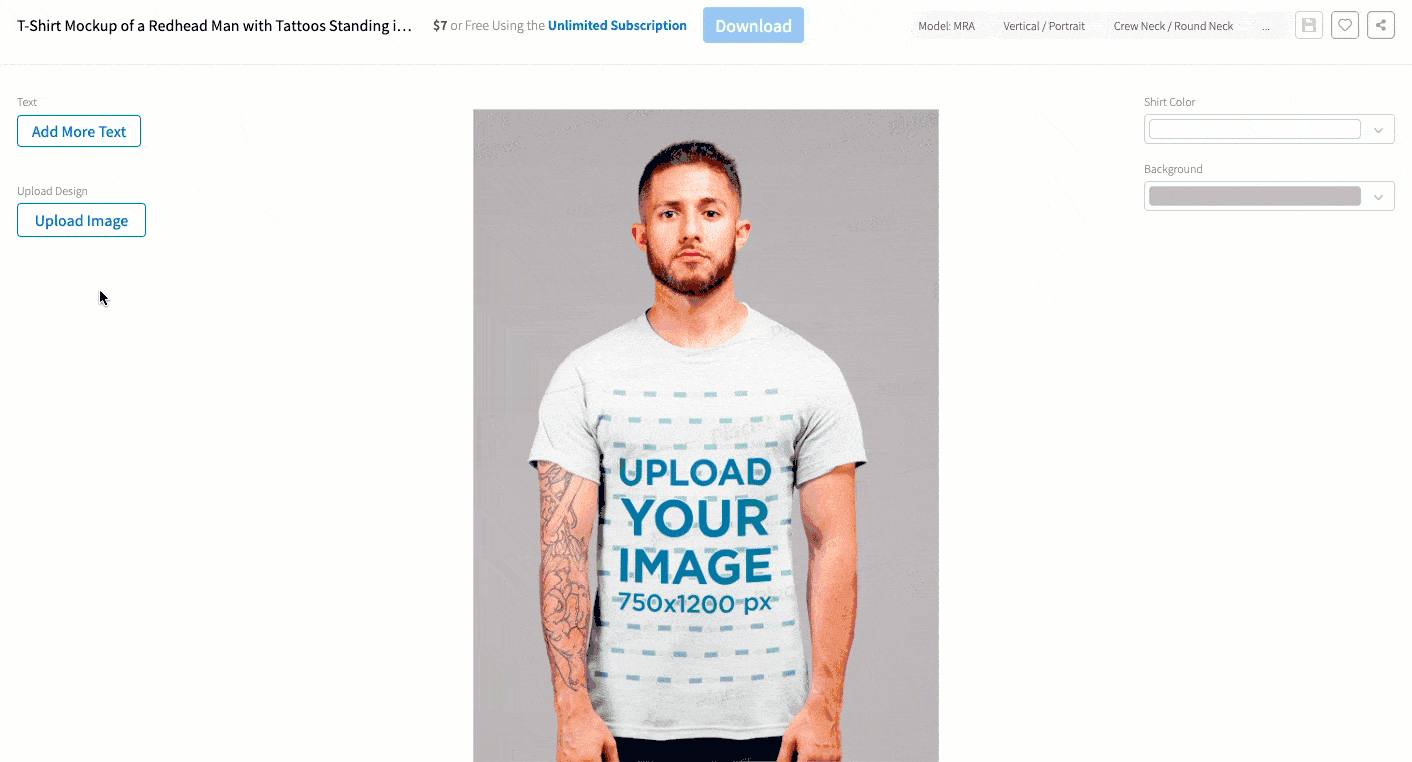 4. After you upload, you can crop the image to your specifications within the capabilities of the site. Once you're satisfied with the image, you can choose to download with or without a watermark. You need to pay for each image — and the cost per download will depend on the pricing model you choose.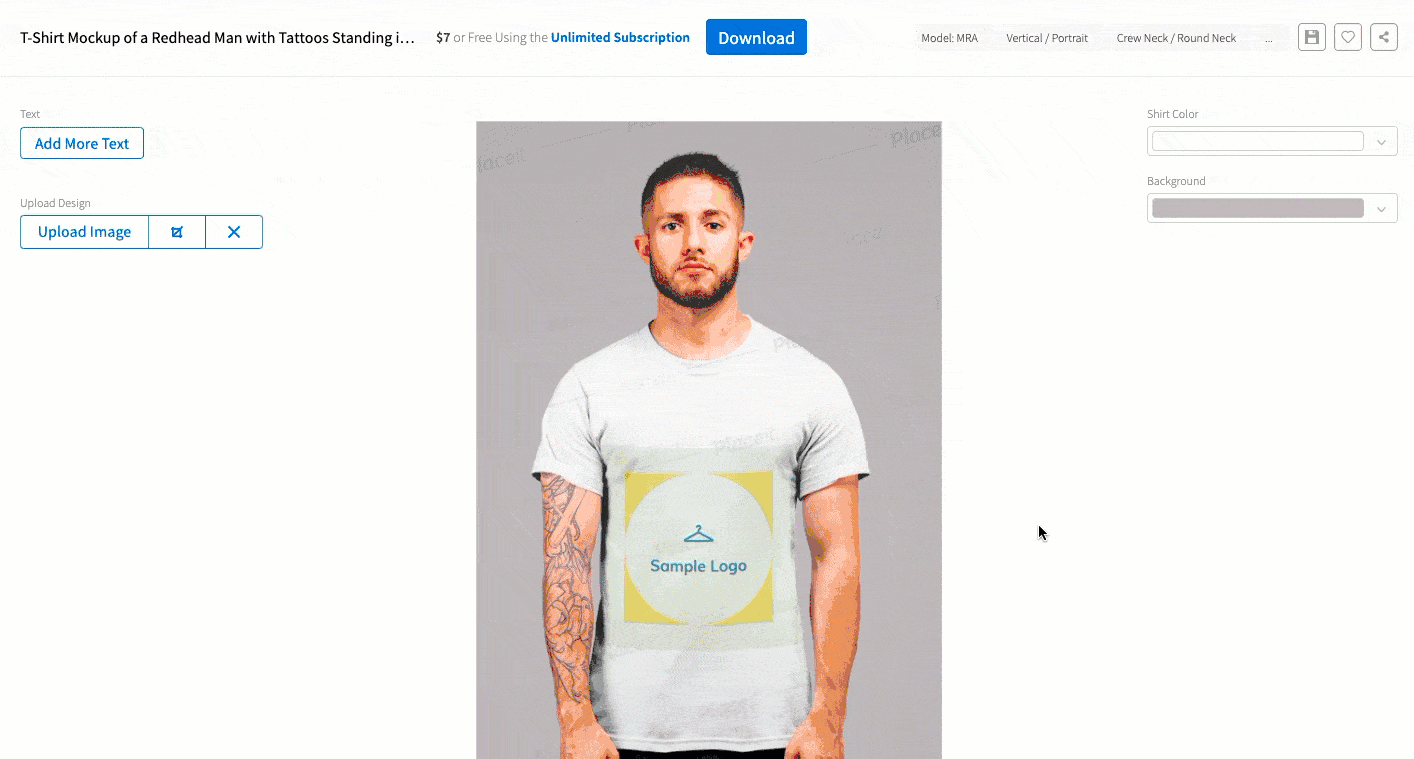 In this example for a T-Shirt mockup, you can go with a single mockup purchase for $7 a month or subscribe to Placeit for either $19.95 a month or $99.95 a year.
Design Templates
Placeit has a "Design template" section on its site, which contains templates for T-Shirt design, labels, flyers, business cards, social media images, and more. Here's a quick show on how to use this tool.
1. Click or hover on the "Design Templates" link at the top-left corner of the page. From there, select the type of mockup that you'd like to create.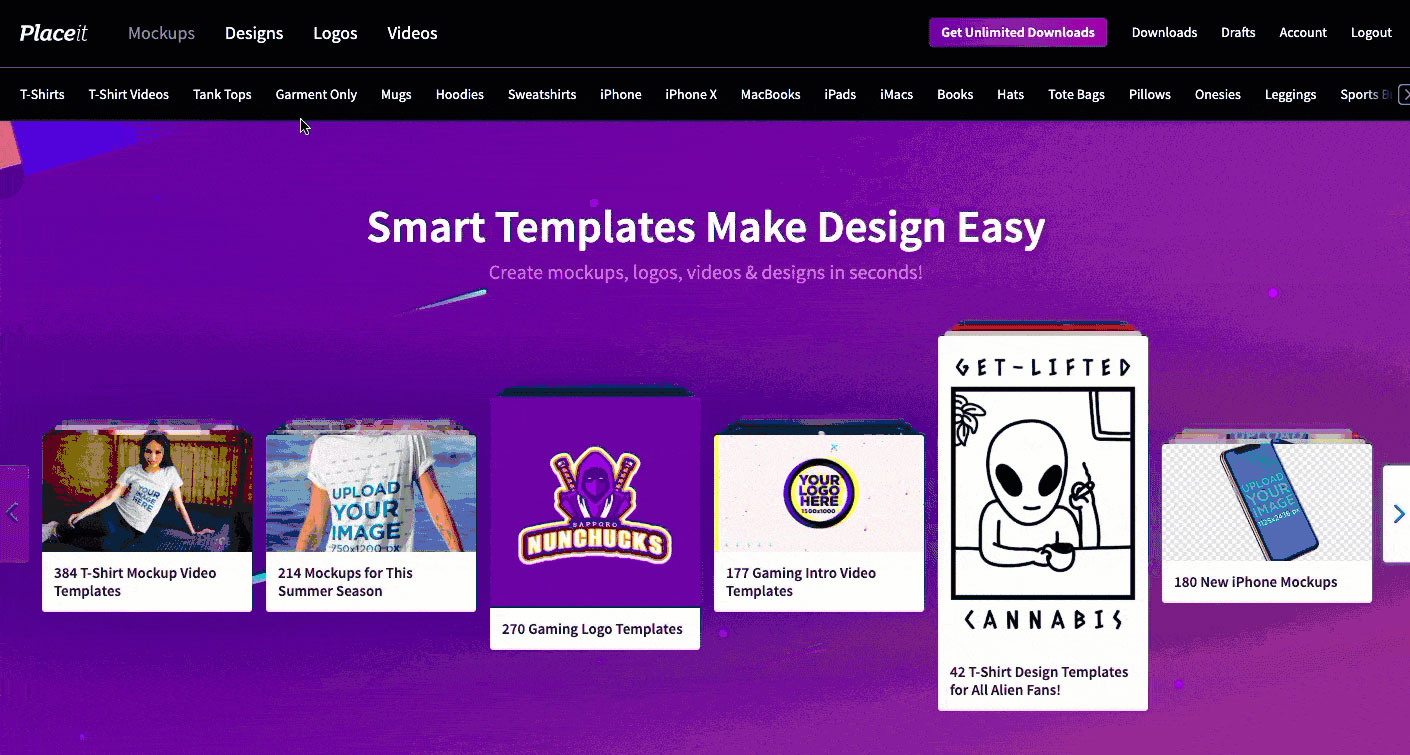 2. Choose the type of asset you'd like to plan. In this example, we'll be using Instagram Post designs, but you're free to select from Placeit's (many, many) option. Just like with mock-up, you can simply click on the template you want to customize and go from there.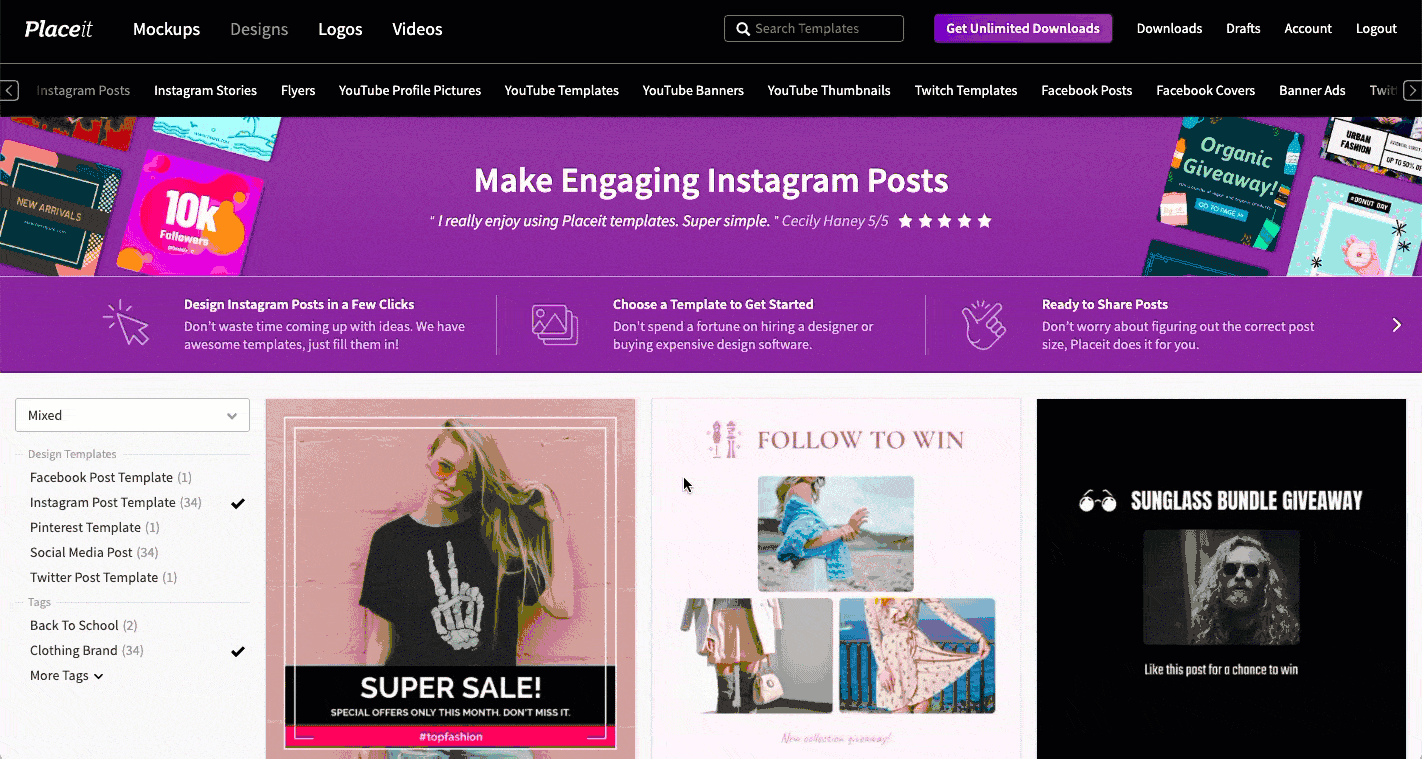 3. Customize the various aspects of your design template. You can add your own text, modify the font, modify the frame, or even change the feature image.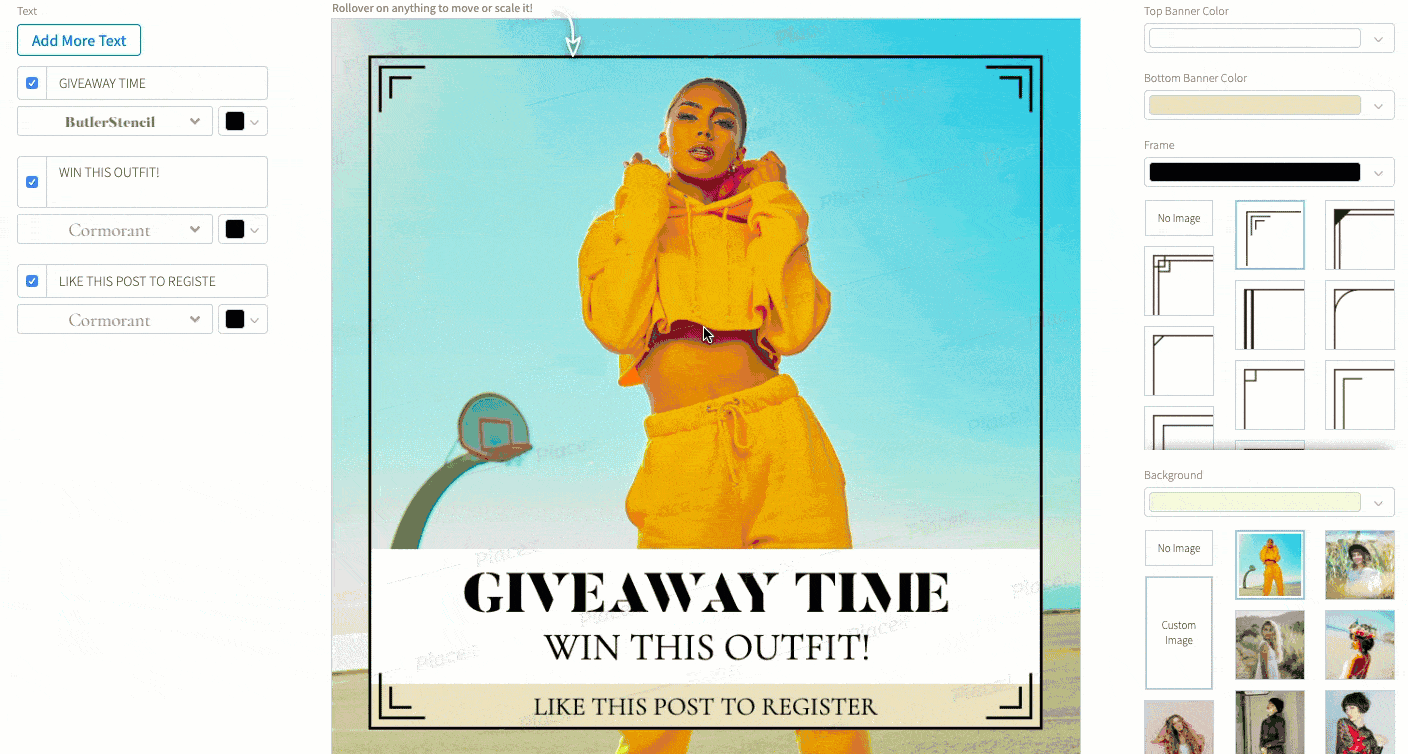 4. Save and download. Just like with the previous example, if you'd like to download your creation you can choose to buy it outright (in this case the price is $2 per design) or subscribe to Placeit.
Placeit Logo Maker
You can also use Placeit to create a logo for your ecommerce site. Here's how.
1. Navigate to the Logos section on Placeit's website. From there, start typing your brand name in the field under "Let's make a logo!" then select your industry.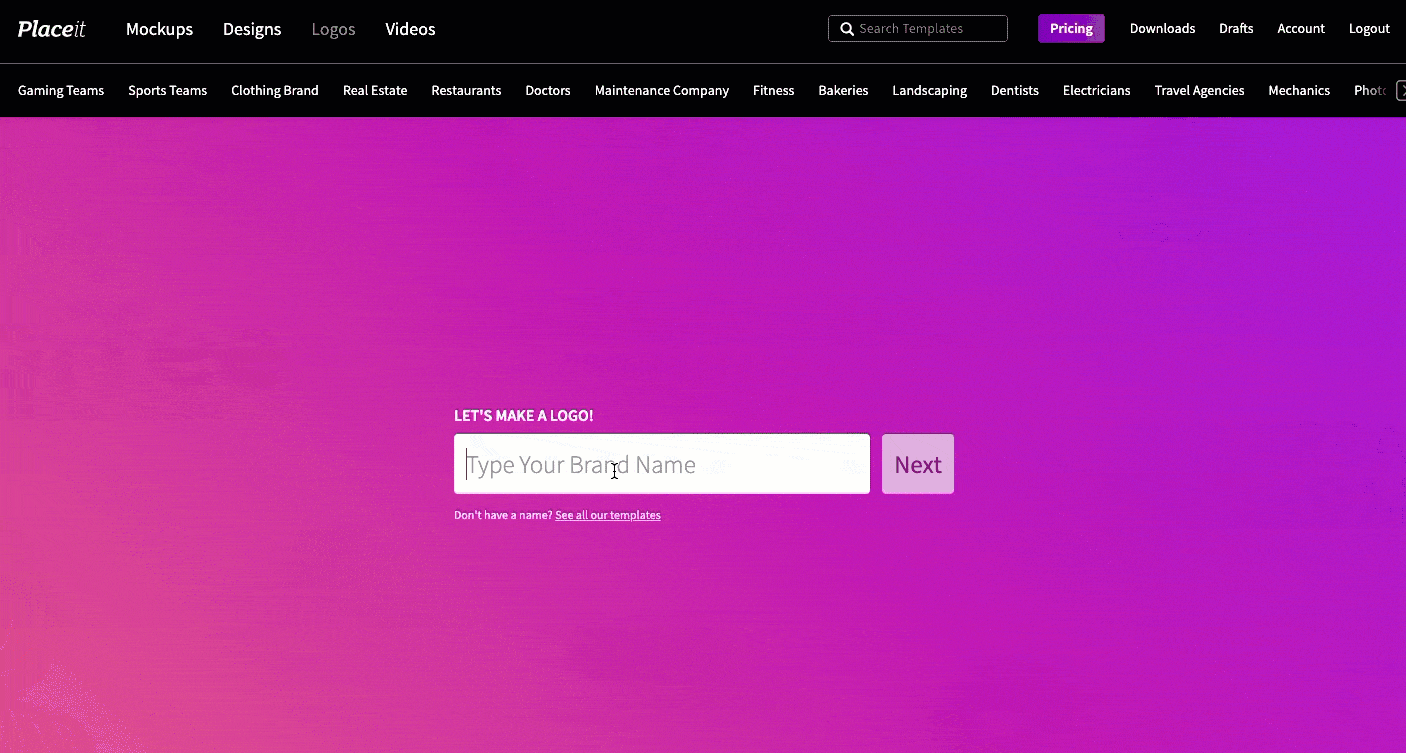 2. Placeit will then produce various logo options. At this stage, you can customize the color palette of your brand, and the site will tailor its logo suggestion based on the colors you choose.
3. Customize the different machinery of the logo. You can choose the text, font, backdrop color, and frame, depending on how you want the logo to appear.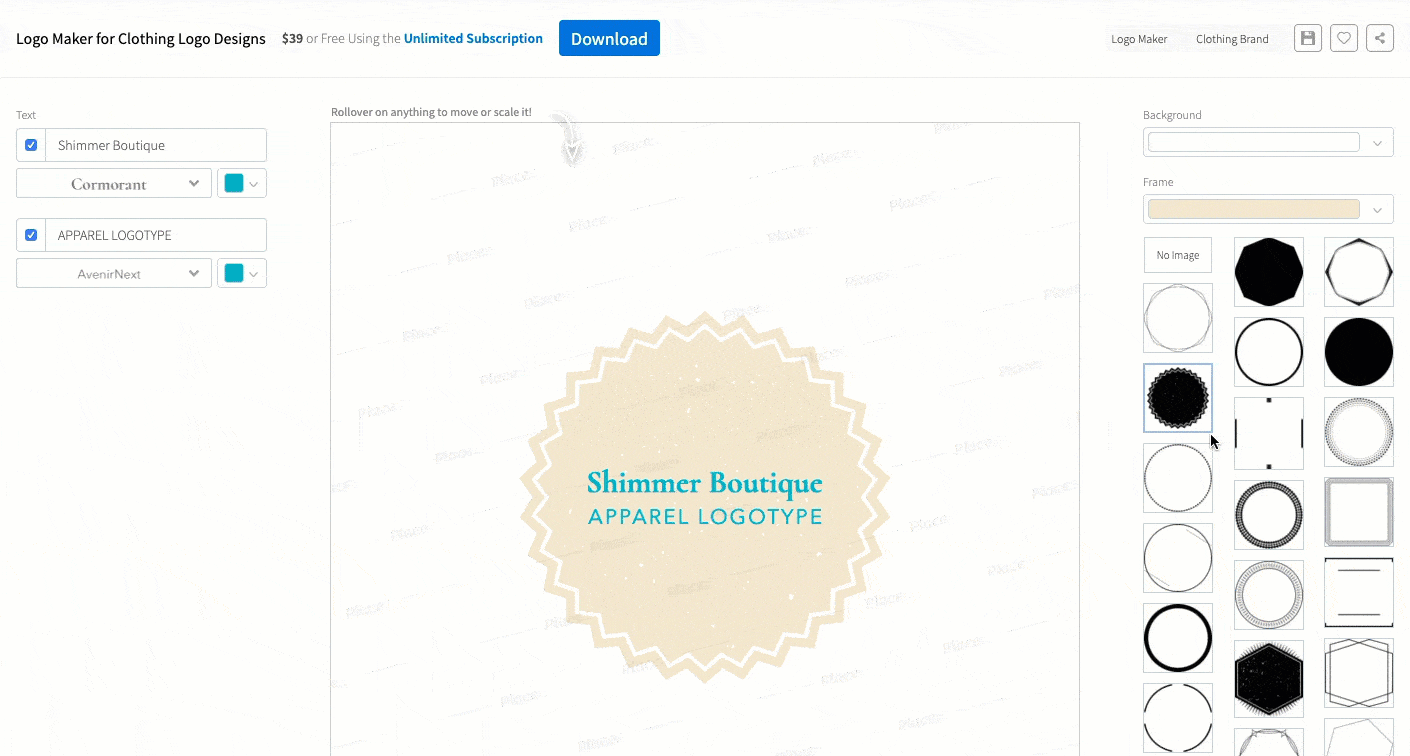 4. Save and download. Hit the Download button and purchase the logo for $39 or choose your payment model.
Placeit Video Maker
When it comes to making videos, Placeit offers hundreds of video templates that are carefully calculated to look expert no matter which one you pick. This is a great way for retailers to promote their latest product, create the next great viral sense, or just share a funny moment with their followers that helps civilize the brand.
1.Get started by navigating to the Videos section of the site. Choose the type of video you'd like to create (e.g., Instagram Stories, product demos, intro template, etc.)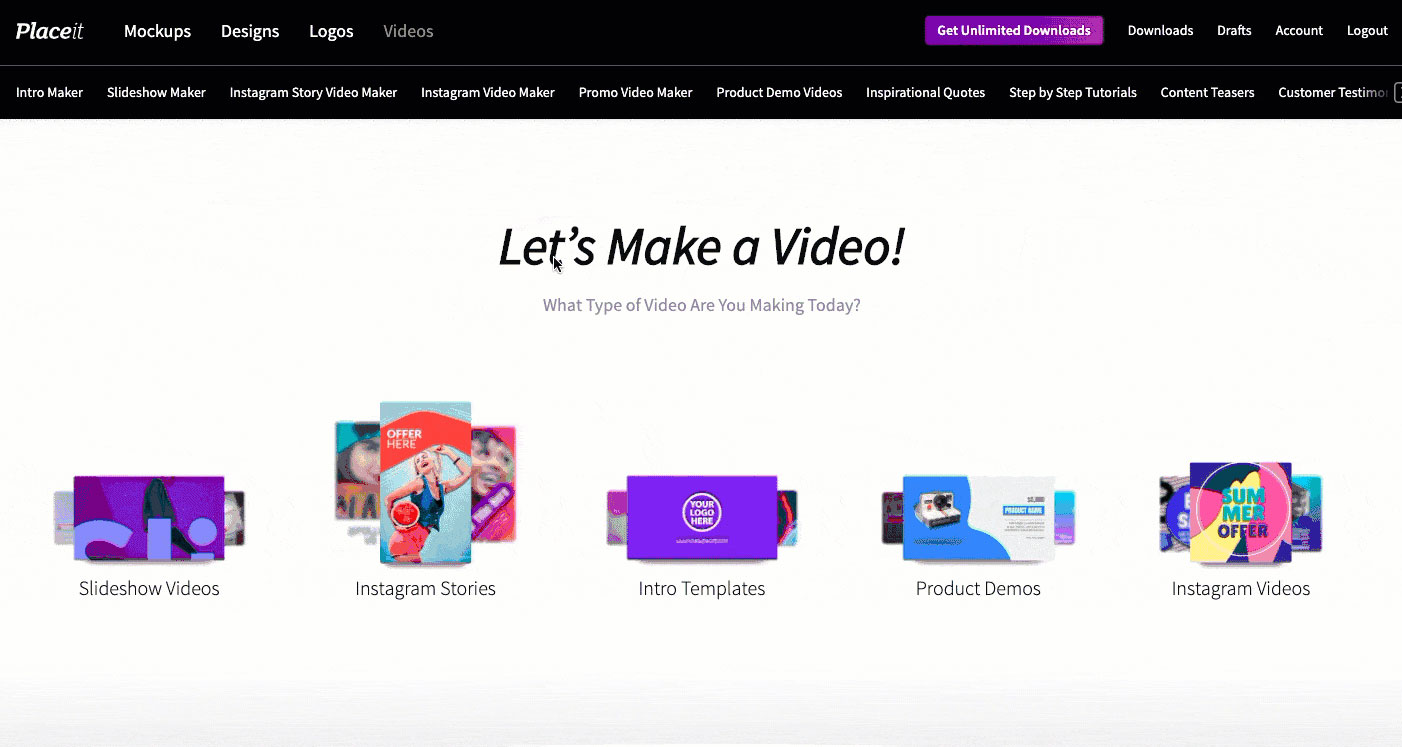 In this example, we're choosing to create an Integra video.
2. Browse Placeit's library of video templates and choose one to work with.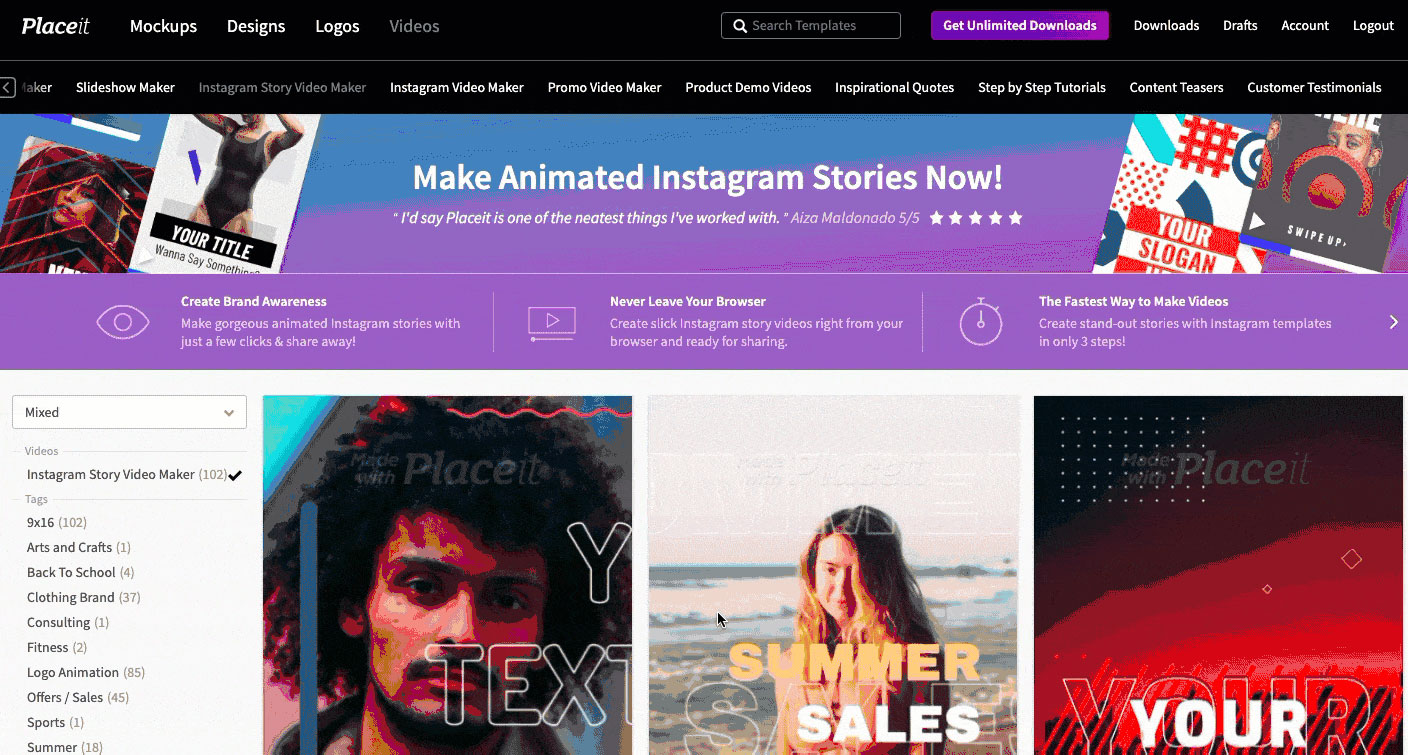 3. Tailor the template for your brand. When you choose your template, you can modify various basics of the video, including the text, colors, images, playback speed, and more. You can also add new video slide if you want.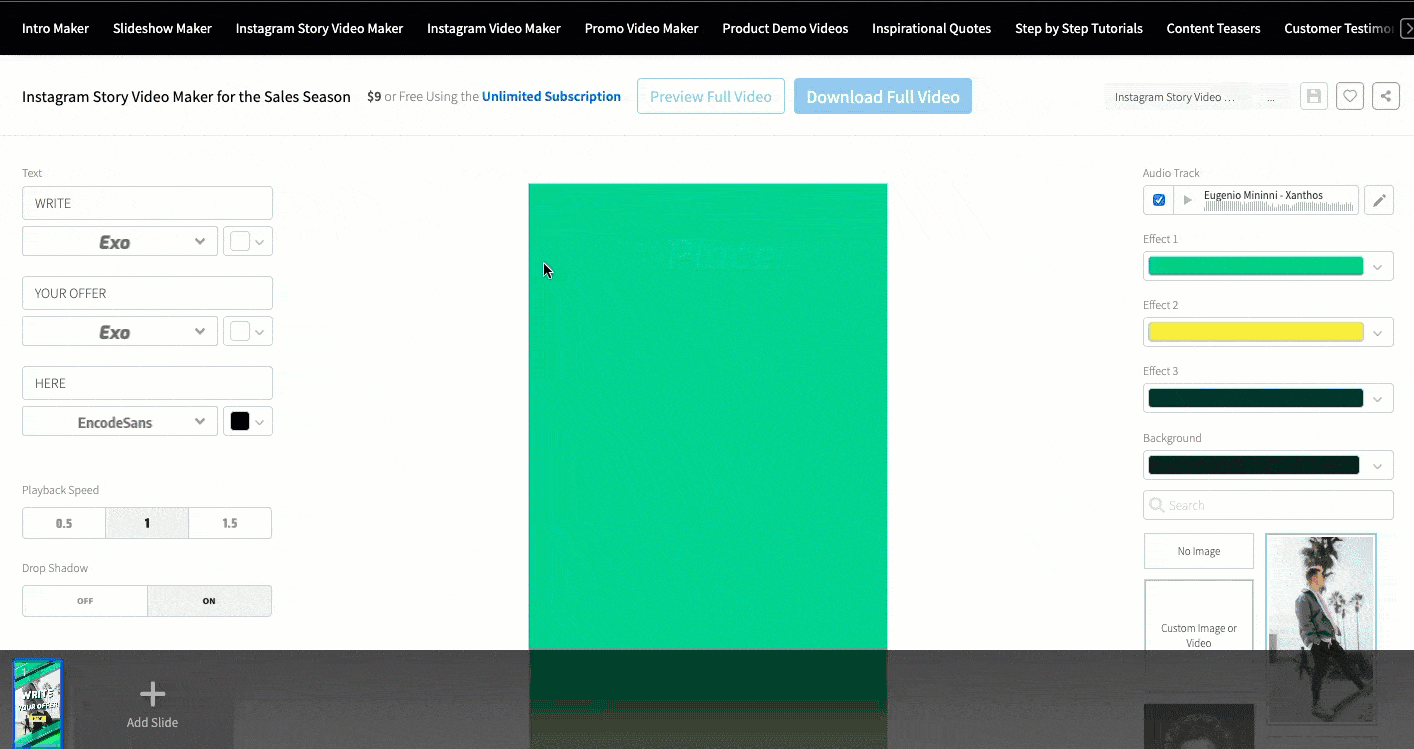 4. Download the video. Just like with Place it's other tools, you'll be given the option to download your creation by buying it complete for $9 or subscribing to Placeit.
What Does Placeit Do Well?
Simply put, Placeit simple to use, and even those with no design or technical skill can easily create mockups and videos by using one of their thousands of template. They offer an extensive library that includes more than 1,420 phone mockups, 308 Mac Book mockups, 2,800 T-Shirt mockups, and everything from social media post templates to coupons.
Just select the template image you are looking for, make sure that the image you want to drop in it matches the dimensions the template requests, and that's all it takes.
User reviews have been mostly positive. As one person said, "I was looking for such an app but never knew it existed until I finally stumble on this amazing website. I'm not that good in Adobe Photoshop and these guys make all the heavy lifting fade away. Truly overcome. Will certainly subscribe to the services since what they've created is a one-of-a-kind service!"
And another added, "I've been using Placeit for my commerce for almost a year now and I have not anything but great things to say! Since I'm not skilled with Photoshop and don't have a designer on staff, Placeit makes it really easy for me to create quick product photos for my business."
What Doesn't Placeit Do Well?
While Placeit is easy to use for new designer and online store owners looking to create custom products, it doesn't have the pro features like integrations, advanced editing and customization that skilled designer look for in other programs. Users also noted that it was lacking in advanced crop, realistic blur, color background choice, and gif support.
There were also a couple of negative, one life form that the models weren't as diverse as they would have favored and of the more than 3,000 images available, some noted that many of the images are old and look dated.
Another noted that downloads could run on the slow side, and more than one user said that, "They keep charge your credit card after the required three month membership, so make sure to bear in mind to cancel your subscription."
Why Ecommerce Merchants Should Use Placeit
As mention above, Place it is a great resource for ecommerce retailers because it offers you an easy and convenient way to simply create quick product mockups for branded clothing and other products. Need a logo? Use one of their thousands of template to pick one that captures the emotion and story of your brand.
When it comes to marketing, video is quickly rising in fame. In fact, more than 500 million hours of videos are watched on YouTube each day, 64% of consumers make a buy after watching branded social videos, and social video generate 12 times more shares than text and images joint.
With Placeit, you can use the thousands of templates to create slideshow videos, Integra stories, Integra videos, demos of new products, product and service overview videos for your clients to be clear on what you offer, or sales and offers you want to promote. It's an easy way to increase appointment with your customers, which increases brand loyalty.
Alternatives to Placeit
If you're looking for an alternative to Place it, you have several options, including:
Smart Mockups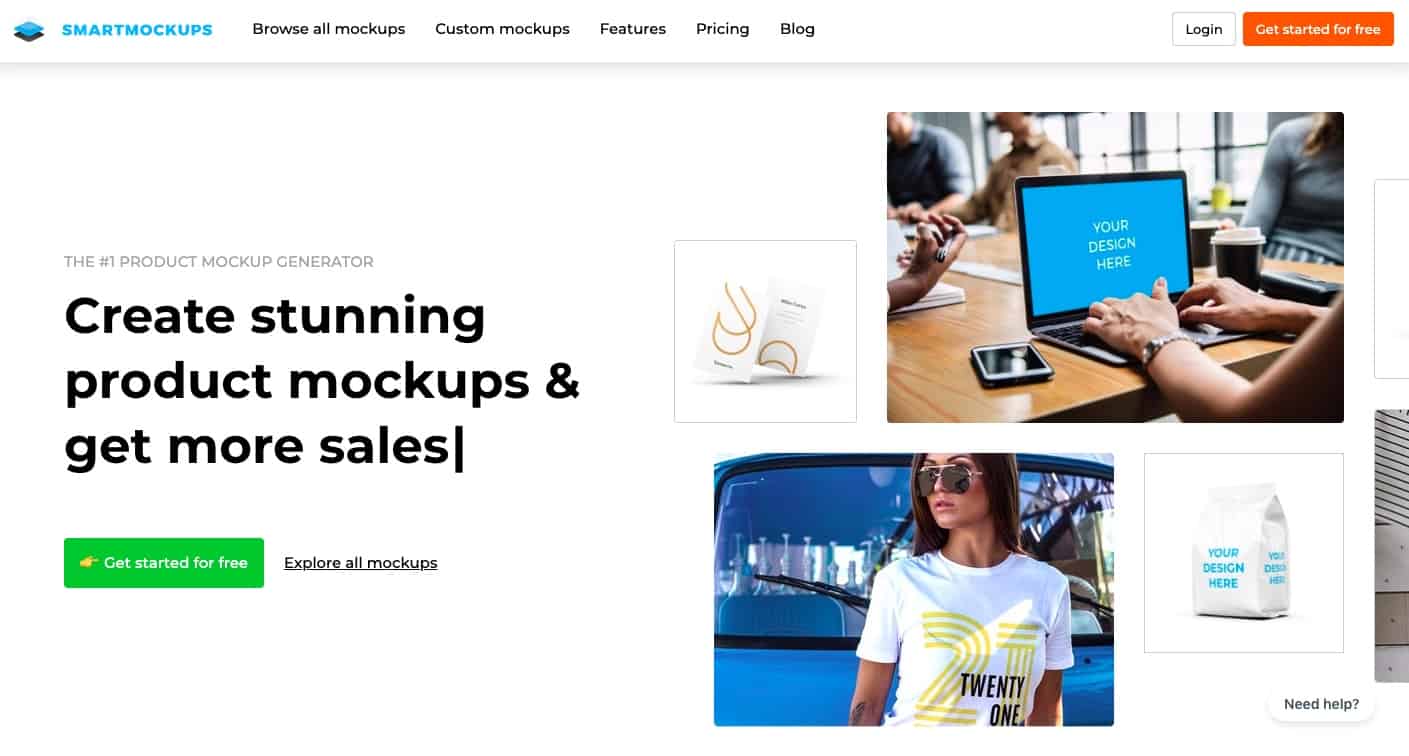 This app gets high marks for a library of more than 23 category of high-class images with new mockups being added every Monday, value pricing for as little as $9 a month, and the ability to mix with other design application like Canvas, Drop box, and Marvel, which is unique to the app.
Media modifier
This online mockup producer tool lets you easily create product mockups with a user-friendly drag and drop method. Simply insert your images into a lifelike template provided for you. They offer more than 1,448 mockups, with more added weekly, and images can be filtered by latest, best sellers, and price. talking of price, they offer a Basic plan for free, $14.90 for a 24-hour day ticket, and a full annual subscription for $166.80.
Mockups Jar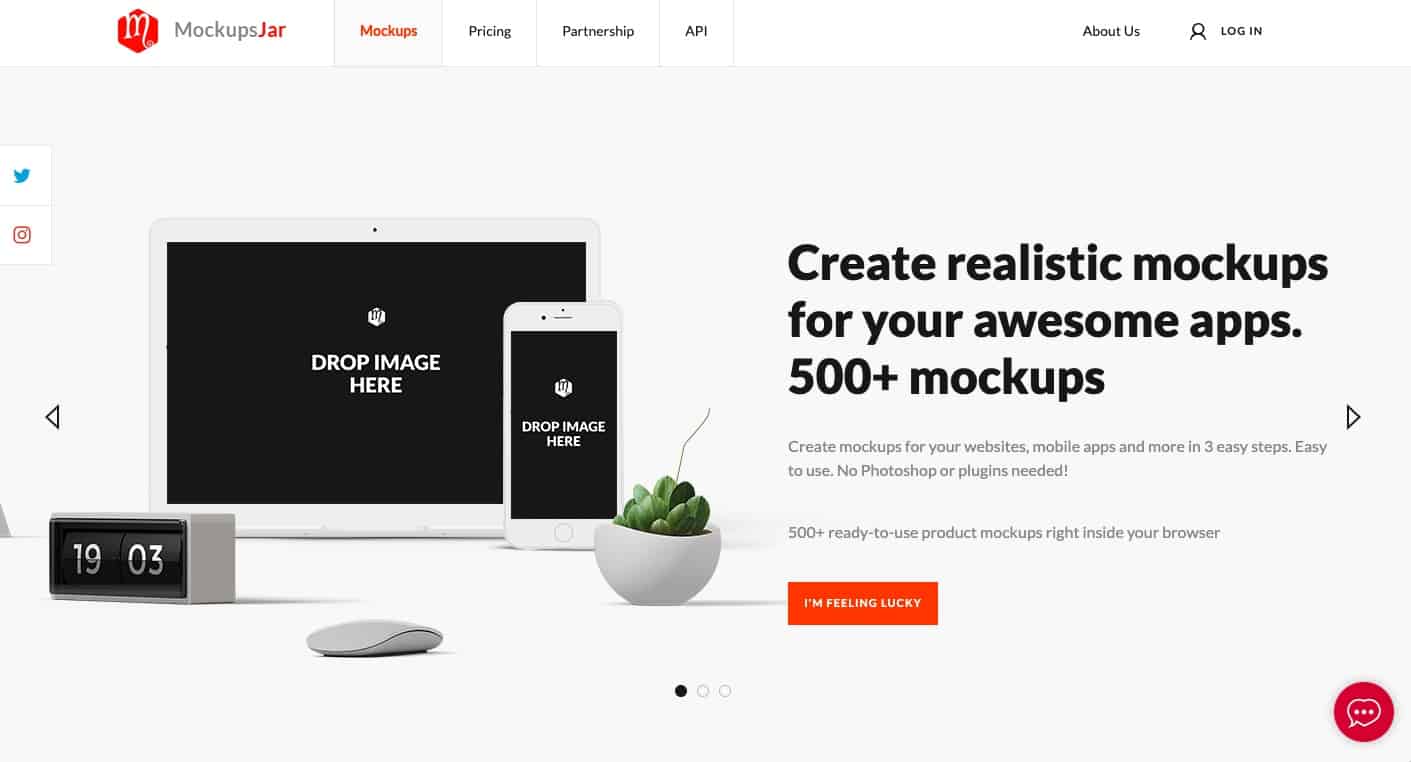 This is your best bet if you're looking for a high-quality affordable option and you only need a few images, as they offer plans that range from $13 a year to $39 a month. They provide more than 500 mockups, which is a smaller library in comparison, but all you have to do is choose a mockup, upload an image, crop, and position, and download.
The Connection flanked by Theme Forest and Placeit
Back in July of 2018, Placeit joined the Envato family of products, which includes the world's most popular Word Press theme marketplace with Theme Forest. Theme Forest lists more than 11,000 Word Press themes, priced between $13 and $199, a range that gives something for everyone, which you don't always find with other large theme marketplaces.
While there have been some user complaint about the quality of the theme, for the most part, if you choose a highly rated, ingrained theme, you can't really go far wrong. How does this relate to Placeit? Because both solution are part of the Envato family, they can easily balance each other if you want to create a great looking ecommerce site with awesome mockups.
There are ample support options available for ecommerce merchants, and it's easy to create both a site and mockups that help extend and strengthen your brand's image and online attendance.
How Do You Cancel Your Placeit Account?
If you're no longer concerned in subscribe, you're free to cancel at any time. You have to send a abolition request at least one business day prior to a billing cycle to avoid the fees for that billing cycle. In other words, you'll be charged for a billing cycle unless your cancellation demand is received at least one day before that bill cycle is due to start.
They won't issue refund for any unused portion of your payment, and they can cancel your Placeit payment at any time for any reason. Those reason could include any breach any of their terms or policies or if you act in a way that does not line up with their values or that could cause them harm.
Be sure that you've downloaded all tailored products before cancelling, because once you cancel your payment, you'll no longer have access to those.
The Bottom Line
As an ecommerce commercial, setting your brand apart is the key to sell success. Using a mockup tool like Placeit (or any of the alternatives) can help you quickly create products and videos that will not only boost engagement with your audience, but also increase your online sales. With thousands of templates to choose from at affordable prices, you're only imperfect by your imagination!