Waterdrop is well known in the water filter industry for its high-quality at-home water filtration solutions. The brand offers a variety of water filter types to suit all needs and budgets, from reverse osmosis water filters to under sink filters, faucet water filters, and water pitcher filters.
In this Waterdrop filter review, we'll be taking a look at some of Waterdrop's most popular water filters, providing all the information you need to know about the brand if you're considering making a purchase.
Waterdrop WD-G3-W Reverse Osmosis System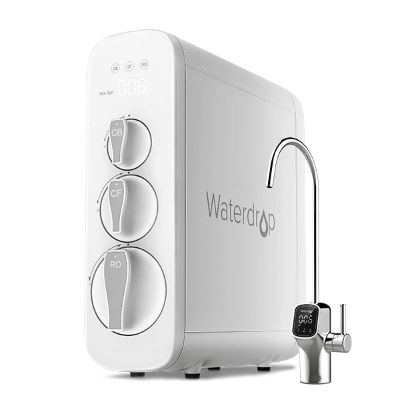 Overview
The WD-G3-W is one of the most compact and convenient reverse osmosis filters available today. The system is NSF tested and certified for Standards 58 and 372 certified, for the removal of viruses, cysts, lead, and more. You can expect the WD-G3-W to produce enough clean, quality drinking water to fill an average-sized glass in just over 10 seconds. With 3 stages of quality water filtration, this RO undersink water filter can remove up to 99% of harmful contaminants.
Product Features
Lead-free faucet
Included with the WD-G3-W is a faucet that you should use at your kitchen sink along with the system. Being lead-free, the idea of the faucet is that it will provide the safest passage for your clean tap water to run through, preventing the risk of recontamination on its journey from the RO unit to your glass.
Pressure pump
The system's pressure pump is a standout feature when comparing the system to other Waterdrop filters, and is clever in that it measures the incoming pressure of the water in your household and adjusts the system to ensure it works at the fastest speed possible.
3-stage filter
Inside the WD-G3-W are three separate filters, offering three different filtration processes designed to remove everything from sediment and suspended solids to potentially harmful contaminants.
Leak protection
The system comes with a built-in leak protection device, which automatically switches the WD-G3 off and prevents water flow when a leak is detected. The system's leak protection will also turn off the power supply if water is detected where it shouldn't be.
Functionality
The WD-G3-W has three stages of filtration, including its reverse osmosis stage, which removes 99.9% of harmful impurities.
First, water flows through a combined pre-sediment and carbon block filter, which, in the process of adsorption, removes chemical contaminants that affect water taste and odor, like chlorine, as well as sand, rust and other sediment.
The second filtration stage, the reverse osmosis stage, is designed to provide the most thorough contaminant removal possible, being 15 inches tall and more than 4 inches across. The pressure valve helps to improve efficiency, preventing backflow of water.
The final stage of filtration, the activated coconut shell carbon block filter, remineralizes water with beneficial nutrients, helping to improve taste and prevent acidity.
Filter Benefits
One of this Waterdrop filter's biggest plus-points is that it has a water-to-waste ratio of 1:1, which is a lot better than the majority of RO systems, which waste around 4 gallons of water for every gallon of drinking water produced. This makes the WD-G3-W a much less wasteful, more cost-friendly long-term filtration solution.
Being compact in design, you can easily fit the Waterdrop RO system underneath your kitchen sink without having to sacrifice too much storage space. The system is much smaller than other RO units because it doesn't have a tap water storage tank.
It's relatively easy to install this reverse osmosis filtration system, as everything comes compact inside one unit, and there are no additional water storage tanks or extra accessories to worry about. The system needs to be connected up to both your water and electricity supply.
After installing the WD-G3-W, you'll need to flush it for 30 minutes before the water produced is clean and safe to drink. Only after this will you benefit from the system's efficiency and environmental friendliness.
Pro/Cons
Pros:
Slim and compact for easy storage
Has two NSF certifications
Wastes less gallons of water than other RO systems
Removes up to 99.9% of all contaminants
Cons:
You may find that the system's remineralization filter doesn't quite bring water to the alkalinity you're looking for
Tankless design means you'll need to wait longer for clean water than with a standard reverse osmosis system
You'll need to pay a bit more for this system than for other systems on the market
Waterdrop 3-Stage Ultra Filtration Under Sink Water Filter System
Overview
Waterdrop's under sink system is a filter that's intended for installation underneath a kitchen sink, and connected to a kitchen sink faucet. Its appearance is very much like Waterdrop's reverse osmosis system, but doesn't have the RO membrane – which brings the cost down by nearly two thirds. Because the system doesn't have a reverse osmosis stage, it has the advantage of producing no wastewater during the filtering process.
Product Features
Smart indicating system
This Waterdrop under-sink filter comes with a built-in quality indicating system that lets you know at a glance exactly how the system is performing and when filters need replacing.
Anti-leak integrated waterway
To prevent leakage, the Waterdrop under sink system has an integrated waterway that lets you replace the filter cartridges without shutting off your water supply, and using far fewer connections than the majority of under sink systems.
3-stage filtration
The unit has three stages of filtration: a PP filter, a UF filter and a CT filter, which, combined, can remove more than 100 contaminants of all sizes, significantly improving water quality.
Functionality
The system is designed to provide the most thorough filtration without water waste, which is made possible through its three stages of filtration.
In the first stage of filtration, tap water passes through the PP filter, which removes large contaminants and sediment, like dirt, dust and rust.
The second stage UF filter removes moe than 100 contaminants from water, including bacteria and microorganisms, and anything larger than 0.01 micrometer.
In the final third stage of filtration, the CT filter enhances the flavor and taste of tap water. Waterdrop doesn't specifically explain how the CT filter works, but it's likely that as with Waterdrop's reverse osmosis system, this filter stage is designed to reintroduce healthy alkaline minerals back into the water.
Filter Benefits
One of the most obvious benefits of the Waterdrop under sink filter is that unlike some Waterdrop filters, this system is relatively small and compact. Rather than having separate filter housing with an abundance of connections, this Waterdrop system fits everything inside a single housing unit.
Because of its simplistic design, this filter is relatively easy to install, as you don't need to worry about making sure variously-located connections are properly attached. It's also easier to use, and making a filter replacement is easy, too, as you don't have to shut off the water supply for the job.
And on the subject of replacing the filters, the lifespan of the filters in this system is pretty impressive. The PP filter lasts for 6 months, while the UF filter has a 24-month lifespan and the CT filter lasts for 12 months.
Pro/Cons
Pros:
Compact and space-saving
Filters have a long lifespan
Easy to install and maintain
Cons:
No NSF certification
Not as thorough as Waterdrop's reverse osmosis offering
Some customers noticed a dip in flow rate
Waterdrop Direct Connect Under Sink Water Filter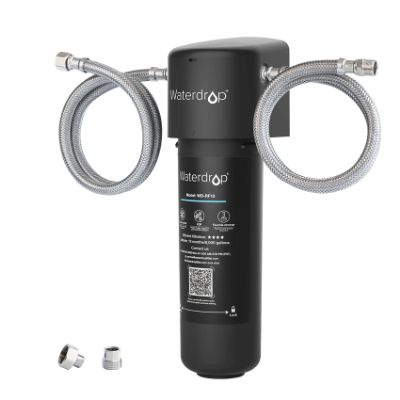 Overview
This Waterdrop under sink filtering system is a direct connect filter with 5 stages of filtration. Compared to the ultrafiltration under sink system mentioned above, this one is completely different in design, is lower in cost, and uses a unique filtration process. With only one cartridge to worry about, the system is easy to use and there's less maintenance required. Using an activated carbon block membrane, the system improves quality of water by removing contaminants like lead, mercury, fluoride, chlorine and chloramines.
Product Features
5-stage filter in one
The filtration system has a 5-stage filter inside one cartridge, which removes everything from chemicals like chlorine to heavy metals like lead. The cartridge has a twist-and-lock design, so when it's time to replace it with a new one, you can do so in seconds.
Push-connect fittings
Installing the Waterdrop Direct Connect filter is relatively simple, as the push-connect fittings make it easy to connect the filter to your waterline.
Functionality
You won't find many under sink filters like this one, or any other Waterdrop filters, for that matter – it only has one high-quality filter cartridge, which offers a full 5 stages of filtration.
The first stage of filtration sends water through a polyester membrane, which removes large sediment and suspended particles from tap water. Next is an activated carbon block filter for the second stage of filtration, removing chlorine, taste and odor.
The third filtration stage sees water pass through a KDF filter, which removes heavy metals, bacteria and other microorganisms, helping to prolong the filter's lifespan. Next, there's a fourth filter stage, which removes fluoride.
Finally, the fifth filtration stage descales water, a little like a softener, preventing a build-up of scale-causing minerals. All of these stages combined produce the cleanest and tastiest drinking water.
Filter Benefits
A big advantage of this under sink filter, compared to Waterdrop's other under sink filtration system, is that you don't need to swap out your faucet for a lead-free faucet included with the system. This makes installation that little bit quicker and easier, and the system easy to use.
Another thing that sets this Waterdrop under sink system apart from others is its 5-stage filtration inside a single cartridge. The Waterdrop can remove the common contaminants from water, like lead and chlorine, as well as the less-common contaminants, like fluoride.
The filter can last for up to 16,000 gallons, or 2 years, too, so maintenance is something you won't have to dedicate too much time to. With the price of a replacement filter for this system being relatively low, this Waterdrop system is a great option for anyone looking for thorough filtration who doesn't have the budget for an RO system.
Pro/Cons
Pros:
Great value upfront cost and running costs
Long filter lifespan of up to 2 years
5 stages of filtration in one
NSF 372 & 42 certified
Cons:
No way to know when the filter needs changing
Can't be used with hot water
Waterdrop Water Faucet Filtration System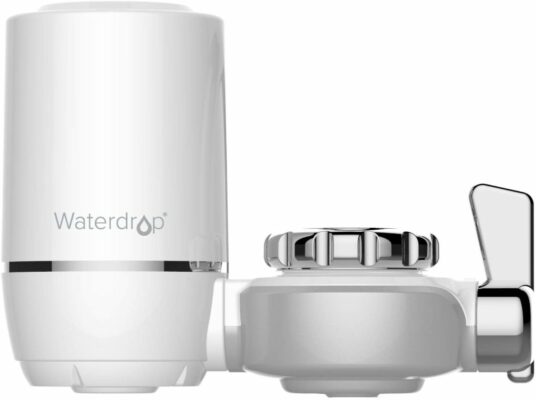 Overview
The Waterdrop water filtering faucet is a filtration system that attaches onto a kitchen sink faucet, producing filtered water when you switch the faucet on. It's NSF certified to Standard 42, for the removal of chlorine, and Standard 372, for having a certified lead-free construction. Using an activated carbon fiber filter, this faucet filtration system removes fluoride, sediment, lead, and other contaminants, improving overall quality. It has a 3-month lifespan, which is fairly average for a faucet filtration system of its kind, but the low cost of filter replacements make this a good value option for long-term use.
Product Features
Faucet adapter
The Waterdrop comes with a faucet adapter, which you can use for connecting up to your faucet if you don't have a standard US faucet. Be sure to check that the system is compatible with your faucet before you make a purchase.
Filter cartridge
Inside the housing is the filter cartridge. When you need to replace the filter, you can remove the old cartridge and replace it with a new version.
Water switch
Like the majority of faucet water filters, Waterdrop's filtration system isn't designed for use with hot water, and the water switch allows you to switch between use with your filtration system (with cold water) and diverting the system and going straight through the faucet (with hot water).
Filter housing
The top cap sits over the system's filter and keeps it safe, preventing contaminants from the air from being able to get inside.
Functionality
Most faucet filters remove chlorine and lead from water, but this Waterdrop filtration system does so much more. It uses activated carbon fiber technology, which removes some heavy metals, fluoride, rust, and sediment.
There is only one stage of filtration in this filtered water system – this is typical for a system of its size. The activated carbon traps contaminants in a process caused adsorption, which binds contaminants to the surface of the filter media, allowing smaller water particles to pass through.
There's nothing revolutionary about the technology used in this faucet filter, but, with its high-quality filtration media and thorough contaminant removal, it's up there with the best drinking water faucet filters available. The only thing that would make it slightly more appealing is if it had an all-metal body instead of an all-plastic casing.
The Waterdrop filter lasts for 3 months, which is typical of a faucet water filter. Though a 3-month lifespan doesn't seem very long compared to the lifespans of other filters, and, in fact, some faucet water filters have a lifespan twice as long, when you consider that the filter removes a broader range of contaminants than others of its type, it makes sense that it'll become clogged with contaminants at a faster rate.
Filter Benefits
Cost is a big benefit of the Waterdrop faucet tap water filter. The initial system costs around $20, and replacement filters are even cheaper than this. If you're looking for a water filtration solution on a budget, or you want to try out a lower-priced filter before committing to a bigger investment, this filter is up there with the best Waterdrop filters for the job. Compared to other Waterdrop filters, this faucet filter also has the benefit of being relatively small and unobtrusive.
Not all Waterdrop filters are NSF certified, but this drinking water filtration system is, for lead-free material and chlorine removal.
Pro/Cons
Pros:
Low-cost water filtration solution
Relatively small and compact
NSF 42 certified
Cons:
Plastic exterior may be more prone to breaking
Filtering cartridge only lasts for 3 months
Not the most thorough type of water filtration
Waterdrop Chubby 10-Cup Water Purifier Pitcher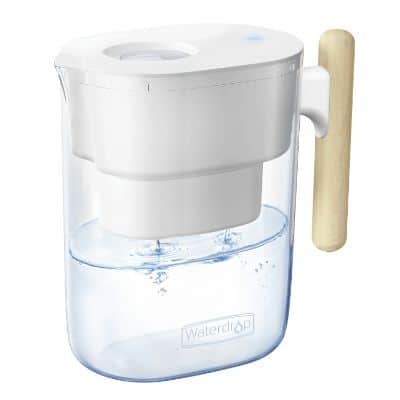 Overview
The Waterdrop 10-cup water filter pitcher is a popular Waterdrop filters option that is NSF certified for Standards 42 and 372, for chlorine reduction and lead-free construction. It offers a simple way to purify drinking water and improve quality of water from home or during travel. The system has 7 layers of water filtration, and can hold 10 cups of water at a time. Sleek and modern in design, you can use this Waterdrop pitcher on a daily basis and store it on your countertop without it being an eyesore.
Product Features
Easy refill cap
When you need to top up the Waterdrop pitcher with more drinking water, you can do so easily and without having to remove the cover. Simply untwist the easy refill cap and pour water directly into the pitcher.
7-layer water filter
The Waterdrop pitcher's 7-layer filter is made from premium activated carbon fiber and removes a variety of contaminants using the process of adsorption.
10-Cup capacity
Made from BPA-free material, the water pitcher can hold up to 10 cups of drinking water at a time.
Gravity induction indicator
When you need to buy replacement Waterdrop filters for the system, the gravity induction indicator will let you know.
Functionality
The filter in this water pitcher is a gravity water style, which means it filters water gradually without water pressure or electricity to speed up the process. It takes roughly 1 minute to produce 10 cups of clean drinking water, which is incredibly fast compared to the majority of filter pitchers.
You need to buy replacement filters for the Chubby roughly every 3 months, which is fairly average for a filtering water pitcher. These replacement filters are low-cost and suitable for people with smaller budgets.
Like all Waterdrop filters, the gravity water filter provides the highest drinking water quality with an impressively thorough filtration. There are 7 steps of filtration, which together remove a variety of contaminants from water, including chlorine taste and odor, fluoride, aluminum, lead, arsenic, mercury, mercury, limescale, and sediment.
The system's premium activated carbon filtration media has an increased surface area that offers better adsorption, improving filtering performance, The media is loaded with silver, which helps to prevent a build-up of algae and other microorganisms.
Filter Benefits
A big benefit of this type of system is that you can take it with you anywhere, thanks to its compact, portable design. Unlike other filters, the Chubby pitcher doesn't need to be connected up to electricity or a waterline, so you can use it anywhere that you have access to tap water.
Another benefit is that out of all Waterdrop filters, this system is relatively low-cost and affordable to maintain. Replacement filters are cheap to buy, and the pitchers themselves are very affordable. Made from high-quality materials, the system should last for years on end before you need to buy a new pitcher.
Being NSF certified for chlorine removal and lead-free materials, first-time buyers have much more assurance that this Waterdrop pitcher system will remove contaminants as advertised. This sets it apart from other filtering pitchers that aren't third-party certified.
Pro/Cons
Pros:
Compact and portable
NSF certified
Quickly filters 10 cups of water
Cons:
You'll need to buy replacement filters fairly regularly
Filtration isn't as thorough as other systems
Water filters less effectively as other filtration types
Waterdrop Refrigerator Replacement Filters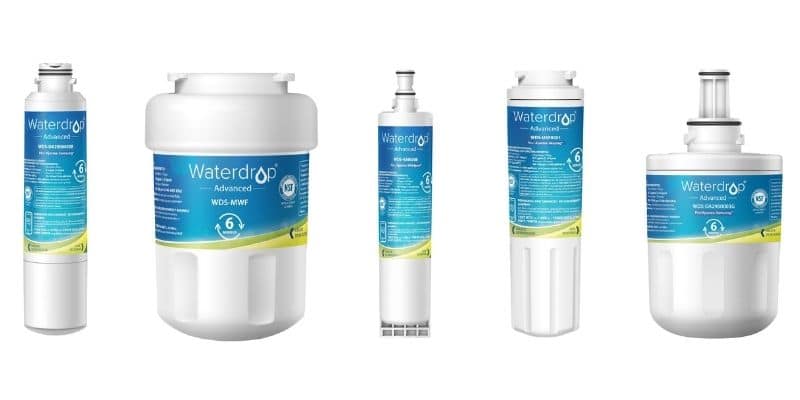 Overview
Waterdrop offers a whole host of refrigerator water filters that are compatible with a variety of the big brands. The selection includes filters for Whirlpool, LG, Kenmore, Electrolux, Frigidaire, GE, Maytag, HDX, and more. The advantage of buying a Waterdrop refrigerator water filter in place of an exclusively branded alternative is that it often comes at a cheaper cost, and offers filtration as effective as the name brand refrigerator water filters.
Product Features
Carbon block filter
The majority of Waterdrop's fridge filtration systems are made from coconut shell carbon or activated carbon, which offers an approved and highly effective method of water filtration.
Perfect-fit filter housing
Waterdrop's refrigerator water filter systems are designed for a perfect fit in the fridge they're intended for using in. You should be able to install the filter by pushing, twisting or clicking it in place, just as you would with the original refrigerator water filter. The housing is BPA-free, ensuring that nothing harmful will get into your water with use of the system.
Functionality
The Waterdrop refrigerator water filter systems all function similarly – they have a single filtering stage that involves activated carbon or another similar carbon media. When water flows into the system, the tiny pores in the carbon filter trap contaminants and prevent them from passing through to the other side. This way, the systems help to filter water and improve taste, appearance and odor.
All Waterdrop filters for refrigerators are NSF 42 certified, for removal of chlorine taste and odor. As an added bonus, some filters are also NSF 53 certified, for lead reduction, and NSF 372 certified, for lead-free components. You can expect pretty much every refrigerator filtering system to be NSF certified, but it's a definite bonus that the Waterdrop systems have additional certifications that even some official branded systems may not have.
Filter Benefits
A big benefit of the Waterdrop fridge filtering systems is that they're a perfect fit for the refrigerators they're compatible with, unlike some cheaper unbranded systems, which are prone to leaks caused by ill-fitting connections. You can rest assured that the Waterdrop systems will fit just as seamlessly in your refrigerator as the "intended" fridge filter.
Another advantage of buying a Waterdrop filtering system for your fridge instead of the branded option is that you can often save money from doing so. Waterdrop's filters tend to be lower in cost, but you're not paying a lower price at a bigger risk, because Waterdrop is a respected brand with many years in the industry.
Pro/Cons
Pros:
NSF certified
Perfect fit for compatible refrigerators
Often cheaper to buy – but still good quality
Cons:
Some users noticed a carbon taste in water to begin with
Some filtering systems may be a little too short for their intended slot
Higher guarantee of customer satisfaction with "intended" branded filters
Conclusion
Overall, after reviewing waterdrop's products we think that Waterdrop is one of the best brands on the market for your under sink reverse osmosis water filter.
Their systems are sleek, sexy, and provide very effective filtration with huge capacity compared to other brands on the market.
They are also very affordably priced for the quality that they deliver.