Air Arabia Flight, you must have come across this airlines many times while booking your flights to various destinations. Air Arabia is connecting 50 countries in 170 different ways.
This is a review of Air Arabia Economy class flight – Airbus A320, to help you decide if you should make this airlines a part of your journey or not.
This airlines is better than other Low Cost Carriers (LCC), offering multiple features to make your journey comfortable. The only thing that will push me away from choosing this airlines is … find out in the article below.
Our rating system measures in Comfys (based on 30 comfort factors), the highest Comfys we have ever awarded is to Emirates, don't forget to read that review here. Air Arabia Flight
SEAT SIZE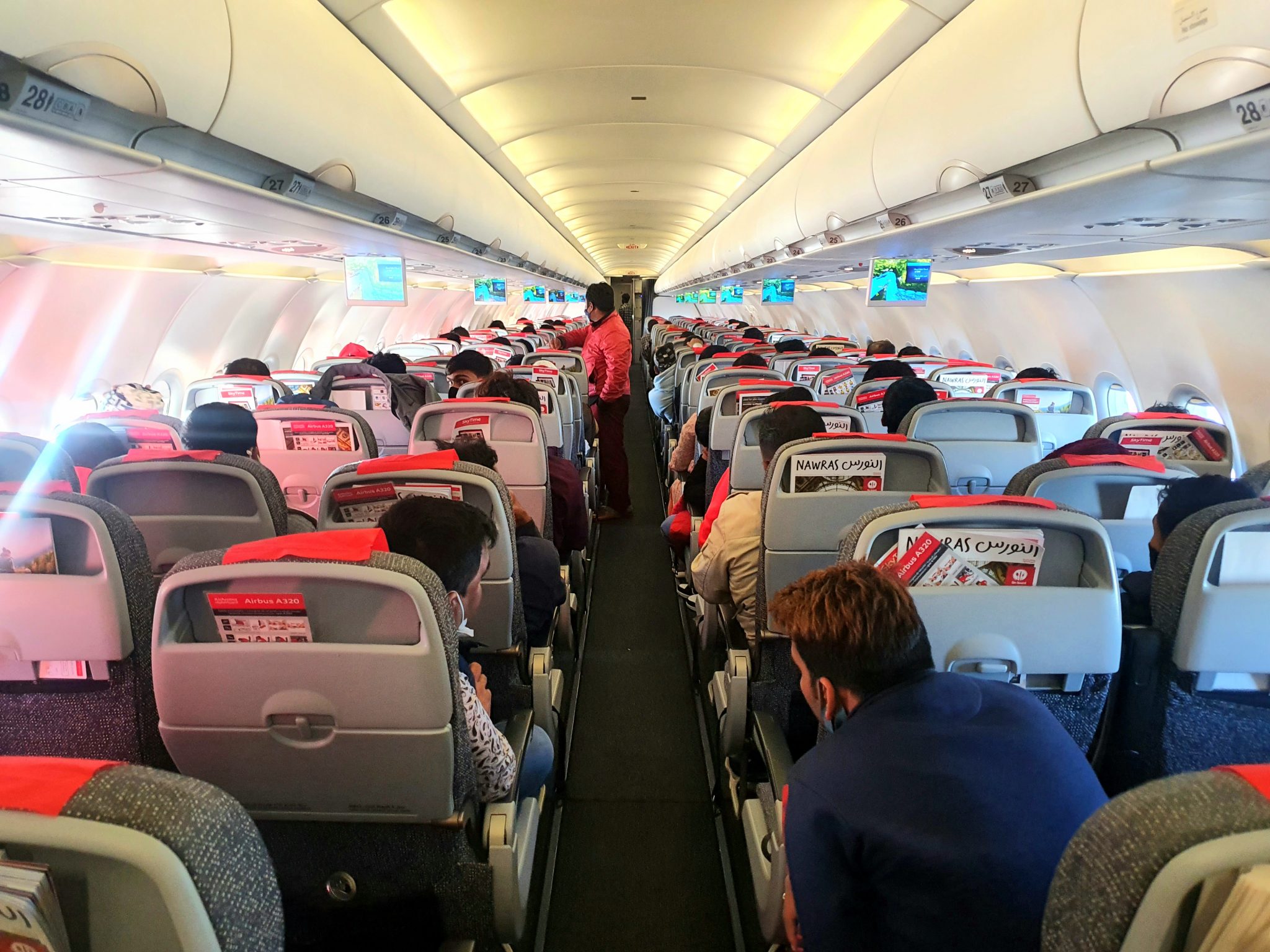 This airbus has a 3×3 seating arrangement and the width of the seat is comfortably sufficient. It can easily accommodate people wearing XXL though the seats aren't much cushiony but doesn't cause any discomfort. The seats can be reclined .
The armrests are perfect, completely foldable. If you are lucky enough to get a vacant adjacent seat then put the armrest up and enjoy more space. The headrest is not foldable.
There are no sockets ou USB ports for charging your electronics.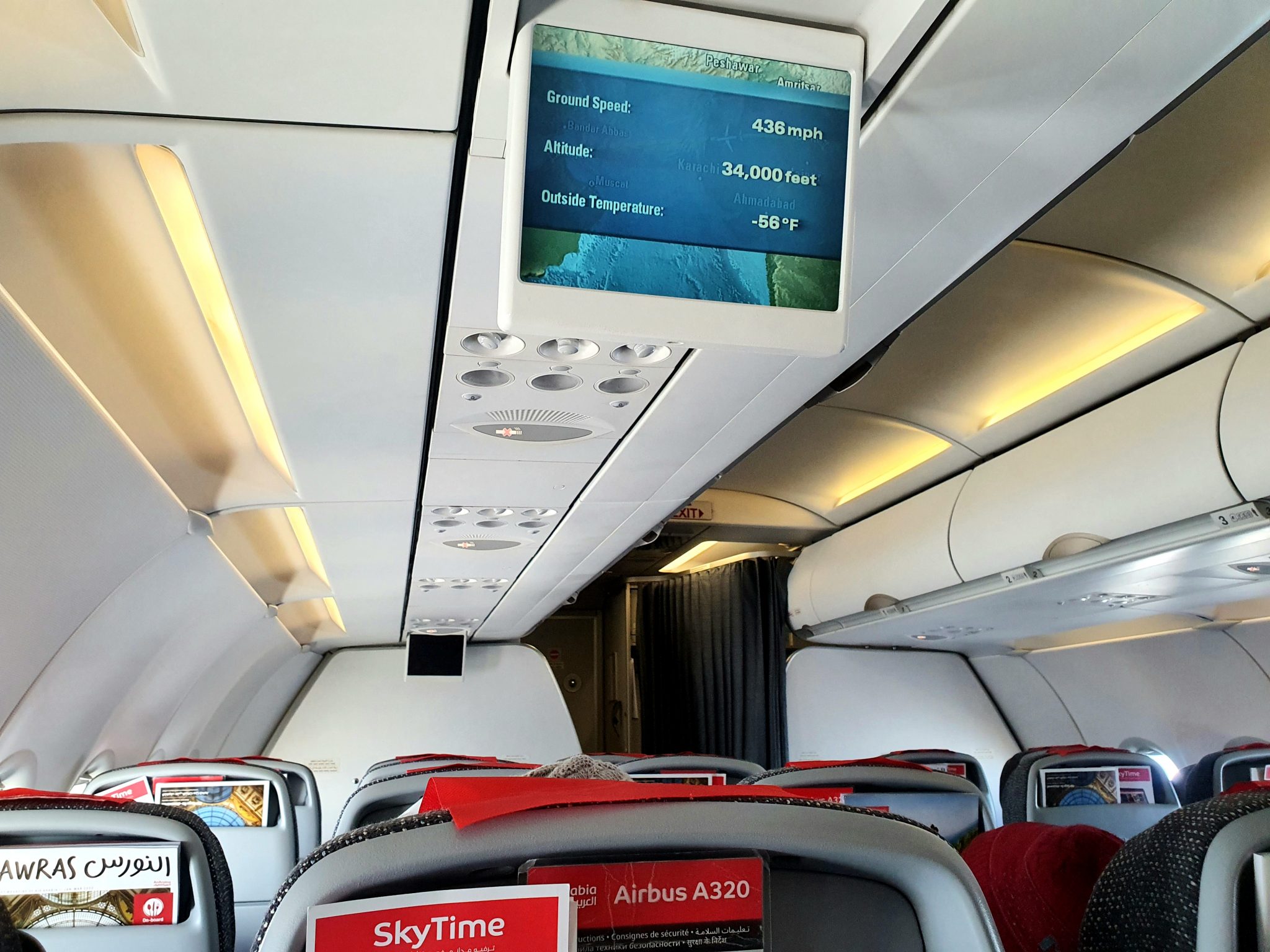 All overhead panels are different, really they are, check out Emirates review or Etihad Airways review to find the difference. Some have bigger lights or no lights, some have fans and some don't and so on.
There are individual fans and lights for each passenger in this flight cabin which are desirable features for sure.
There is one small information screen for every 4 rows. You can keep an eye on the flight's timeline and similar parameters through this screen. Air Arabia Flight
The tray table size is standard and adequate.
LEG ROOM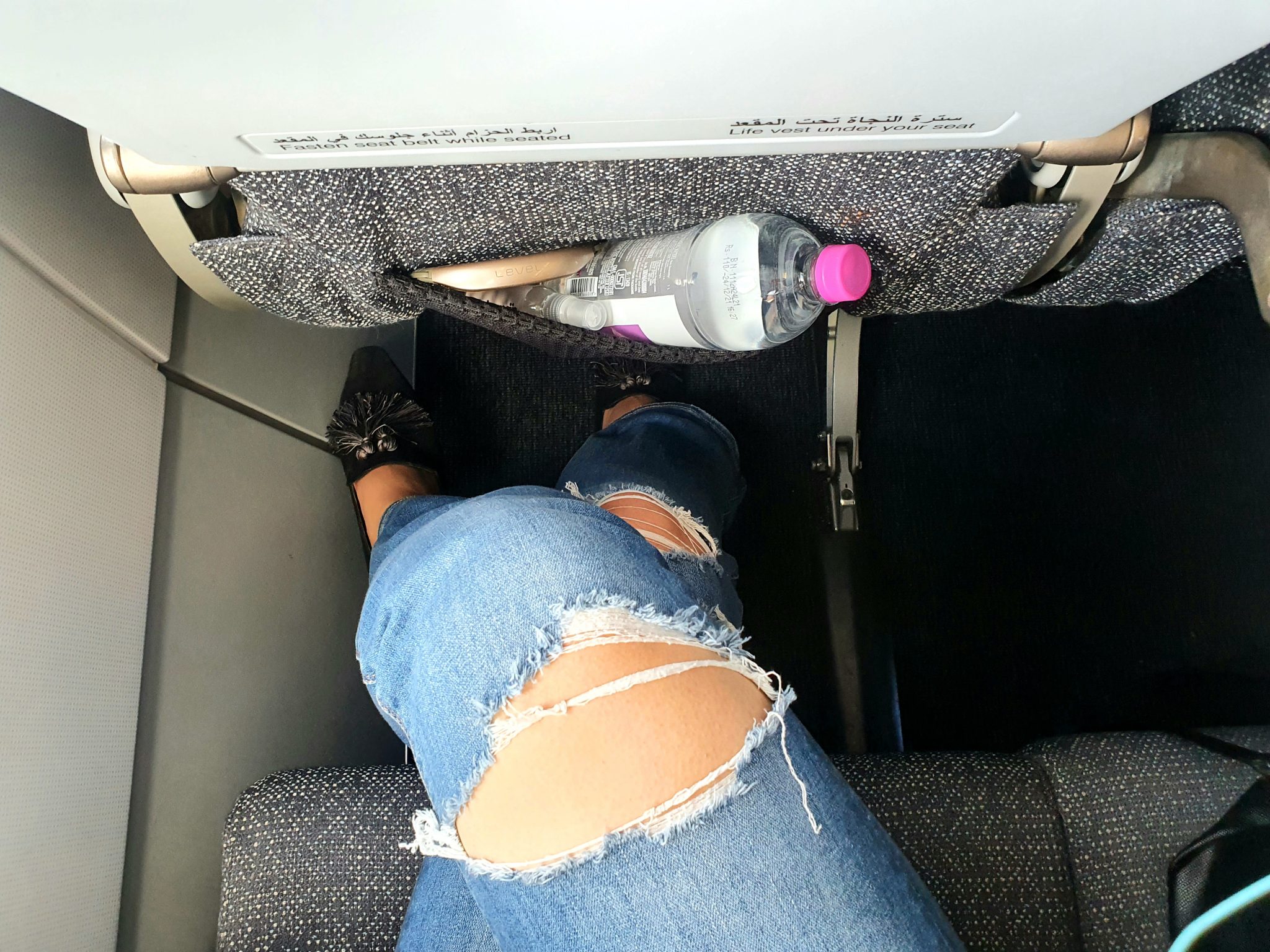 The leg space is great. This adds comfort to your journey. You will not have to pay extra to jump to rows with extra leg space, at least not for people who are 6 fts or less.
Seat upgrade to seats in 1st and 2nd row are for 70 AED and 50 AED respectively. The prices might change with time.
There is no foot rest but you can use the handle beneath your seat as a foot rest. It seems better than hanging your legs in the air or keeping your feet at the floor.
ENTERTAINMENT SYSTEM & MAGAZINE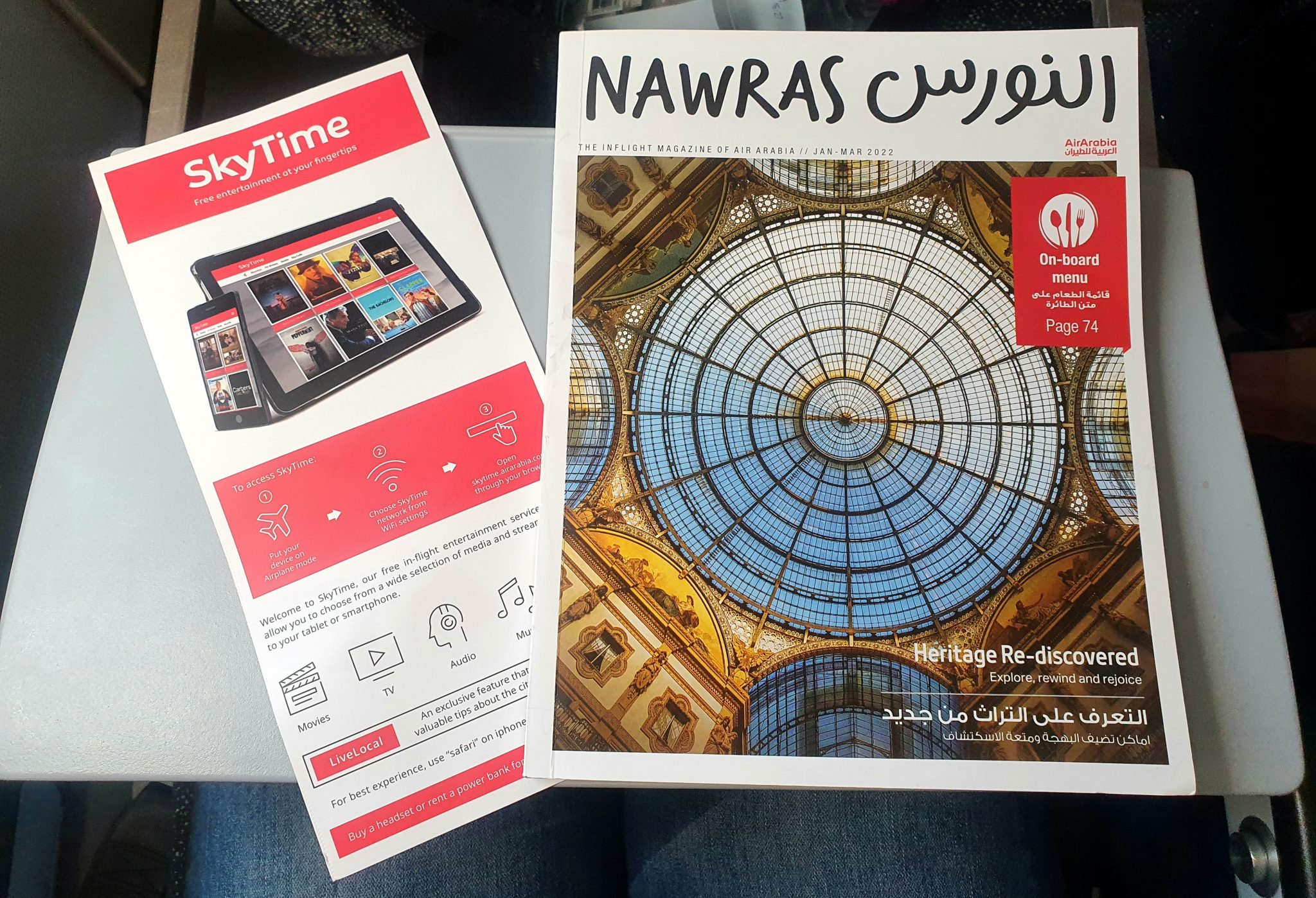 The flight has two ways of entertaining you:
Magazine
The Nawras magazine's Jan-Mar 2022 issue talks about travel tips, hotels, Emirates, European cities like Dresden and Madrid. It elaborates on its flight network as well.
Skytime
You can also enjoy a few movies and some sitcom episodes on board through your screens. All you have to do is connect to flight's network through wi-fi.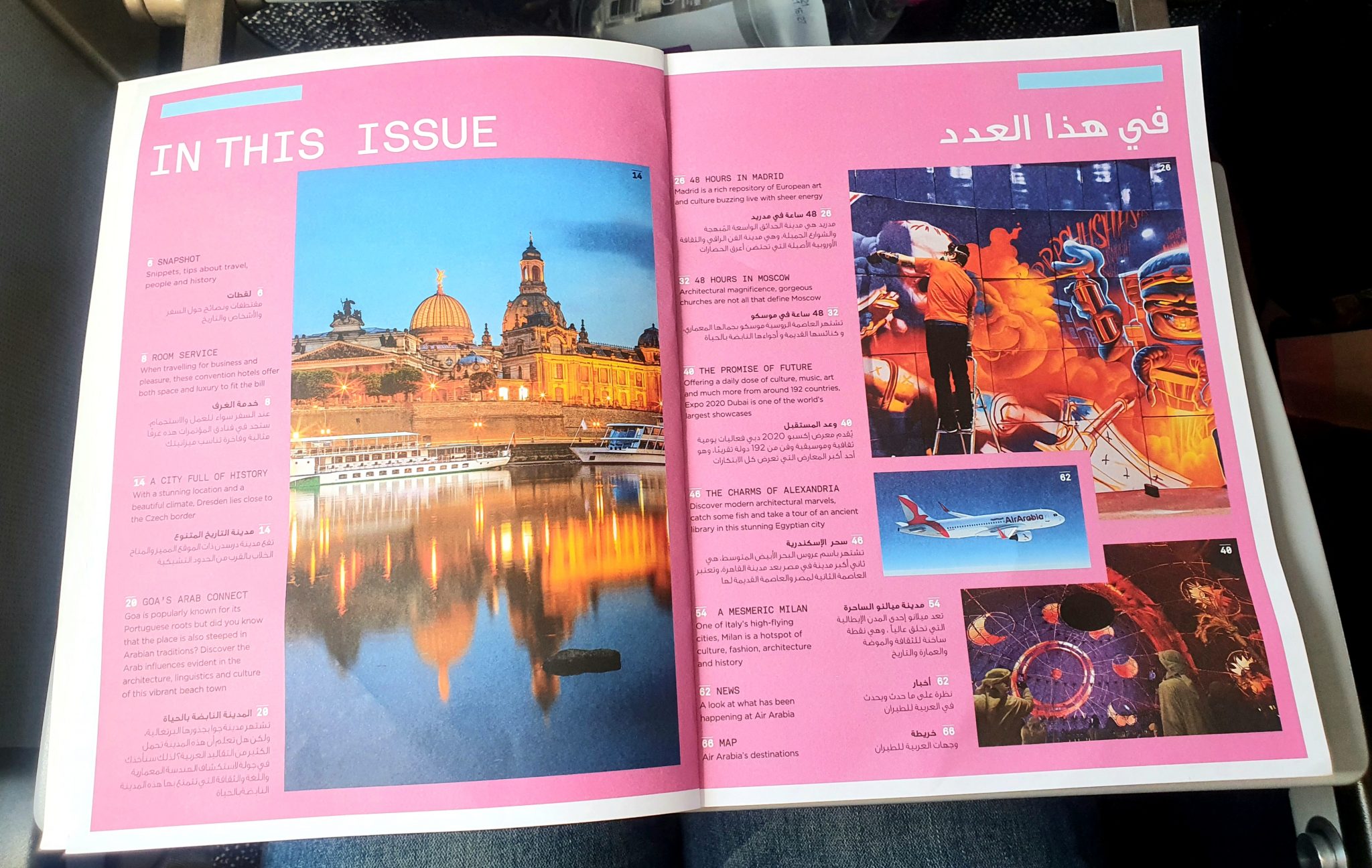 Food – Sky Cafe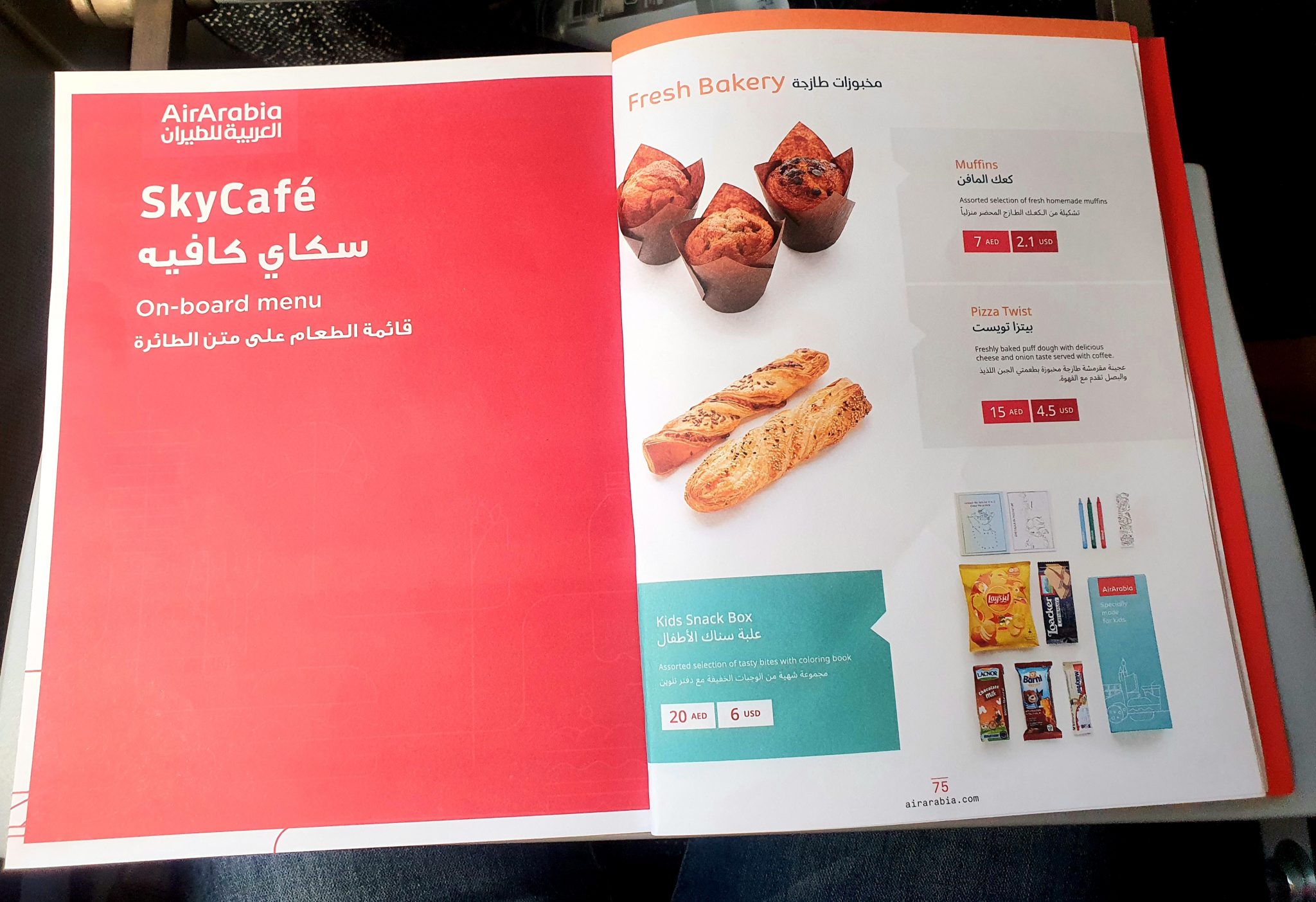 There is information given in the magazine about the food items available on the flight. You can buy any item you like, it is not included in the base fare until bought otherwise. The food is good. I enjoyed the samosas.
OTHER FACILITIES
Pillows and sheets are not provided.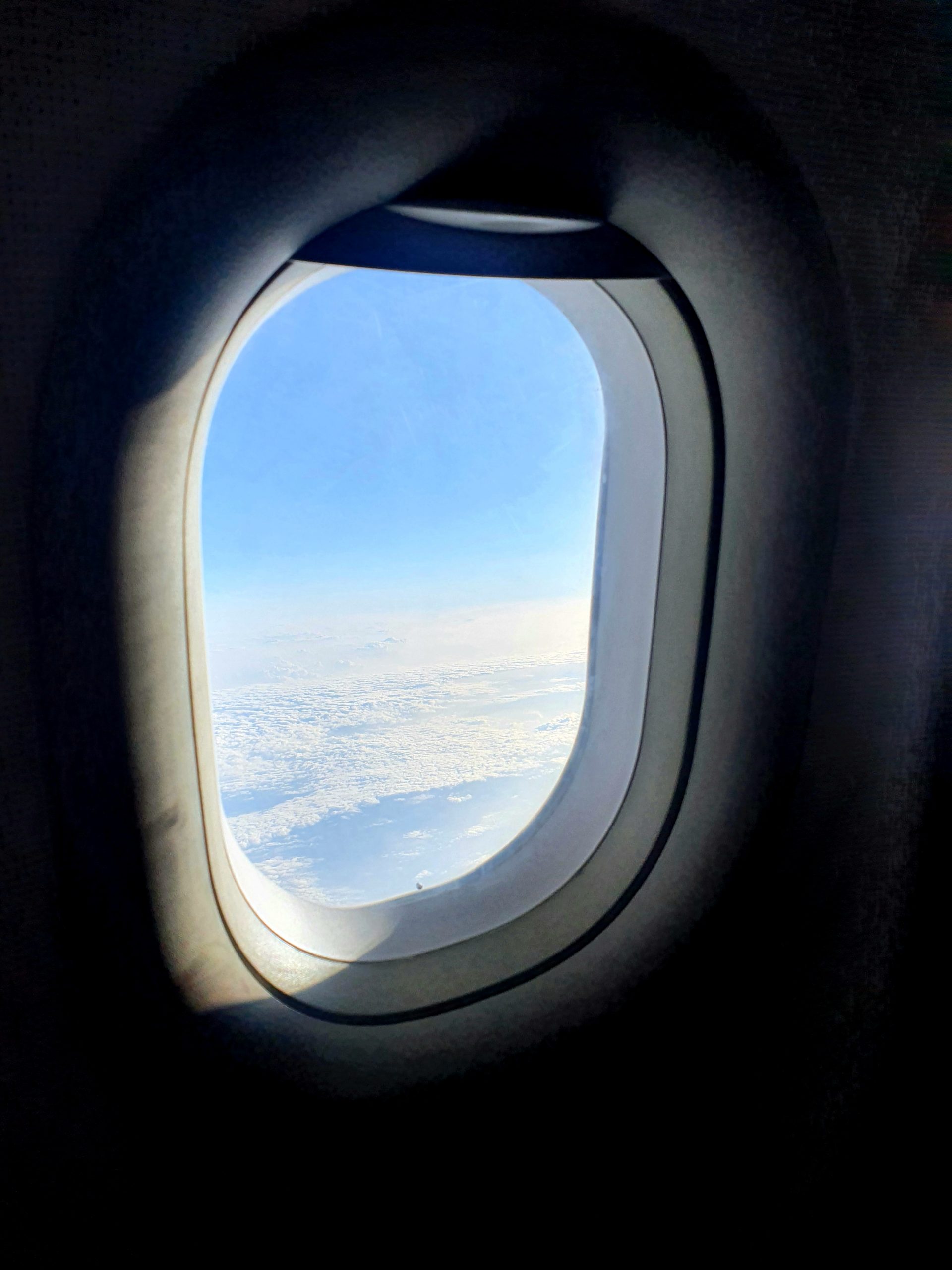 Windows have shutters. There is no Wi-Fi or calling facility on board.
There is no camera view available, if you are not sure what I mean by this then definitely check out the review of Emirates flight.
SERVICE & RIDE
The host and hostess were kind and prompt. The ride was smooth, right from taking off to landing.
The web check-in is easy but the site goes down often. If you wish to reschedule your flight then it is better to do it through calls. The fares are also economical. Air Arabia Flight
VERDICT
The only thing that will restrict me from choosing this airlines is the kind of crowd it had on my flight between Delhi and Sharjah. Not that great. Probably the crowd on other routes is better. I would love to hear about your experience in the comment section below.
The flight overall was comfortable, website experience was not that great. I would like to award Air Arabia 6.5 Comfys.  I would recommend this airlines to you but avoid this option between Delhi and Sharjah or its extended route due to crowd type.
Other frequently asked questions:
Q: Is Air Arabia a good airline?
A: Flight is decent. Crowd was not great between Sharjah and Delhi.
Q: Is Air Arabia safe to fly?
A: Yes, it definitely is.
Q: Do Air Arabia flights have charging ports?
A: No.
Q: Does Air Arabia offer WiFi?
A: No. Not for connecting to internet or calling.
Q: Does Air Arabia serve free alcohol?
A: No. Not available.
Q: Does Air Arabia have TV?
A: Content is available to stream on your phones or laptops. All you have to do is connect to the on board network through WI-FI.
Q: Does Air Arabia give free meals?
A: No. Paid items are available.
Q: Can we carry laptops in hand baggage on Air Arabia flights?
A: Yes.