Flight Air France To say I'm excited about this Air France A350-900 Business Class review would be an understatement. I've been wanting to ride on the AF A350 for a while, it's such a good looking plane and the business class seats looked amazing in all the other reviews I've seen. Air France also does such a good job with their Business Class, regardless of the aircraft, but the A350 might be their best hard product in the sky. Air France Business Class is always an enjoyable experience.
We booked our routing to Nice France via Toronto. While this seems a little silly, the prices were amazing and getting to Toronto is pretty easy. YYZ is also not really out of the way when looking at the flight path, in fact, when we last went to europe, our Delta 767-400 flew right over Toronto on the way from Detroit.
Flying on Air France in Buisness class is a fantastic way to start a vacation. I fully recognize that we are extremely fortunate in that we can have these types of experiences. With this Air France Business Class flight we're making a connection in CDG then onto NCE so timing is important. We only have a 90 minute connection in Paris and that's an airport that can really go poorly on connections.
The bad news that our Air France A350 flight delayed. While waiting in the AF lounge here at YYZ, an announcement was made that boarding will be delayed by about 45 minutes. Toronto has been in the news lately about it's flight delays, unfortunately we're caught up in that.
Anyway, let's get into this Air France A350 Business Class Review
In This Trip
Air France A350 Boarding Process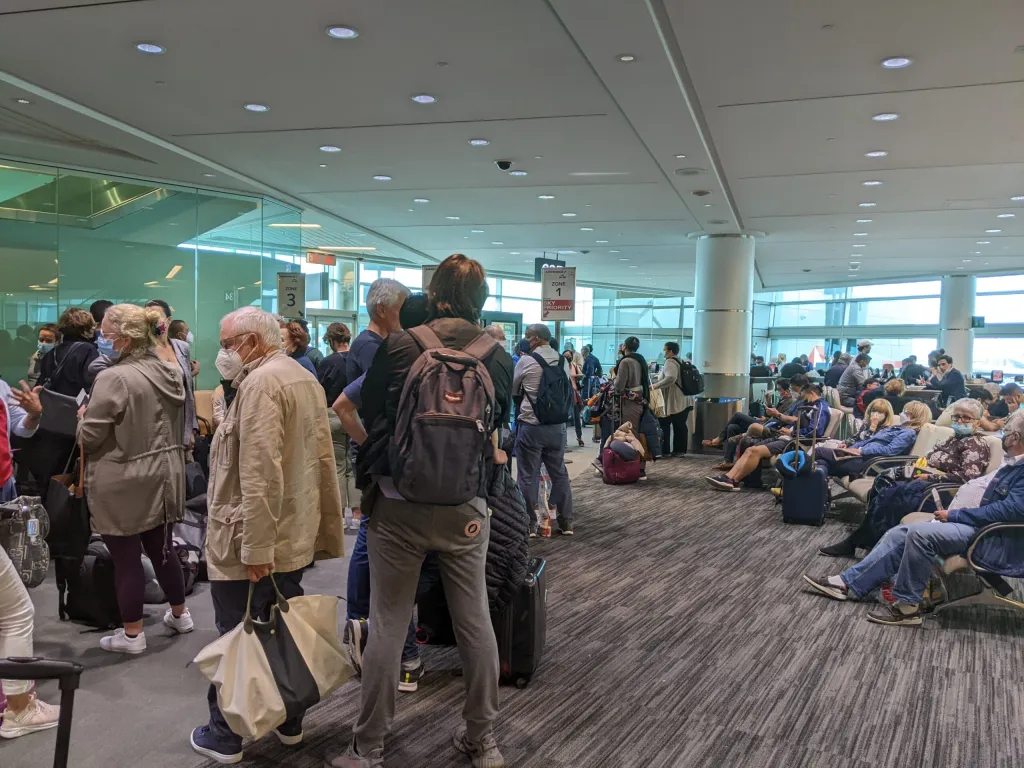 Well flight delays suck. I've been looking forward to this trip and review for a while now. I've not flown on the Air France A350 before. I'm especially excited as today we're flying and reviewing Air France Business class.
The boarding area was a little busy but not hectic. When you have an A350 worth of people hanging out in an area it's just a large volume of persons. AF has well marked signs that keep the lines of people organized. We lined up in zone 1 as was indicated on our boarding passes.
The boarding process started about 40 minutes late and that's not great for us trying to make a somewhat time sensitive flight. We have an event to attend in Monaco when we arrive. Side note, that's the most bougie sentence I've ever said.
This is a somewhat short overnight flight so really I just want to get some sleep and be able to make our 1:45 minute connection in Paris CDG. Our Air France A350 waiting at the gate looks fantastic. This really is a great looking aircraft.
Air France A350 Business Class Seats First Impression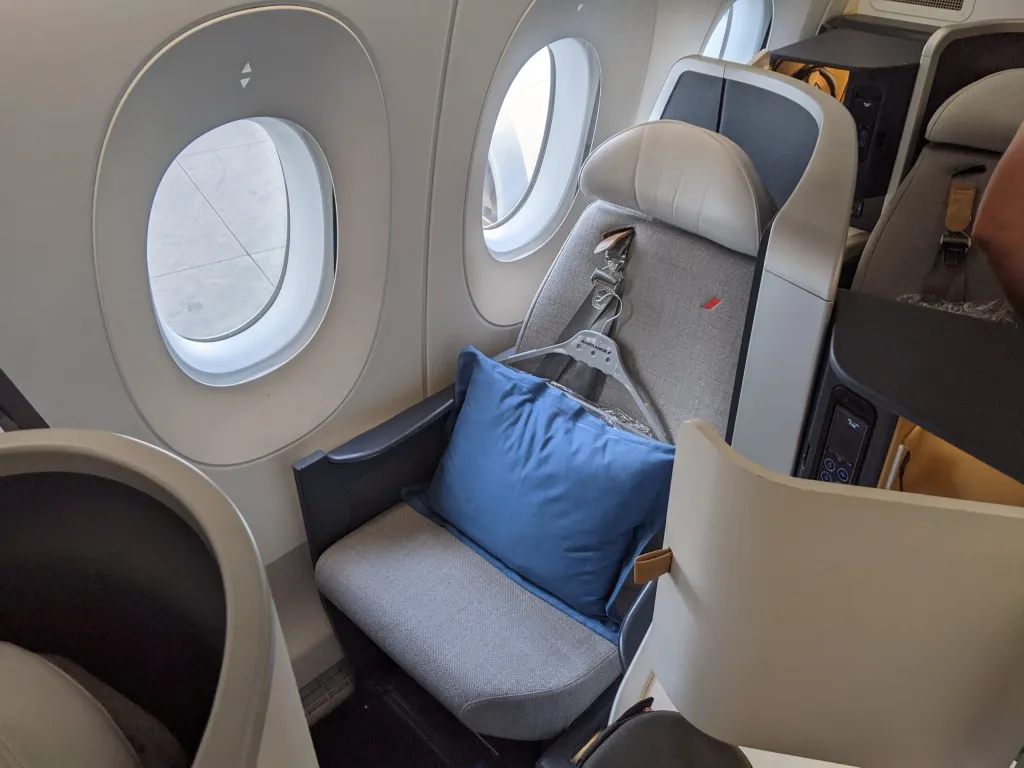 Business Class seats on the right hand side of the Air France A350. I have to say, these seats are fantastic. They are well designed and beautifully outfitted.
On the Air France A350 the Business Class seats are in a semi-angled staggered configuration. So my seat is near the window and away from the aisle. This gives tons of privacy.
On the opposite side of the aisle shows the other style of seat, these ones are near aisle and are also somewhat angled towards it. While very comfortable and having a ton of storage, they aren't as private as the other style of seat. In the middle section of the Air France Business Class plane are some great seats for couples, they are away from the aisle and face slightly towards each other. There's a removable divider that can lowered so that you can talk with a partner too.
This picture shows the 2 different types of seats The away from the aisle facing the window and the near the aisle angled away from the window. In my seat was a pillow, blanket, and hanger. It's summer so no need to hang anything, but the flight attendant came around and was extremely friendly and welcoming. He asked if I had anything to hang but I declined. He then welcomed me to business class.
Air France A350 Business Class Seat Features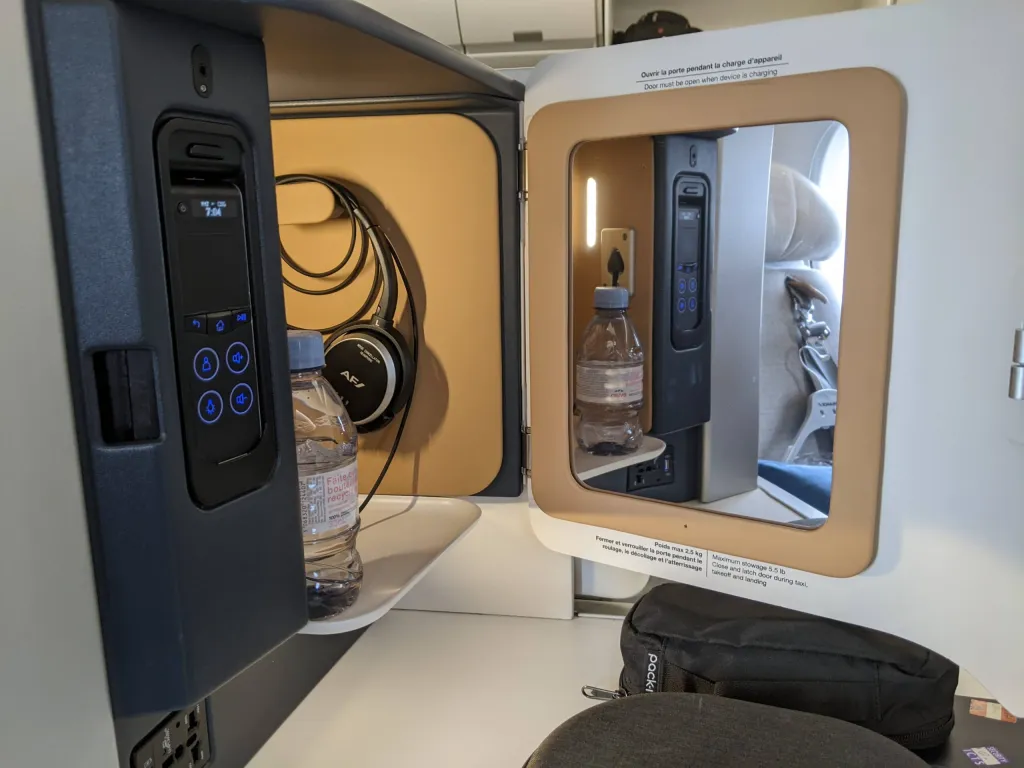 At eye level is a nice little storage cubby that had the remote for the IFE, headphones, and a small bottle of water. The headphone jack is also inside this cubby, not sure that's the best choice but it does work. Inside the door is also a mirror.
Legroom is obviously fantastic as this is a fully lie flat seat. The foot well is more spacious that I would have expected. Above the footwell is the Air France Flight tray table and another USB port for charging a device.
The Air France A350 Business Class In Seat Entertainment screen is massive. It's also extremely responsive and has an excellent selection of movies and shows. I would say that Delta has a slightly better selection, but Air France does a good job.
Scattered around the A350s Business Class seat are controls. This one controls the lights, flight attendant call, and leg rest.
Here is a reading light.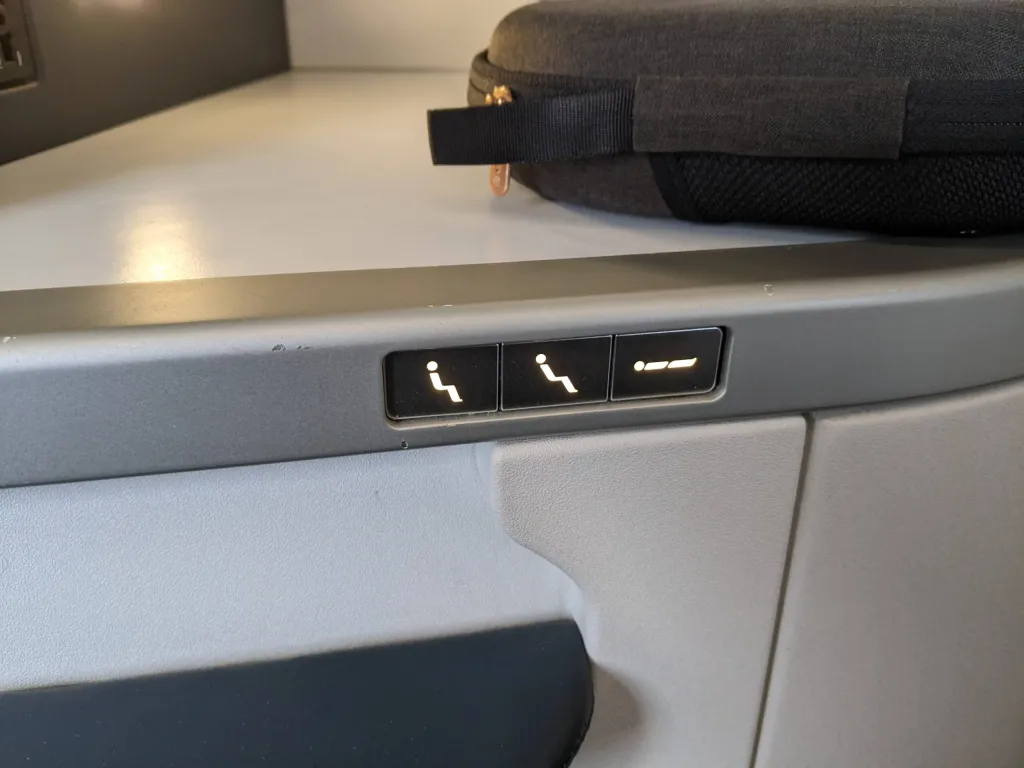 The seat control buttons are very simple and just below the side table that sits next to the seat.
Below the storage cubby is another power port. This one has a 110v universal port along with USB.
Overhead on the AF A350 doesn't have an induvial air vents. I'm not sure why some modern planes are starting to omit that feature. There are reading lights though. Air France Flight
On the AF A350 the window shades are electronic, but not dimming like on the 787. On the this A350 there's a blind that closes then behind it the full screen darkens. I really liked this.
Air France Business Class Amenity Kit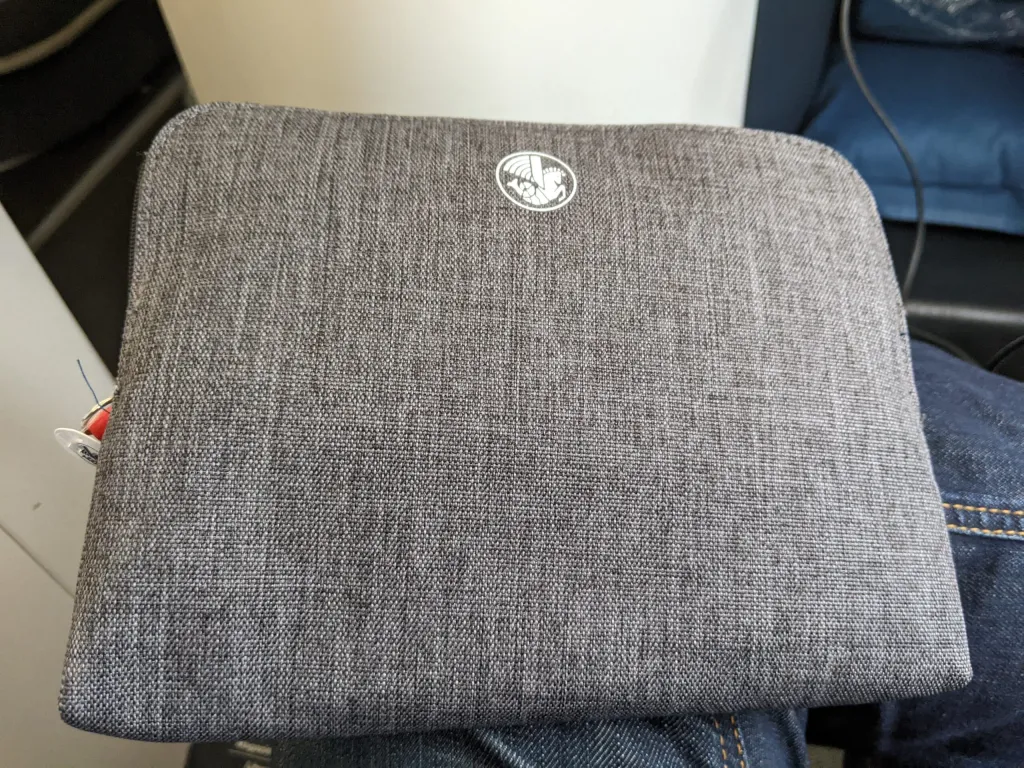 The Flight Attendant then distributed amenity kits. I like that Air France uses soft kits on the way to Europe, that way I don't have carry a hard case around France and Italy for the next week. I know I could not keep them, but I like them.
Inside the Air France Business Class amenity kits are socks, an eye mask, tooothbrush and paste, earplugs, lotion, lip balm, and a pen. Everything you'd expect and nothing extra.
Air France Business Class Menu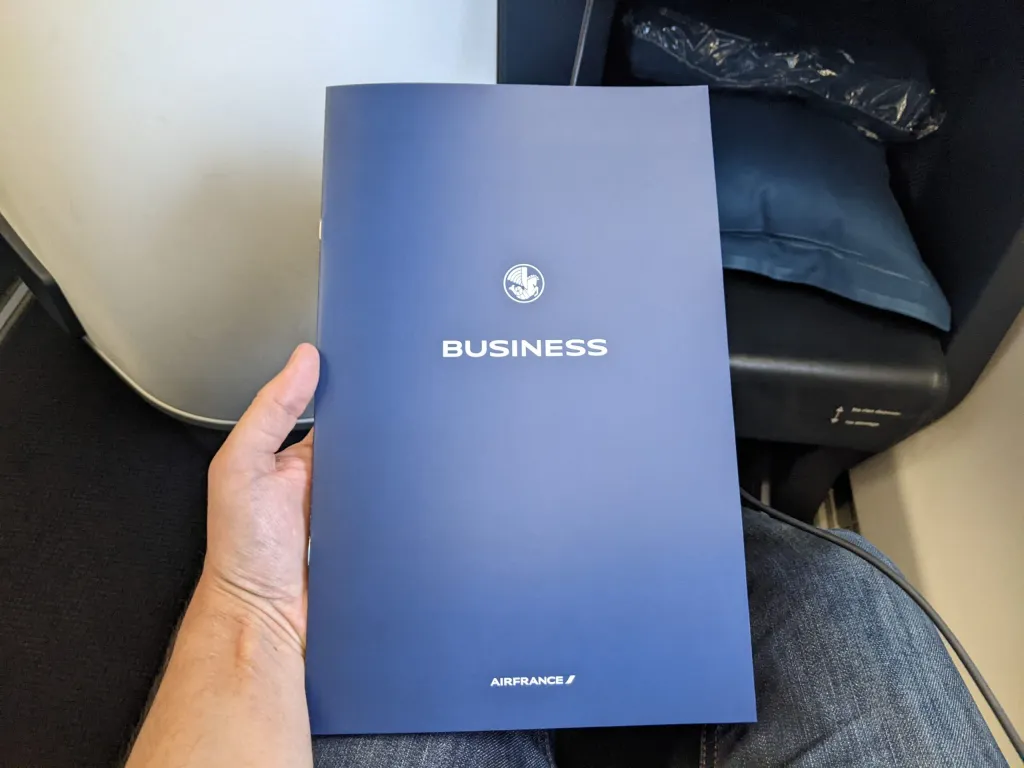 While still on the ground, and waiting for our delay to pass, a paper menu was distributed. We had pre selected our meals however it's nice to see a wine list and drink menu. Orange juice and champagne was also distributed, I didn't partake, but Val did.
Air France Dinner and Breakfast options.
Air France wine list.
Air France wine and drink list continued.
Toronto Departure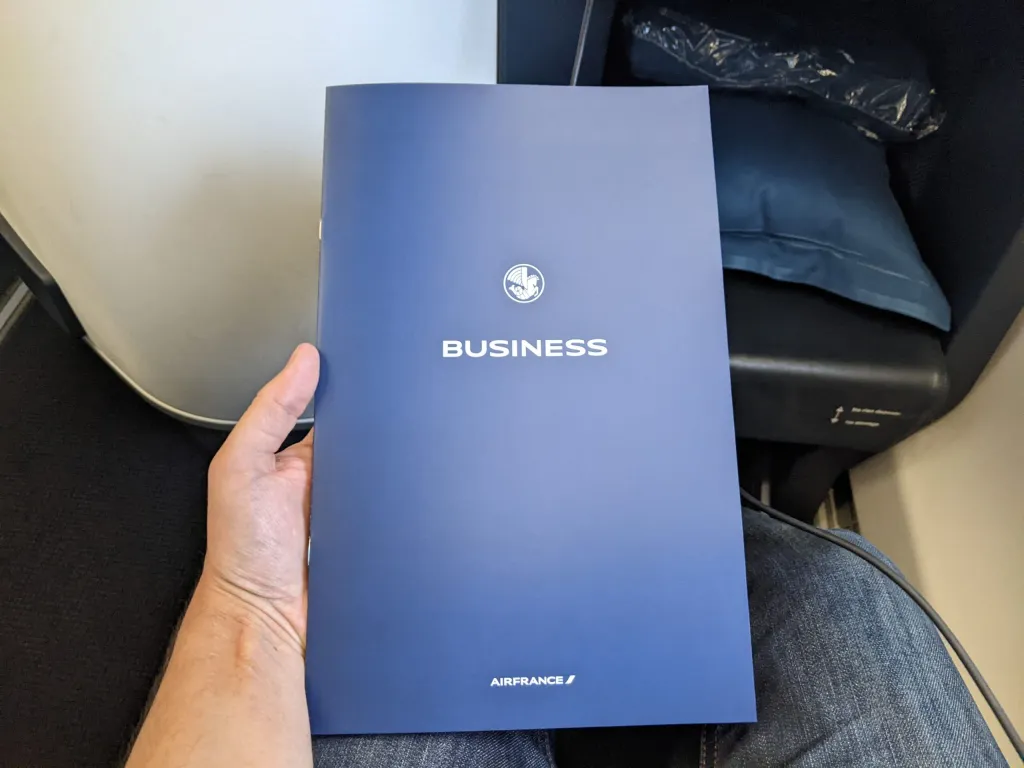 I stored away my bedding and settled into the Air France Business Class seat.
The pilot came on and made his welcome. Unfortunately the delay is not going to get better, we're likely to land about an hour late. It's due to a late arrival of the inbound airplane along with congestion at the airport. The Air France A350 has cameras that can viewed from the IFE, how cool is that?!
We pushed back just about an hour late. Not a great start to this flight, I'm having strong feelings of Déjà vu of our last trip over to Europe where we missed our connection.
Hot towels were distributed, the safety video was shown, and the mood lights were turned on.
We taxied out to the runway and waited for what felt like forever, nothing like a delayed flight with a tight connection to make everything seem like a long time. In actuality it was about 20 minutes.
We turned onto the runway and waited for just a few seconds before begging our takeoff roll.
Great view of the Toronto Pearson Airport on departure. Toronto serviced by an interesting set of airlines and it's fun to see the different aircraft.
We climbed above the clouds and it became very smooth. The in seat entertainment on the Air France A350 is excellent. Extremely responsive and easy to use. I'm also enjoying the tail and nose cameras.
Air France Business Class Dinner Service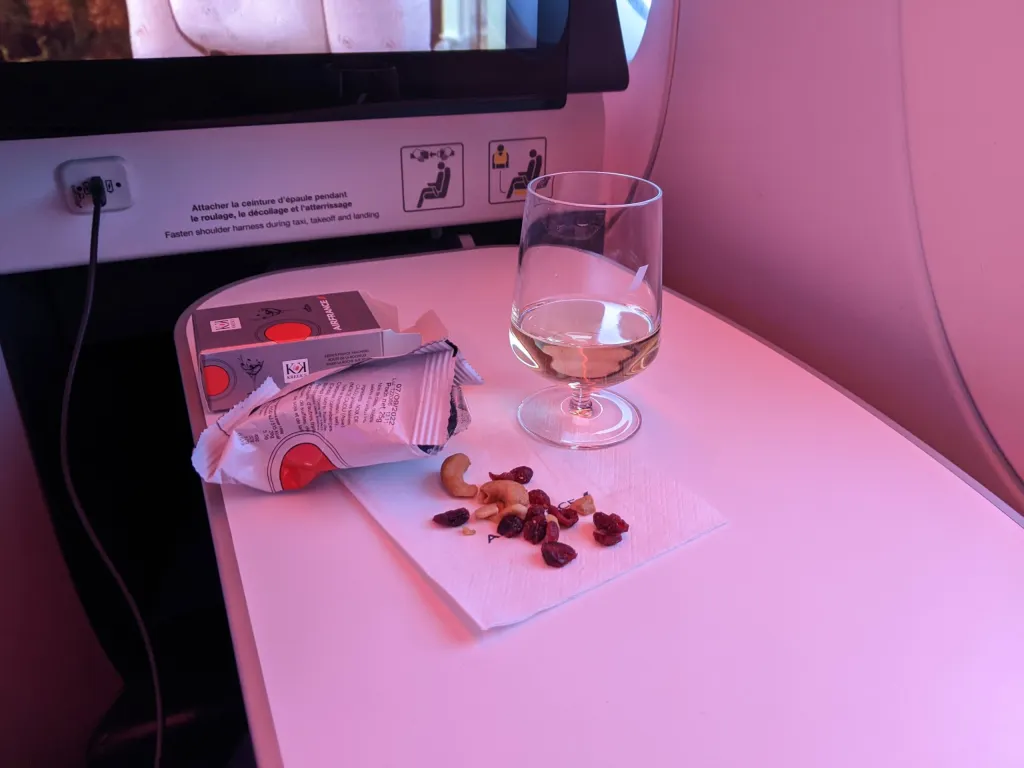 I settled into a TV show as the flight attendants started to move around the cabin a little bit.
A glass of champagne was offered along with some nut and cranberry mix. I don't drink much champagne, but I figured now's a good excuse.
The meal trays were distributed that included the appetizers and salad. Also included was the cheese and desert. The salad was good as was the scallop with potato. To drink I opted for a gin and tonic.
After finished the starter my dinner selection was brought around. I chose the beef filet with peppers, potatoes, and brussel sprouts. I also decided to get a beer to drink with dinner. Air France Flight Unfortunately Air France only has Heineken and it's just not my favorite beer.
Finally I ate my desert and cheese. I liked both very much.
A nice feature of the A350 business class seat is that the tray table rotates away and you can get out of the seat without clearing the tray. Perfect for a mid meal run to the bathroom.
Air France A350 Business Class Bathroom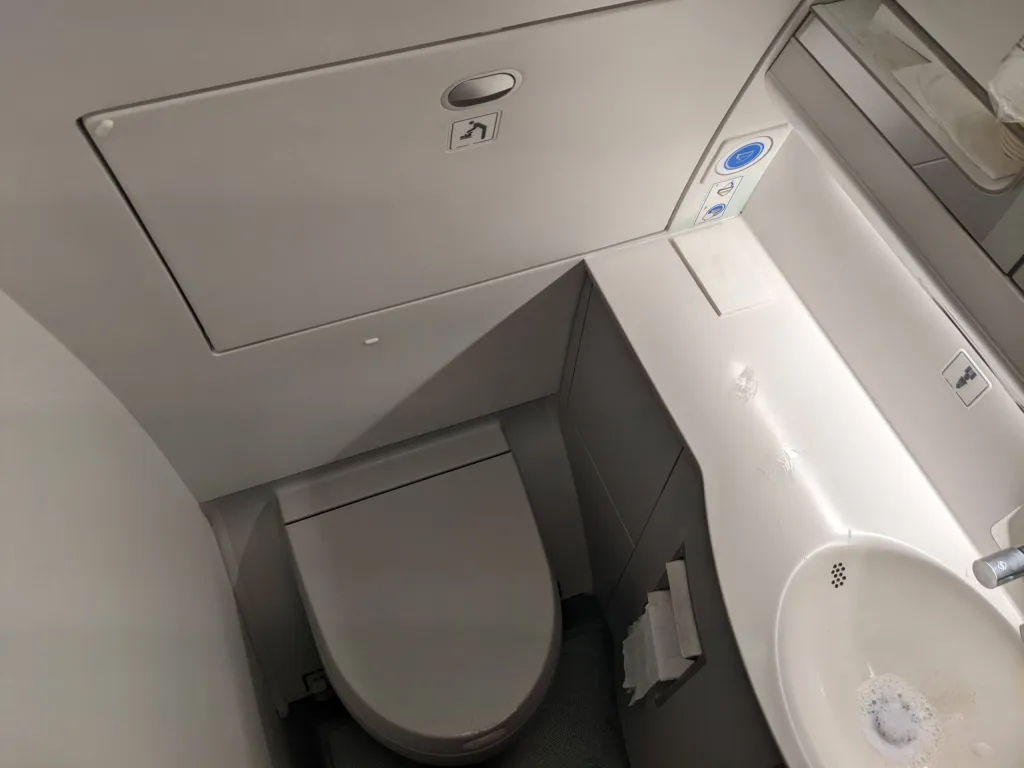 The Air France A350 bathrooms are nothing special but they were clean. I wouldn't call them spacious but they were adequate.
Air France A350 Business Class Overnight Sleeping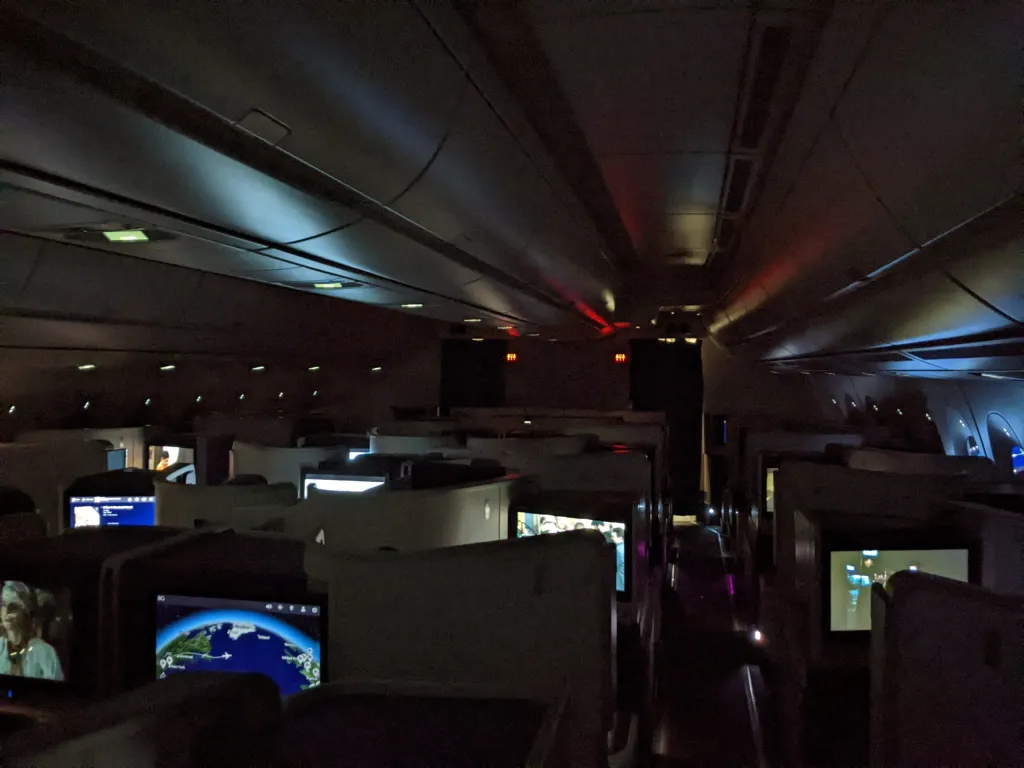 I returned to my seat as the A350 cabin lights were dimmed and we settled into the rest of our 7 hour flight to Paris.
The sun outside had set but I still closed my window shade so that in the morning, I don't blind the whole cabin with the sunrise.
Air France Business Class Breakfast
After a few hours of somewhat restful sleep, we were over Norther France and the flight attendants where coming through the aisle. They were asking, those of us who were awake, if we would like a breakfast.
I had the cold option as I really wasn't that hungry. The other selection was an omelet and I really haven't had good luck with eggs on planes. I had a tea along with my yoghurt and fruit.
Air France A350 CDG Arival
As Paris came into view I packed up my things and readied myself for landing. Looks like a lovely day here in France.
The Air France flight attendants came through the business class cabin one last time and thanked us for flying with them. They also collected any remaining trash or service items from breakfast.
We touched down in Paris just about 45 minutes late. Not great when you only have a 90 minute layover that requires clearing customs and security again.
Air France A350 Business Class Final Thoughts
Air France does a fantastic job with their Business class service. This A350 cabin matches the service and is one of the most complete business class products that I've experienced. To say I'm satisfied would an understatement. The Air France A350 in business class was one of the most pleasant flights I've reviewed in a long time.
The cabin and seat on the Air France A350 is fantastic. The seats are extremely comfortable and well designed. Some seats are better than others but none are bad. There is lots of storage in each seat along with an excellent IFE. The IFE has lots of movies and shows along with external cameras that have a great view.
The dinner was good, but not amazing. I really should stop ordering steak on planes, it's just not great. Never is, never will be. Val had the fish and really enjoyed it. The wine selection was great, the liquor selection was good, but the beer choices were not great. Breakfast was just what I needed, Val skipped it in preference to sleeping. The service from the Air France Flight Attendants was amazing. Very attentive and friendly. Extremely proactive and ready to help with whatever I needed.
The only down side that we were delayed. Toronto has been having serious issues with international flights lately and we got caught in that. I'll spoil the surprise and say that we did miss our connection. There were no other flights to NCE available that day so we ended up on the train for the next 5 hours. Really not what I wanted but it's the best we could do.